Opening Day: How to Prep and What to Expect
The moment we've all been waiting for: Opening Day. Maybe you stayed up all night meticulously laying out your gear on the bed. Or maybe you binge-watched your favorite snowboard flicks for the millionth time. It doesn't matter. The time has come, and there is no greater feeling than pulling into the parking lot on Day One. You and the crew have an entire season of park laps, deep turns, and endless good times ahead.
But there's also no worse feeling than pulling into the parking lot unprepared. This is why we put together a quick list of Opening Day expectations, along with some tips on how to deal with them.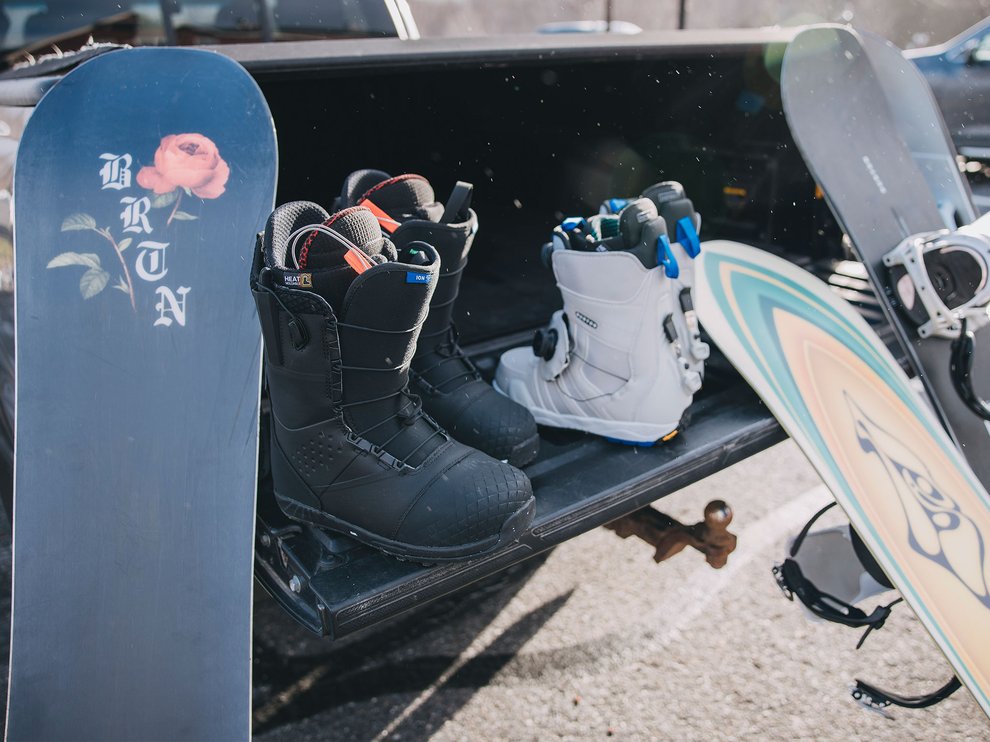 1. The Parking Lot Will Fill Up Early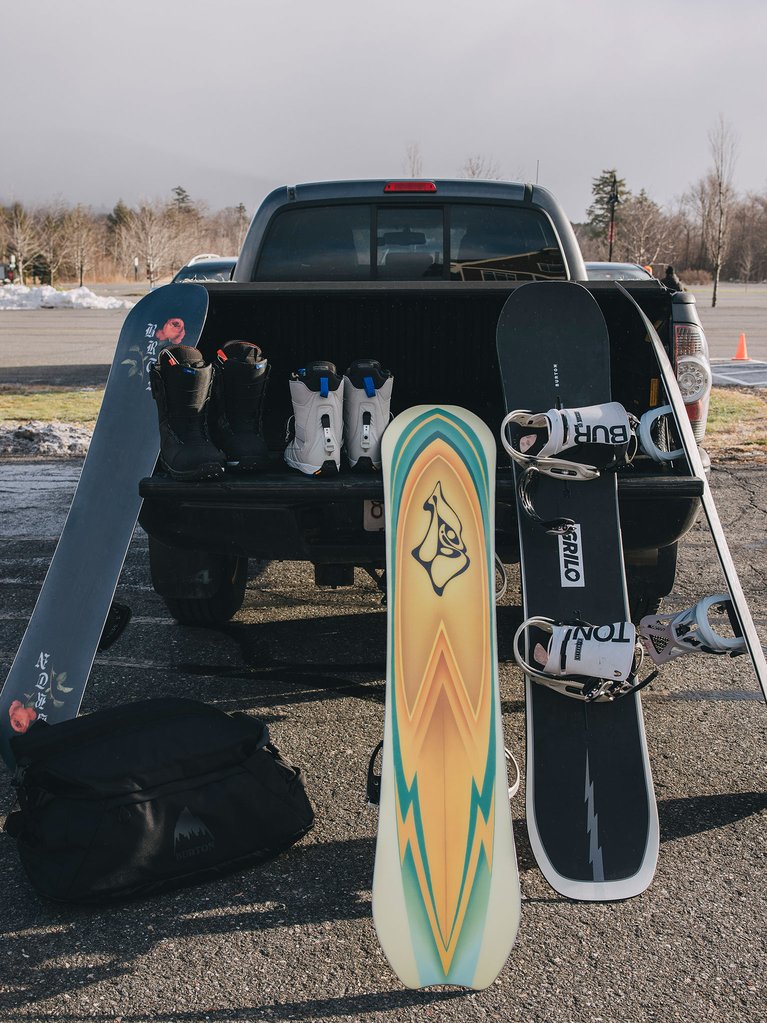 Tip: Be early. Unless this is your first rodeo, you know you're not the only one itching to get back out on the hill. A few people probably camped out the night before, and while you might not be that ambitious, you should still feel a sense of urgency when it comes to getting out the door. Plan on getting there extra early, and rally the crew to carpool (it's better for the environment and you ensure the whole crew gets up there in time).
But if dawn patrol isn't your style, consider jetting up later in the day. Assuming there's limited terrain open anyhow, most of those early birds will fly out midday. Take your time, and take advantage of the 1pm-4pm window to avoid the AM rush.
2. Don't Be The One Who Gets Left Behind
Tip: Be prepared. The guy that forgot his boots? Don't be that guy. But being prepared is more than just remembering all your gear. Make sure you check your equipment before you get on the hill. Don't let busted laces or an unwaxed board figuratively and literally slow you down. Oh, your gear is brand-spankin' new? Make sure everything is fitted properly—like your stance, binding straps, etc—so you're not fumbling with it at the top of your first run.
Want more tips on how to get all your gear ready in advance? We got you. Read our blog on Pre-Season Prep, and you'll be dialed before you even load up the car.
---
3. Bring the Parking Lot Essentials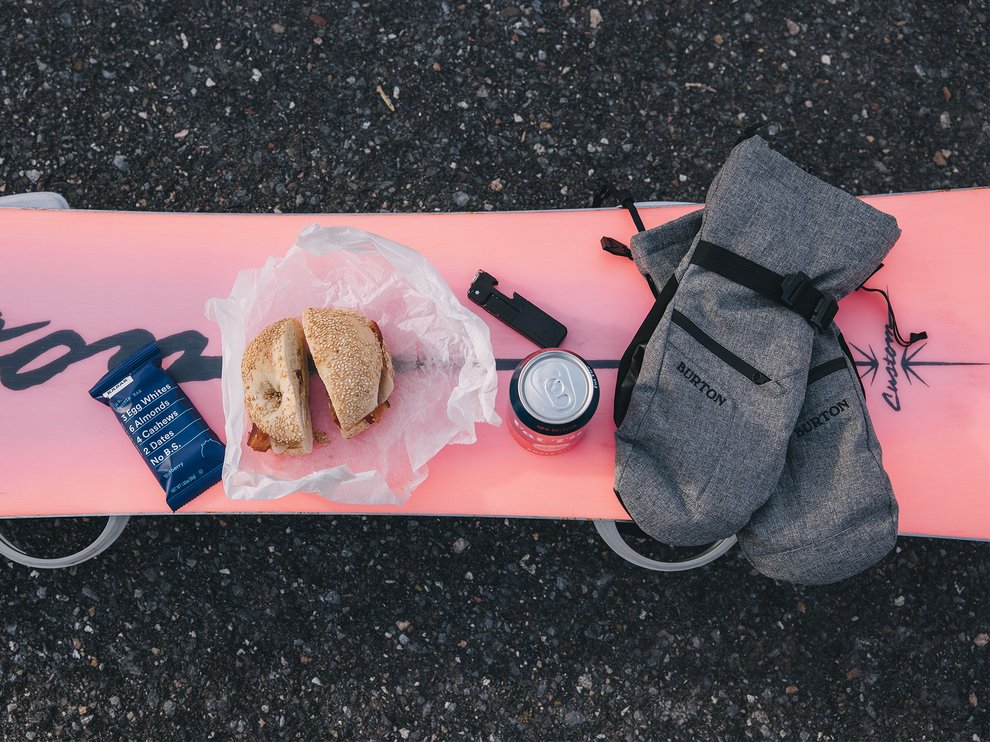 Tip: Embrace the lot vibe. Let's face it, Opening Day can be a bit of a madhouse. With only a run or two open—and probably a single lift running—things can get pretty congested. Be prepared to take a few breaks from the human slalom course by packing some parking lot essentials. A grill and some beverages ensure you won't have to battle any additional lines in the lodge, and a stereo helps heighten the vibes at the tailgate. Bust out some lawn chairs, maybe that cornhole set, and embrace the Opening Day lot festivities. But be responsible, of course.
If you're unsure of what all to toss in the car, check out our full list of Parking Lot Essentials.
---
4. The Guest Services Office Will Be a Headache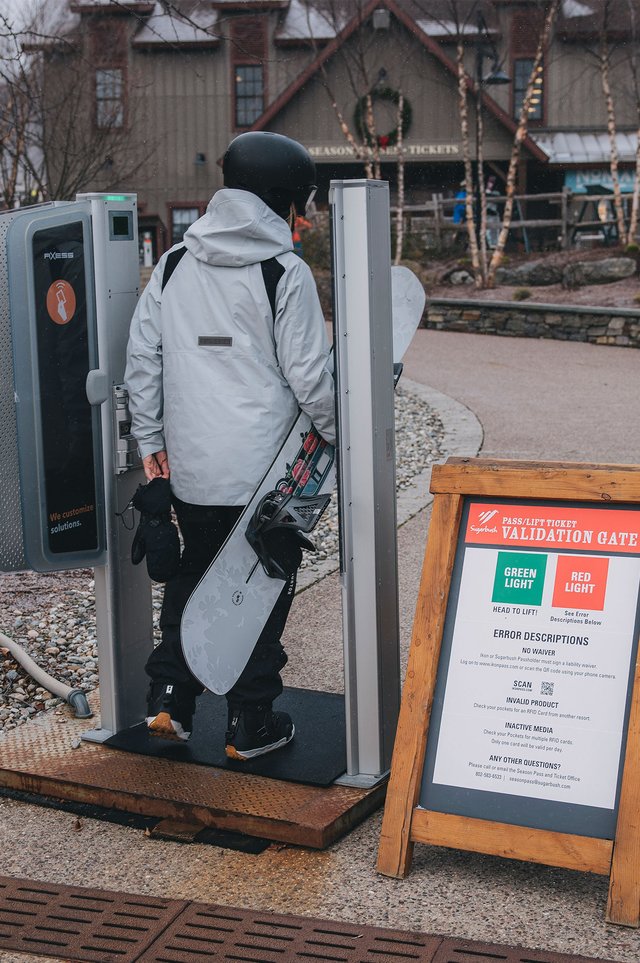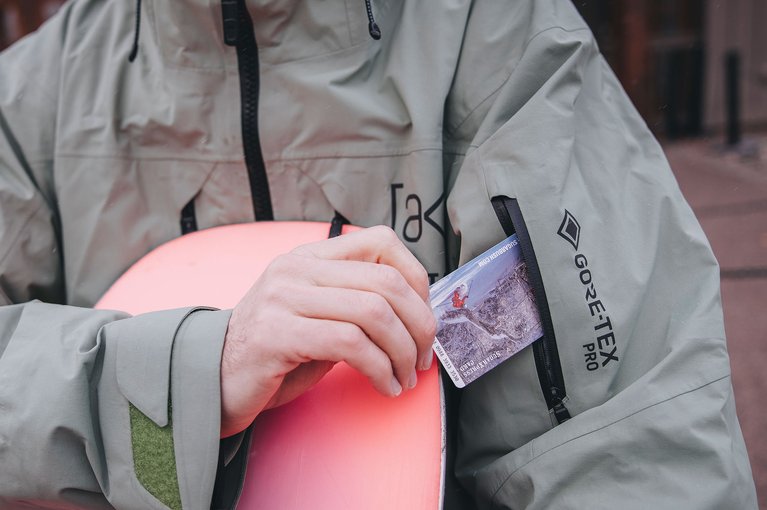 Tip: Avoid picking up your pass on Opening Day...at all costs. Hopefully, you took advantage of some early bird deals and saved a few bucks months ago. But if you are a procrastinator, at least don't wait until the day of to get your sh*t together. Most resorts have options to purchase and pick up your pass well in advance, and those multi-resort passes will ship 'em right to your mailbox.
Oh, and make sure it works. Nothing stings worse than getting a few feet from the chair only to find out your pass doesn't scan. Most resorts have guest service reps floating around the base area to help. Ask them to scan and check your pass before you hop in line.
5. There Might Not Be a Terrain Park...Yet.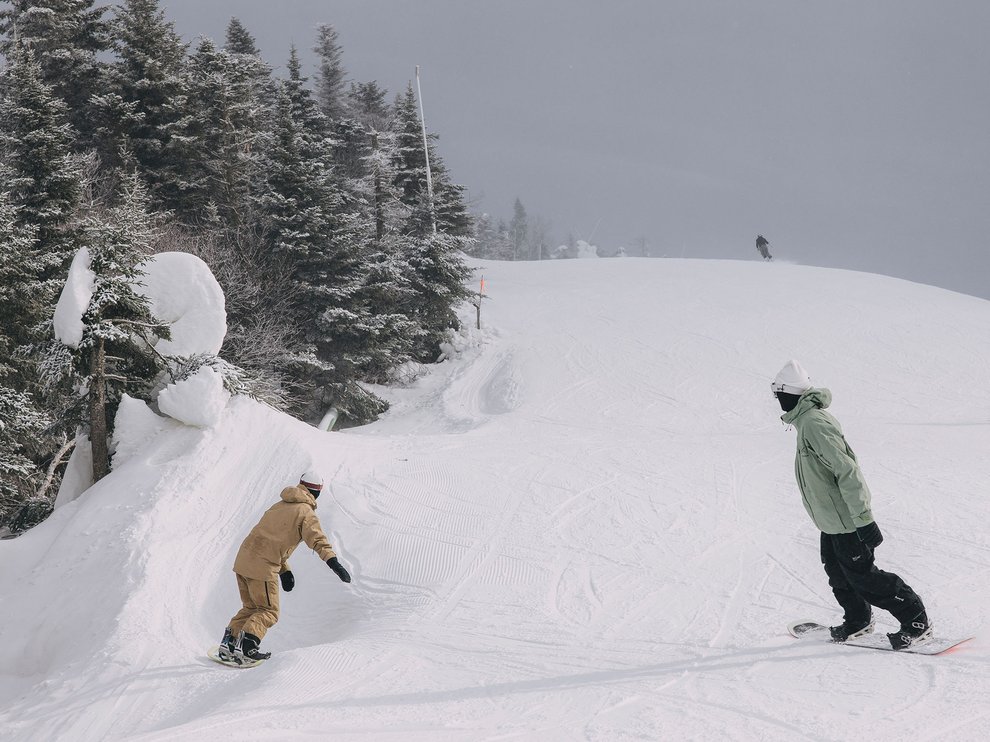 Tip: Find the side hits. There's a ton of prep work that goes into opening a resort for Day One, so don't get bummed if they're lacking a park. Rest assured that all the fellow park rats will be in the same boat, leaving no other option than to work in some side hits throughout the day. What was once a mellow little kicker on your first run could very well be a spicy booter on lap two. Keep your eyes peeled for any possible tree jib, gap, or even a rogue mogul and you won't be disappointed. Soon enough, you'll be multiple crews deep, sessioning a creative little hit that previously didn't exist.
Quick disclaimer: Remember to keep that human slalom factor in mind. Ask a homie to spot you (and maybe snap a clip) so you don't collide with skier who stopped to take a zoom call from the blindside of a roller. You don't have money to replace their flashy new iPhone 13 Max Pro.
---
5. The Trees Might Look Tempting. Don't Do It.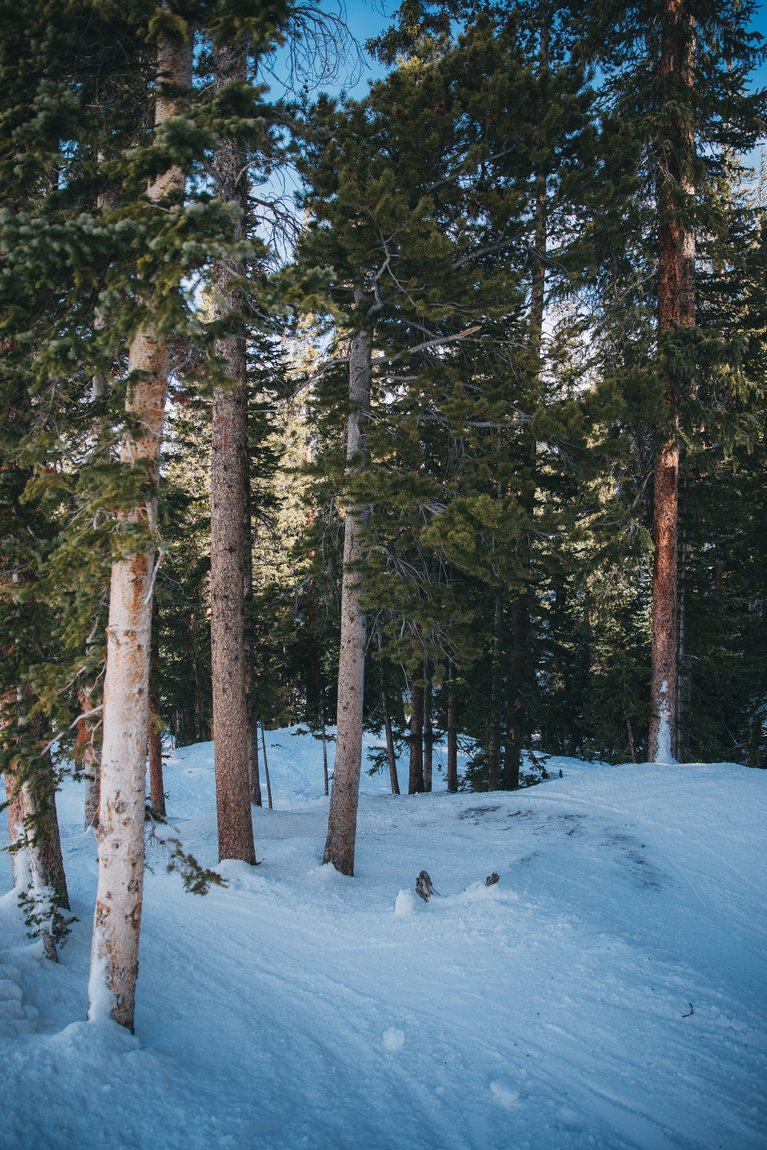 Tip: Stay on trail. We know you're itching for some fresh turns, and even though the resort got a nice little blanket of snow last night, the tree riding ain't ready. Period. So, before you go wandering off the white ribbon of death, keep in mind that dipping into the trees is imminent death for your board. We all know the term "dust on crust," and this early in the season, anything off the trail is dust on rocks. Do yourself a favor and don't core-shot your shiny new board the first day you mount it up. Also, no one wants to turn Day One into a hospital visit, so there's that.
6. Don't Overdo It
Tip: It's Day One—just take it easy. We get it. You've been chomping at the bit for months now (as have we), but as much as we'd like to think our skills (and bodies) are in mid-season form, they just aren't. We'll be shaking off the rust too, so don't stress when you can't land a trick first try. You'll get there. By all means go ahead and stack some clips for a little Opening Day edit, but don't take anything too seriously. Have fun, and embrace the fact that you and the homies are out ripping again. It's early season and the best days are yet to come—don't break yourself before the first pow day.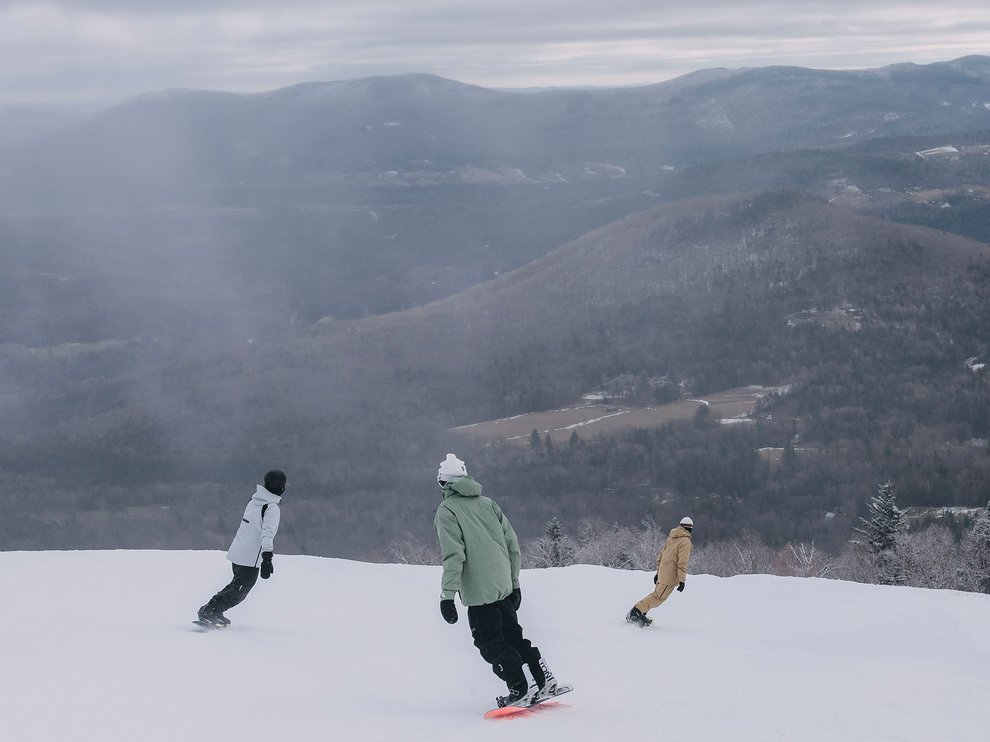 7. It's Going to Be Chaotic. Make the Most of It.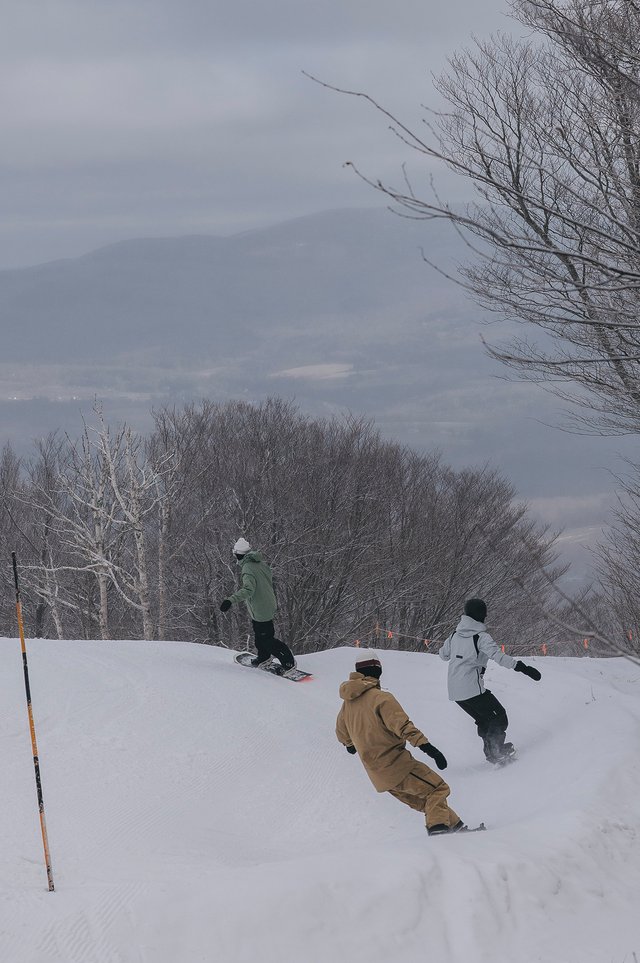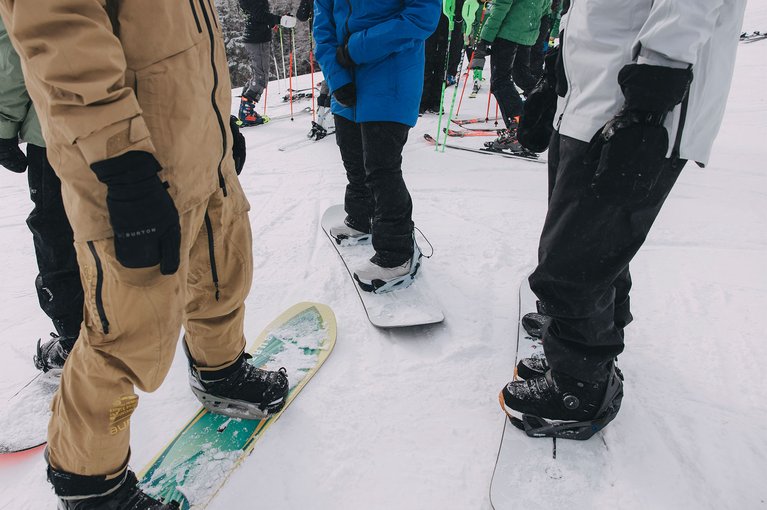 Tip: Don't get frustrated. Remember how we said to have fun and not take anything too seriously? That goes for the day as a whole. As much as we dream of Opening Day being a mid-winter, thigh-deep sort of day, it's probably going to be much the opposite. There will be lift lines. There will be very limited terrain. There might not be a park. But you know what? There will be all the homies. There will be parking lot hangs. There will be some rowdy side hits. And most importantly, there will be snowboarding. If you start to feel frustrated by the chaos, remember that this is just the beginning to a long season full of deeper turns, a proper park, and endless good times. Hopefully some shorter lift lines, too.
---
Now That Your Expectations Are in Check…
All that's left is a group text to the homies, a quick trip to the grocery store, and maybe a pitstop at the gas station (bonus tip and a lesson in being a somewhat functioning adult: if your tank is on the verge of empty, you always get gas the night before. Waiting until the morning is always a bad decision no matter how many times we repeat it).
So, get hyped for those celebratory first turns, and remember that the season will only get better and deeper from here.
Oh, and one last reminder to remember your boots. Unless, of course, you enjoy your friends heckling you about it for every Opening Day to come. Don't say we didn't warn you.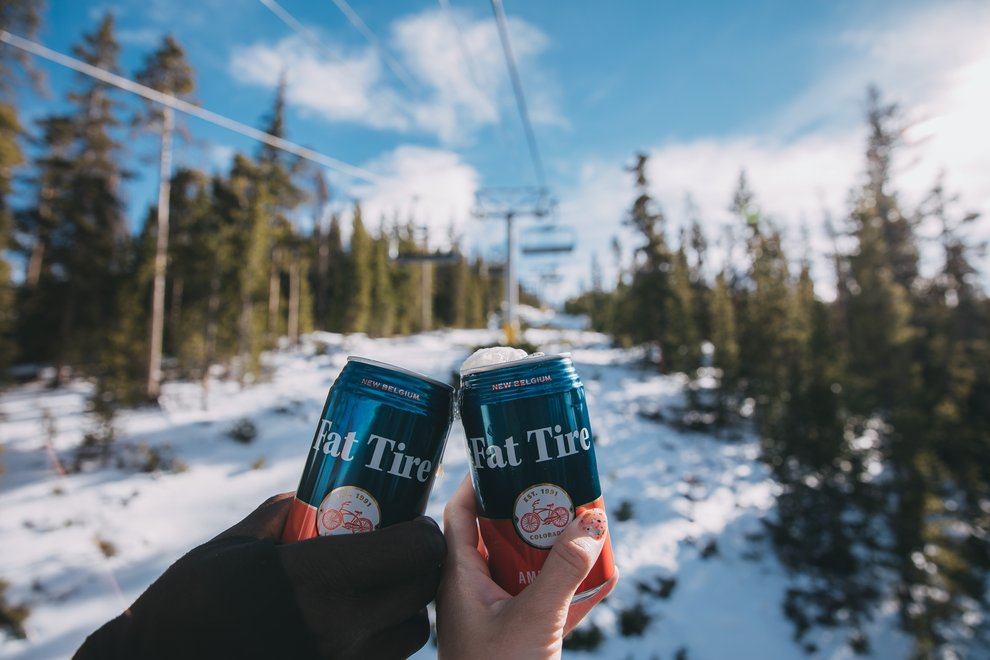 ---