Parking Lot Essentials for Resort-Snowboarding in 2021
Resort riding in 2021 has been… different
With COVID-19 still a major concern across the World, resorts have implemented changes and restrictions to create the safest riding experience for everyone on the hill. Gone are the days of simply walking into the lodge, putting on your boots, or warming up fireside. (Don't worry—resorts will still provide bathroom access as long as you wear a mask and physically distance.) To combat crowds, a majority of resorts have even encouraged people to turn their car into their lodge, loosening parking lot grilling restrictions and encouraging riders to get creative with their "lot lodge" set-ups.
Throw in some folding chairs, your camping stove, maybe a good floor mat, and you might never need the lodge again. The sky (and open container laws) is the limit. Get creative, wear your mask, and catch us tailgating it up this season.
To help you make the most out of your season, we've put together a list of essential lot-to-lift gear to cover your basics and help you create your own personal après snowboard zone.
Booter 40L Backpack:
Kiss the days of tossing your boots into the car and hoping for the best goodbye. Like the name says, this backpack was designed with your boots specifically in mind. Ideal for day-tripping, the Burton Booter Pack 40L Backpack has a compact compartment perfect for your boots and other riding essentials. As an added bonus, keeping your boots in a bag will avoid any grime and stank from spreading around your car after a day on hill.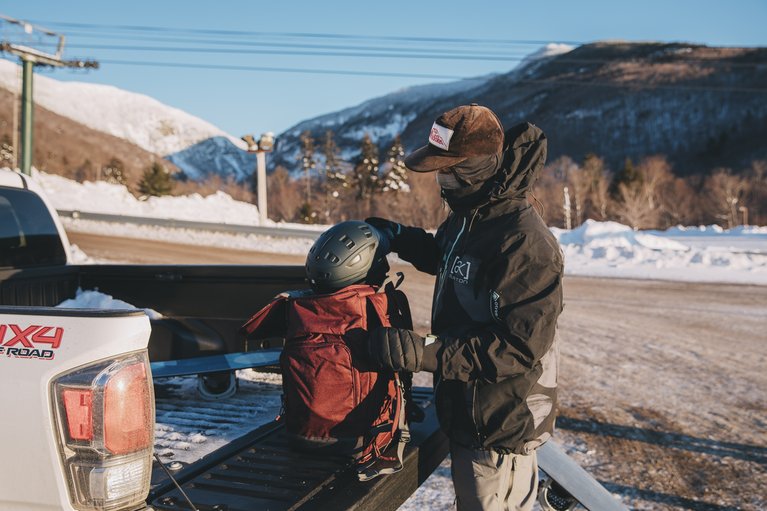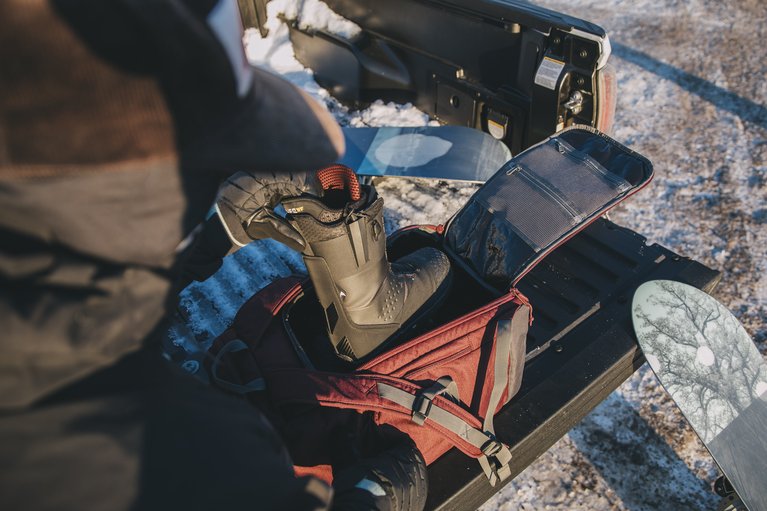 Riders 2.0 Duffel Bag (73L)
Name a better feeling than taking your boots and socks off after a day of riding? Okay, maybe a bottomless powder turn. The Riders 2.0 73L Duffel Bag ensures that you'll have the space to pack everything you'll need on hill as well as everything you'll need for the lot (hint: Extra socks, dry boots, and fresh layers). Your future self will not only thank you, but you'll have the essentials to keep you toasty while you enjoy a cold one with your friends.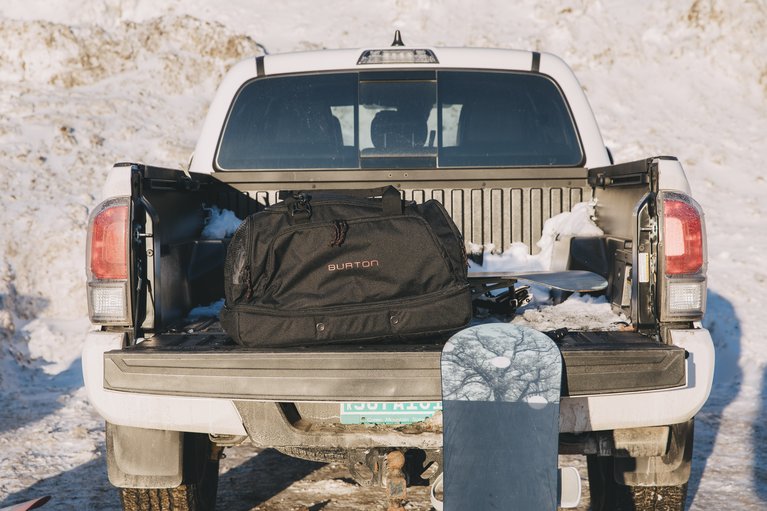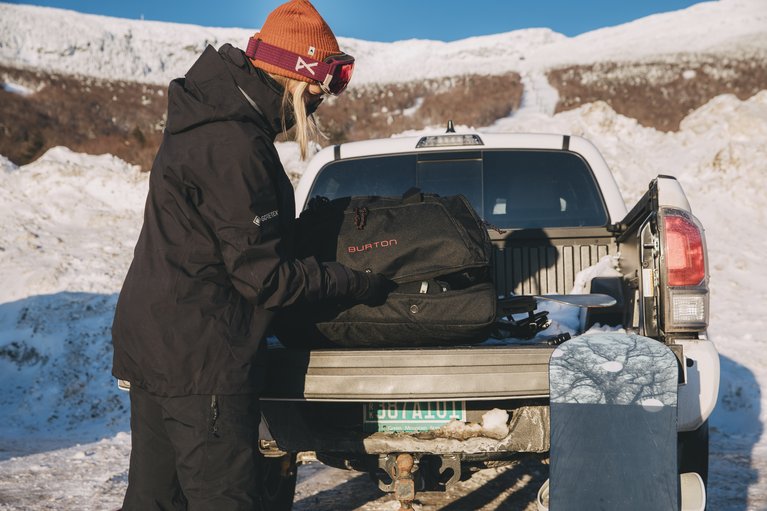 Bullet Tool:
Let's be honest, those resort tuning benches weren't doing us any favors. All the tools were attached by wire (that was always frozen), the bench was either too high or too low, and for some reason the screwdriver you need was never around. Eliminate the annoyance and COVID risks of the resort tuning bench by biting the bullet with the Burton Bullet Tool. This compact tool has everything you need to fix anything on your board, all in a glove-friendly and pocket-sized tool.
Power Stretch Glove Liners:
It should come as no surprise that your hands will get cold standing around in the parking lot… like really cold. Your warmest gloves are going to make is nearly impossible to fumble around with all of your gear before you are ready to ride. Enter, the Power Stretch Glove Liners, the perfect blend of warmth and functionality for all your parking lot needs. Plus, as an added bonus, they come with touchscreen-ready fingertips so you can keep warm while using your phone.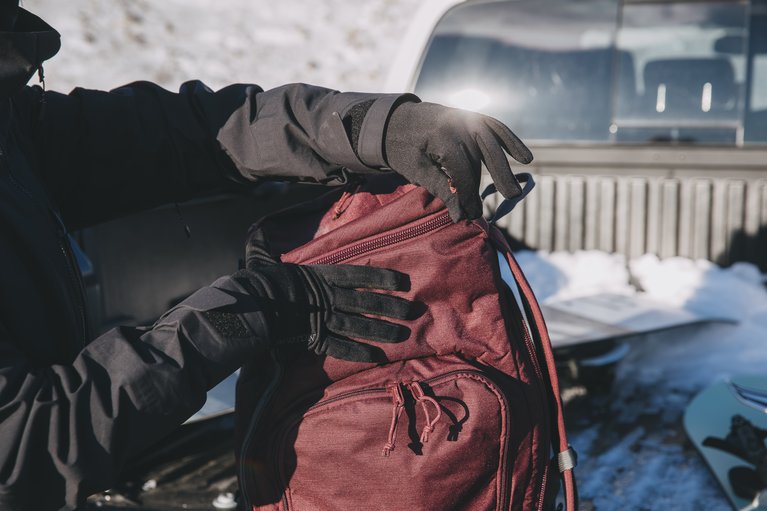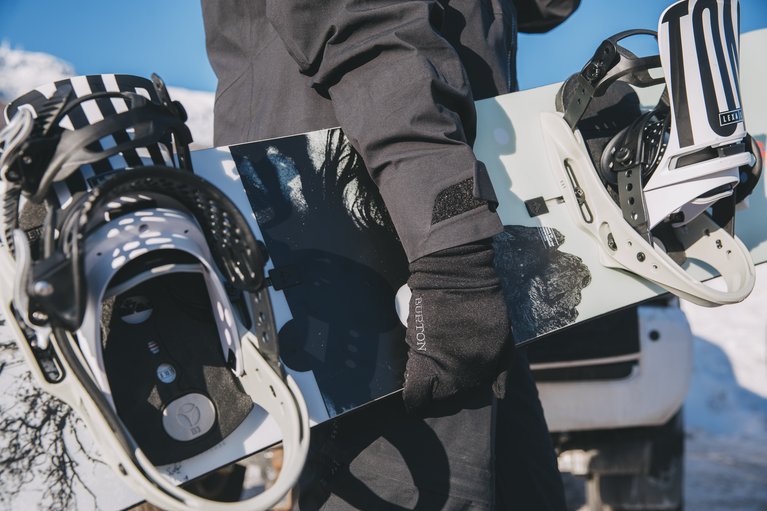 Midweight X Base layer Long Neck Hoodie:
A neck warmer, a face mask and a base layer walk into a bar… just kidding. We come from the school of thought that the fewer pieces of clothing you bring to the mountain, the easier your life will be. This midweight base layer allows you to have both a neck warmer and face mask on you at all times. So, if you're standing around the car, you're never wondering "where did I put my hood?" or "do I still have my facemask?" You're covered.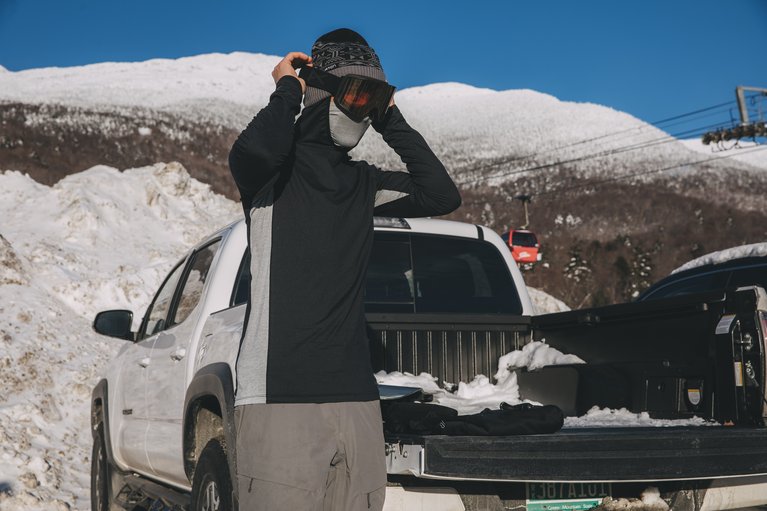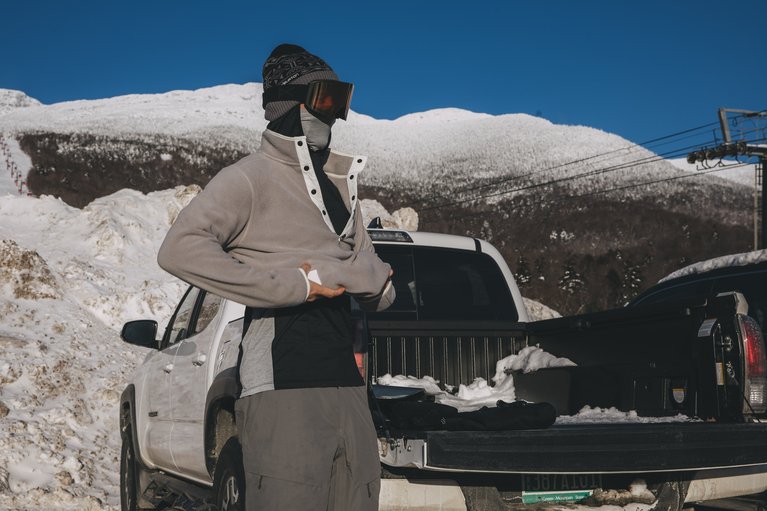 Toaster Liner:
Are you someone who's always complaining about how cold your toes are on hill? Or even worse the person they're complaining to? Then this is 100% the best $200 you'll ever spend. The Toaster Liner warms your snowboard boots up in less than a minute with a low-profile built-in heating system that cranks warmth at a low, medium or high setting. With a single charge, the battery lasts for five hours ensuring your dogs are nice and toasty both on hill and in the lot.
Lunch Sack:
Whether you're packing a sandwich, or a full charcuterie spread, grab your grub by the horns with the Burton Lunch Sack 6L Cooler Bag. Not your average brown bag, the easy-wipe insulated bag keeps food chill, the mesh side pocket stores water bottle or utensils, and a handy ID window helps settle the debate over who brought what to the après-tailgate.
Anon MFI Goggles WM1 + Magnet To Goggle Face Mask:
In the words of the Insane Clown Posse, "F*** magnets, how do they work!" Who knows? But Anon's Magnetic Facemask Integration, aka MFI, allows for your facemask to easily connect with your goggles. The seamless coverage ensures protection from snow, wind, and sun. Double it up with a COVID-19 resistant mask and rest easy in the lift line, lodge or parking lot.
Lift corrals, ticket pick up, reservation systems...
and anything else put in place to keep resorts safe from COVID 19 has made riding a little different this year. The turns will always be the same, but the parking lot might look a little different. But hey, we are snowboarders – we can make the best of any situation. With these changes, we have seen some serious parking lot innovation emerge. From truck-bed kitchens to portable propane powered heat lamps, we have seen the snowboarding community turn cold dreary parking lots a place of innovation and resilience.
---