The History of Analog: 20 Years of Non-Conformity
As we usher in the next era of Analog with a new line of outerwear, we also find ourselves looking back at how this unexpected offshoot of Burton was born. For the past twenty years, Analog has blazed its own trail through outerwear that re-draws all the lines: subverting the status quo, resisting conformity, and refusing to repeat itself.
But how did it all happen?
The Early Years: A Creative Outlet (2001-2003)
Analog was created by Greg Dacyshyn (former Burton Chief Creative Officer) and the late Jeff Anderson (team rider) in Burlington, Vermont. The early years of Analog were driven by the impulse to create a line of outerwear that drew from the world of fashion and captured the creative riding and adventurous spirits of our favorite riders like Trevor Andrew, Gigi Ruf, and Jeff Anderson. Trailblazers who were proud to be different and rode in a way that made everybody sit up and wonder: what are they going to do next?

Analog pushed the boundaries of outerwear through collaborations with innovative designers like Errolson Hugh and Michaela Sachenbacher, the German duo ACRONYM. Fusing style and technology, ACRONYM created one of Analog's most iconic early pieces: the MD Clone Jacket. With a Sony mini-disc and digital music player sewn right into the fabric, the Clone was named as one of Time Magazine's coolest inventions of 2002. Not too shabby for a piece of functional outerwear.

When this and other early Analog pieces first dropped, so did people's mouths. Nobody had ever seen anything like what Analog was putting out. Which was the whole point.

Even still, with no marketing and only limited quantities available, it wasn't yet entirely clear how Analog fit into the expanding Burton universe.
The Brand: Viva La Revolution (2004 – 2009)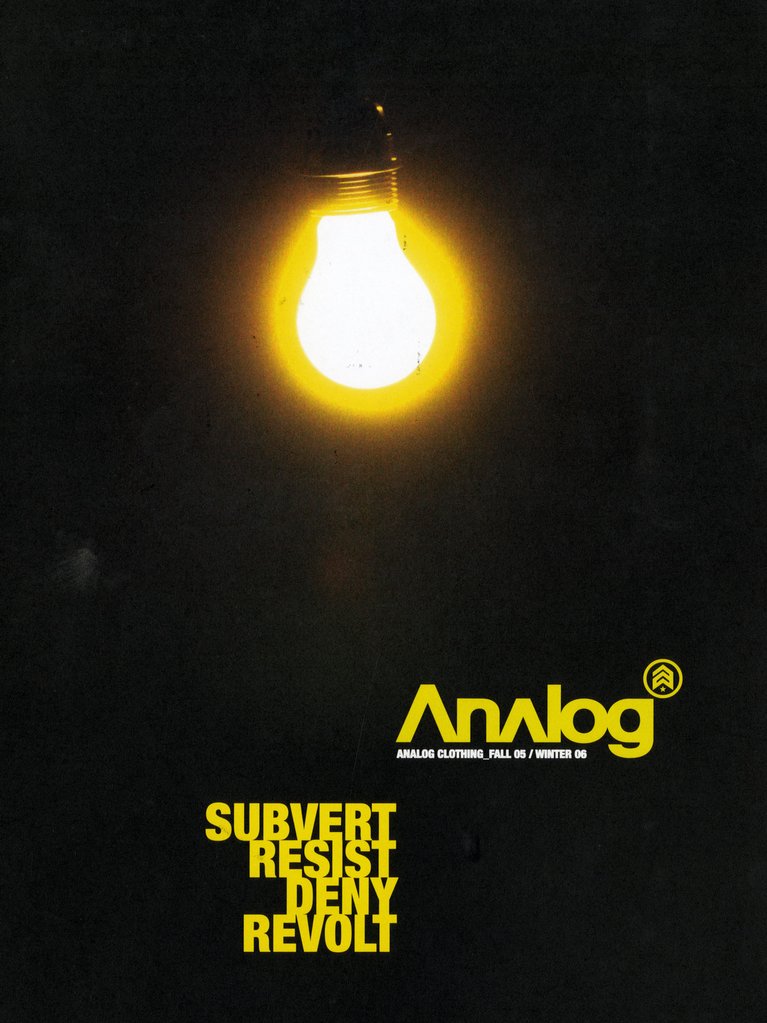 In the mid-2000s, there were already plans in the works to launch a Burton apparel brand called Korda. The hype around Analog, though, was creating its own momentum. So, the decision was made to say goodbye to Korda and say hello (officially) to Analog.

This was the era when a heavy military/revolutionary influence made its way into Analog's collections. With olive drab tones and technical leaps like built-in illumination lamps, tactical styling, and concealed pockets, jackets like the Black-Ops, the Full Metal Jacket, and the Blunt made it clear that something completely new was happening in outerwear. The Blunt even had a Cuban military-inspired removable "Fidel Cap" and Guayabera-style embroidered pleats.

Analog still featured a line-up of riders who were as stylish in their fashion as they were progressive in their riding: Heikki Sorsa, Mikkel Bang, JP Solberg, Danny Davis, and others. But Analog also expanded beyond the mountain, combining world-class talent with serious style in a skate team that included Leo Romero, Brian Sumner, Marquis Preston, Dylan Rieder, and Keegan Sauder that helped expand Analog's reach and influence.
Analog's offerings also grew to include softgoods for men and women, as well as a full spring and summer line. The brand found a wider audience through commercials and now had three official Analog teams: snow, skate, and eventually surf, with Nathan Fletcher, Benji Weatherly and Kamalei Alexander representing Analog on the waves.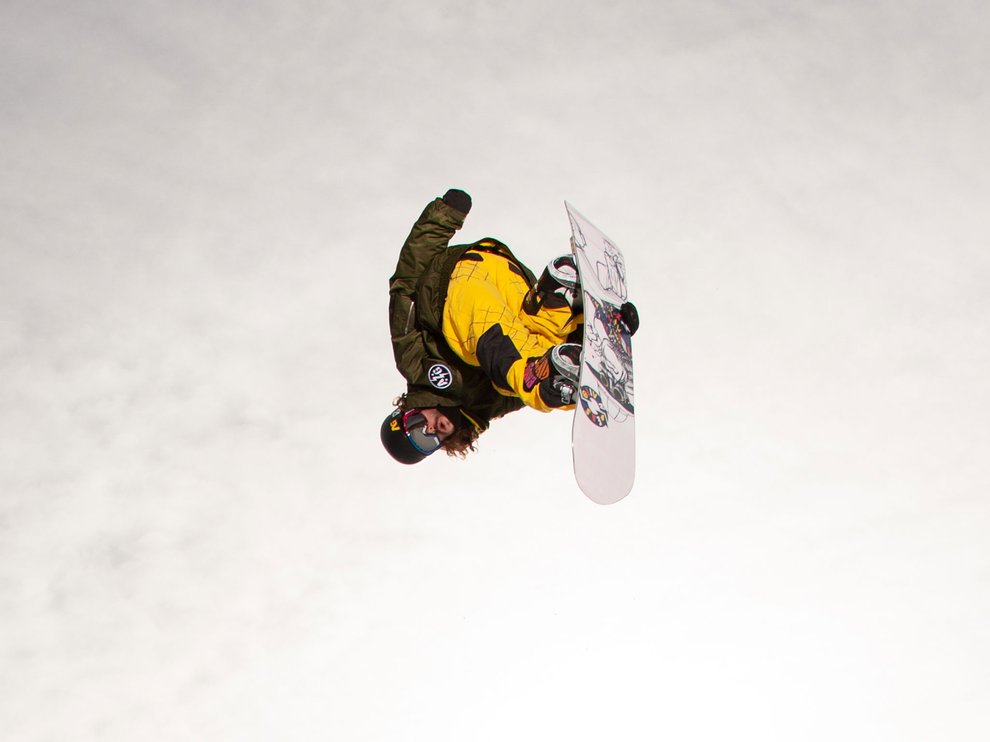 The Evolution: Design Unlikely Futures (2010 - 2019)
The 2010s ushered in some big changes.

After influential forays into skateboarding and surfing, the decision was made to simplify and return Analog back to its roots as a winter-only brand focused solely on snowboarding. The collections from this period looked to build on past design innovations through products that were in sync with current styles.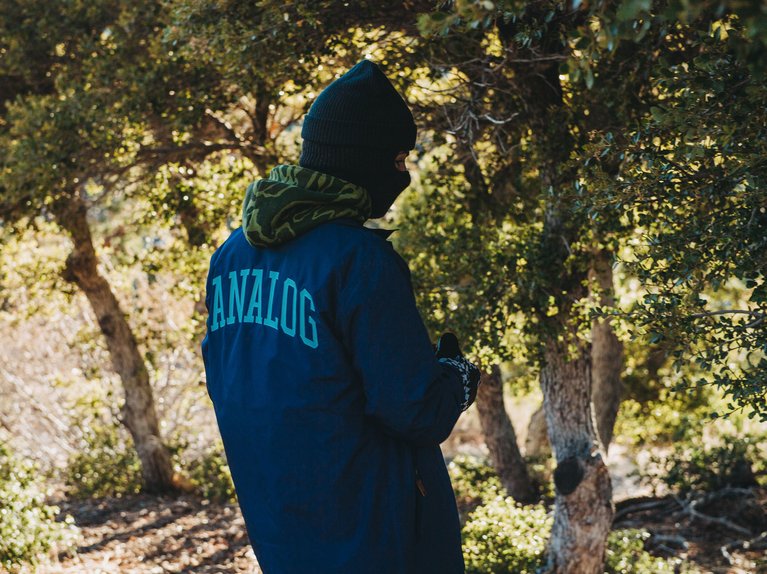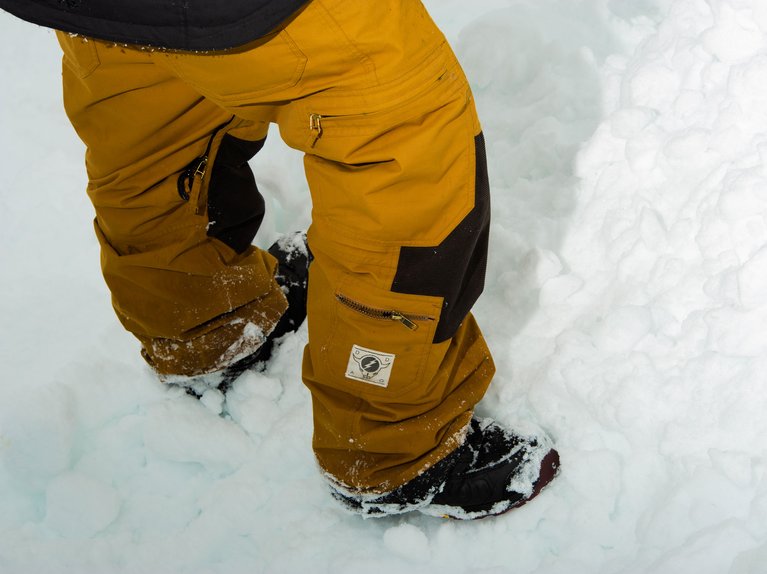 Analog's snow team included riders like Danny Davis, Mikkel Bang, Austen Sweetin, and Zak Hale who continued to showcase Analog's unpredictable designs at events around the world. Over the decade, Analog's aesthetic ebbed and flowed, drawing inspiration from our riders and pushing boundaries while still maintaining the core DNA of the brand—function meets style.

A highlight from this era was the Permanent Light Archive (PLA) collection with classic snowboarding shots from legendary photographer Trevor Graves. The chronicle of snowboard culture started with film and photography and showcasing Trevor's images on Analog's designs made a powerful connection between snowboarding's past, present, and future.
The Future: A Re-Birth (2021 - ∞)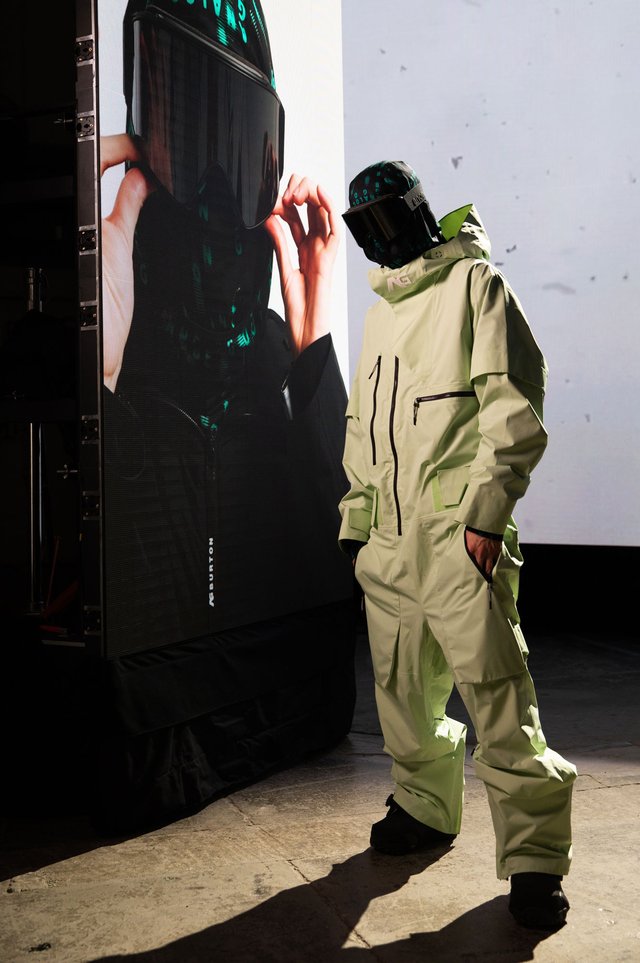 Which brings us to today.

A whole new line of AG outerwear drops on February 1st, bringing Analog's legacy for pushing design and function forwards into the next era. We're proud that the spirit of unapologetic experimentation that has defined Analog from the beginning is stronger than ever. Analog is still taking chances. Still pushing the boundaries. Still resisting conformity.

Still designing unlikely futures.

Twenty years ago, we asked people to go on a journey with us into the unknown. It's pretty cool that so many have come along for the ride.
---