Where to Mountain Bike in the Adirondacks - A Day Trip
If you ever find yourself within a day's drive to the Adirondacks, take it from us: Go.
Upstate New York's Adirondack Mountains, which span six million acres and comprise one of the largest protected area of wilderness in the lower 48 states, should be on your radar for both summertime and winter activities, whether you're into mountain biking, hiking, snowboarding or even just enjoying the scenic views.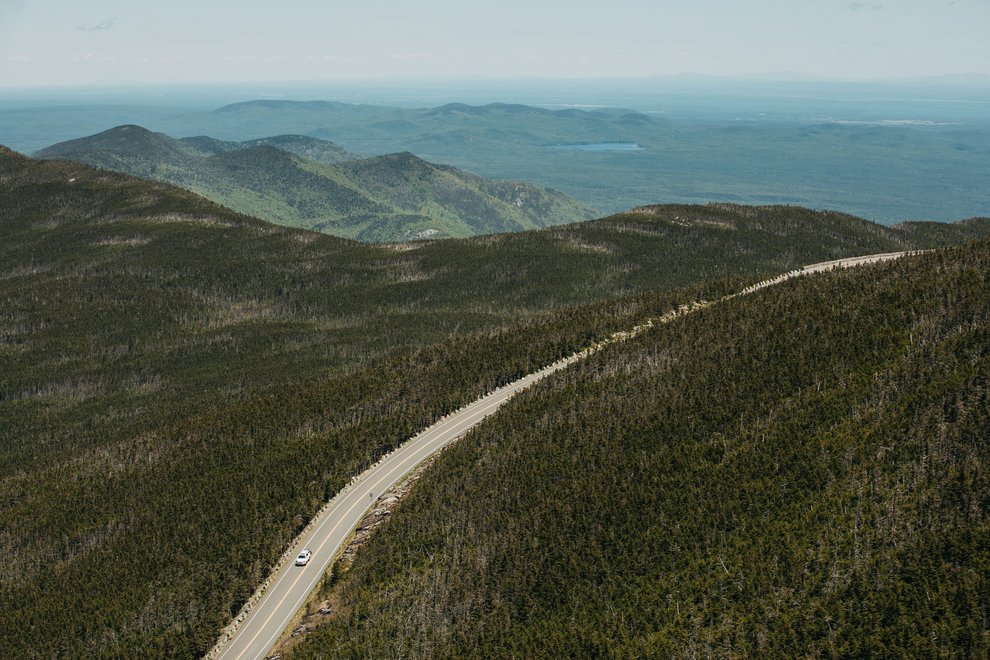 Although we can always get down on some mountainous scenery, it was the mountain biking that drew us to day trip to the 'dacks. From Burton headquarters in Burlington, Vermont, a few of us loaded up a couple of Toyotas with our gear and lunches, and hit the road.
One of the great things about working with a bunch of downhill enthusiasts at Burton is that there's never an offseason. If you snowboard in the winter and mountain bike in the spring, summer, and fall, you've always got friends ready to get out there - before work, after work... sometimes during work? ¯\_(ツ)_/¯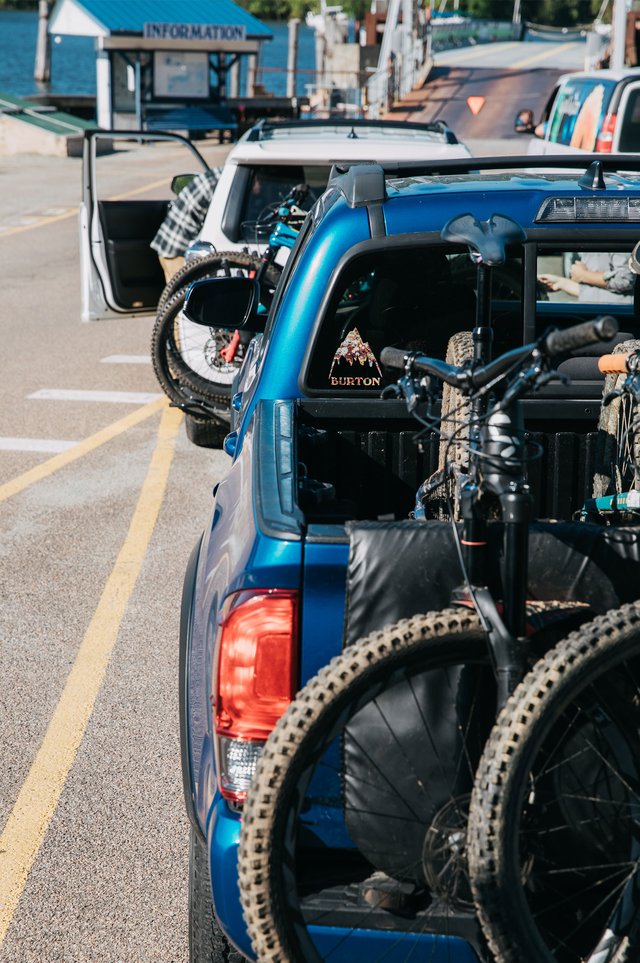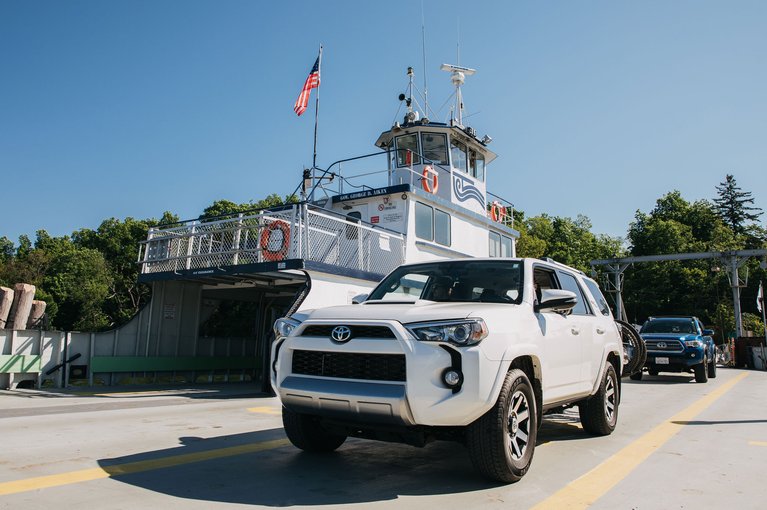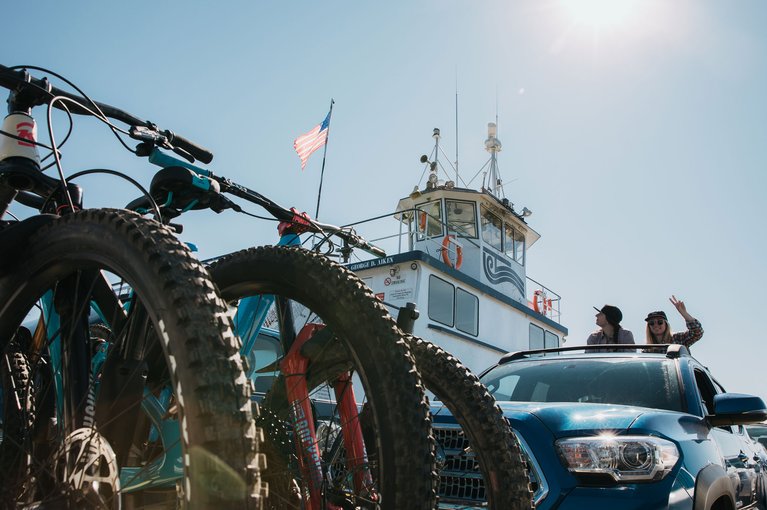 Next Stop: Our Favorite ADK MTB Trails.
Cell service in the Adirondacks can be spotty, so it's important to make sure your crew has the plan down ahead of time - or make sure you have an old school, good old, offline map.
Here's the places we recommend for a two-trail day with time for lunch, too. Click on the icons in the map below to learn more about each spot, and click the top left icon on the map for an overview of the itinerary.
Biking Spot #1: Poorman's Downhill
The best way to tackle this trail is to work out a shuttle with your vehicles so that you can bike downhill and end up with a car to get you back up to the top. Although you *could* conceivably ride up it and then come back down, taking a couple of downhill laps seems like a lot more fun. We dropped our 4Runner off at the top and shuttled back up in the Tacoma to grab it after.
What makes this trail epic: It's three miles of single track that drops more than 1,200 vertical feet. Literally every time we stopped to re-group, every single person was uncontrollably smiling.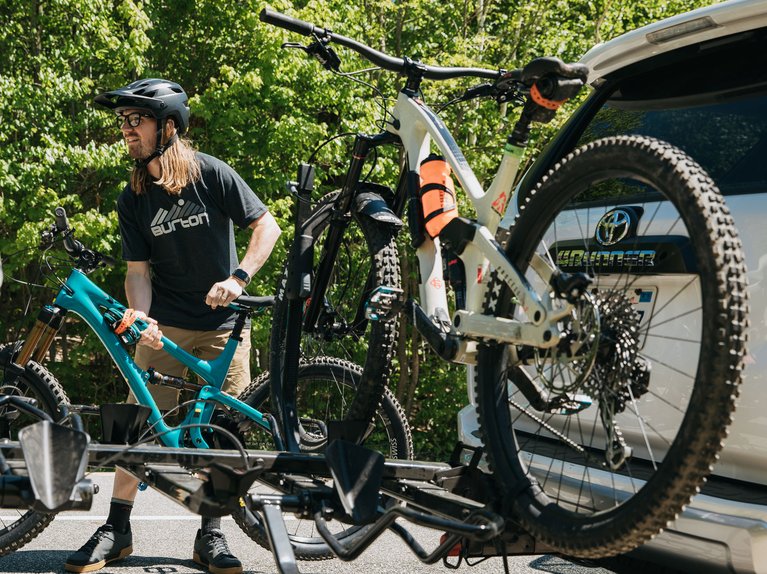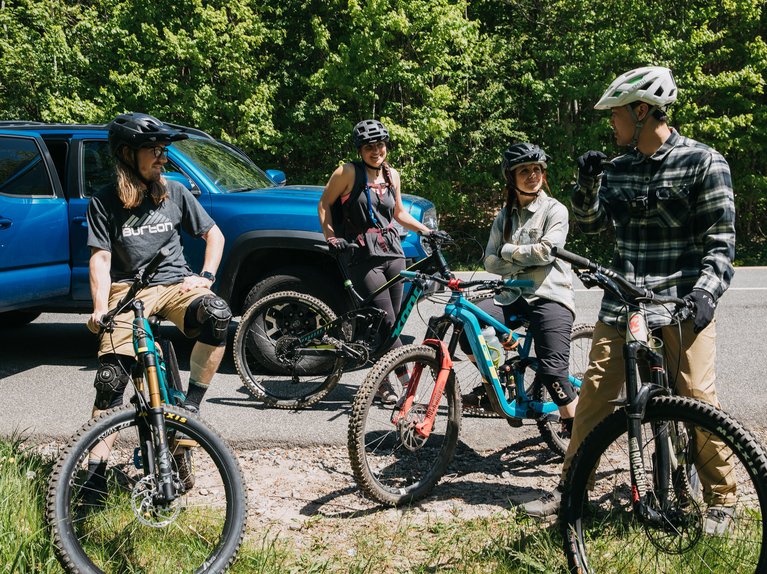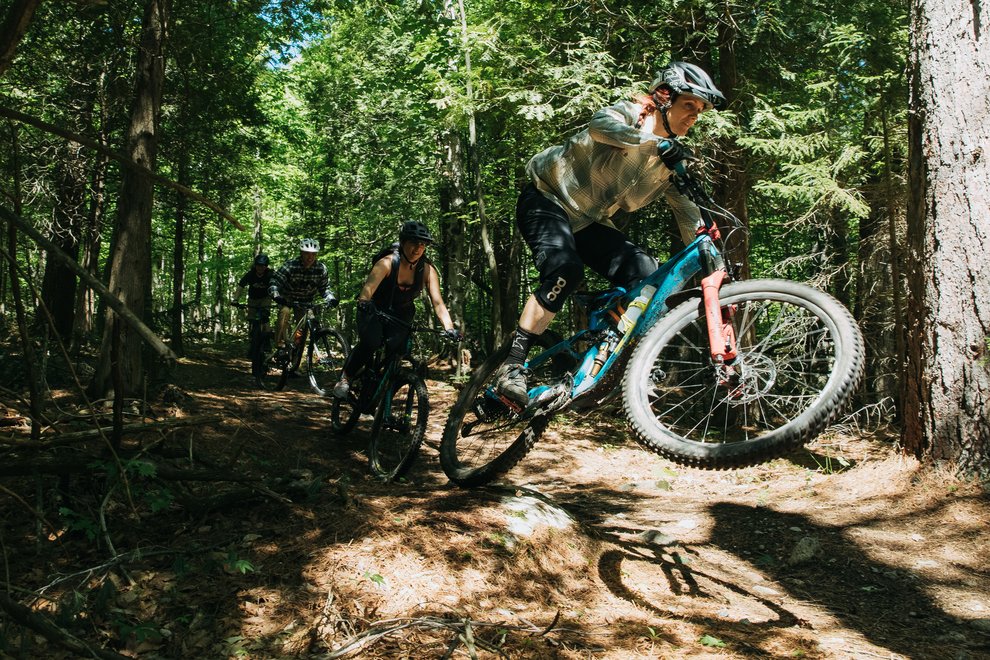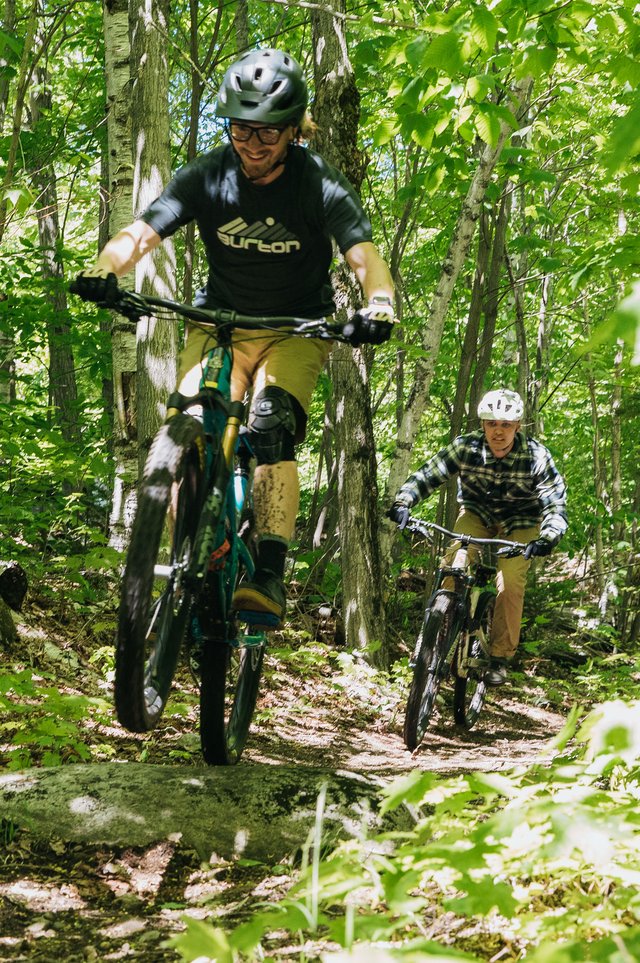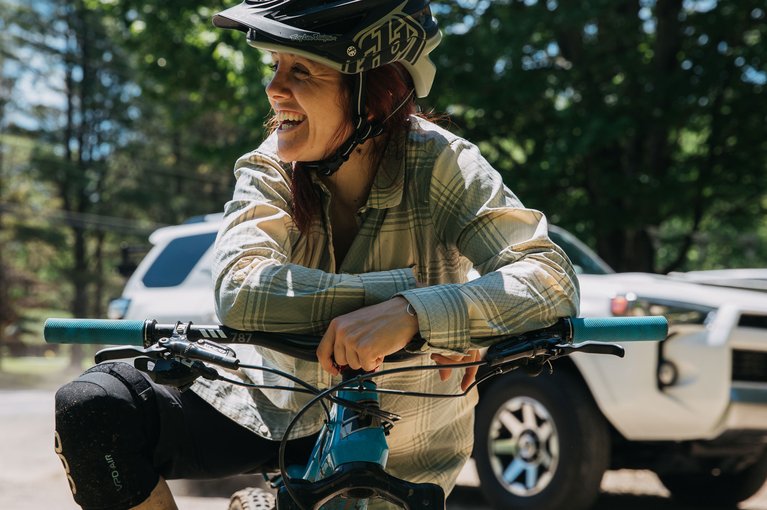 On the day we went, the trails were a little muddy in spots, but when you're ripping down as fast as you can sending mud splatter everywhere, it's all part of the fun. This trail featured some fun little rocks to launch off of and some small stream crossings that were just as fun to splash through.
The lower section is pretty smooth and you can get some great speed with some little pumps and only minimal pedaling necessary. Depending on how fast you're going and how often you and your friends take a break to talk about how much fun you're having, the trail will take about 45 minutes to descend.
Right after you're done, you're going to want to do it again.
Best Place for a Lunch Break
It's not just about what you eat - our crew packed some box lunches - but when you're surrounded by amazing views, it's also about where you eat. Part of the beauty of this area is getting up to one of the High Peaks, and luckily for us, there's one you can drive right up: Whiteface Mountain.
Yes, imagine that: A downhill ski and ride slope in the winter is also a great spot to chill at in the summertime. Who would have thought?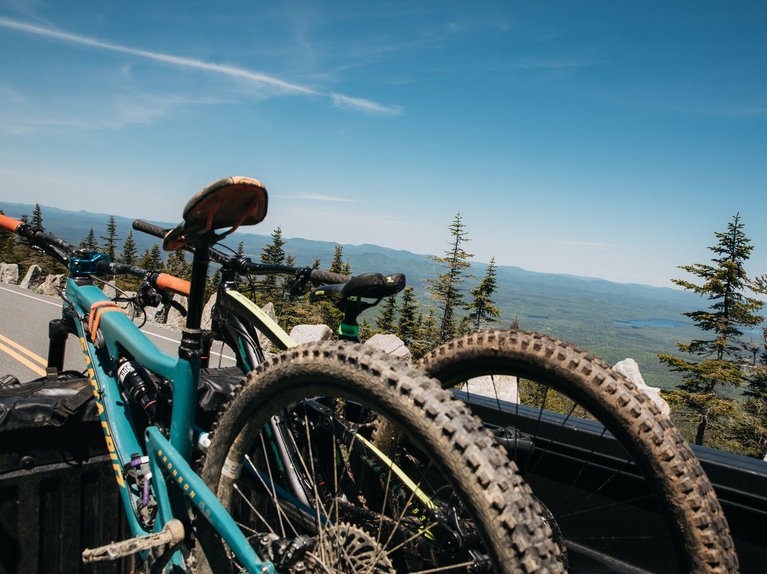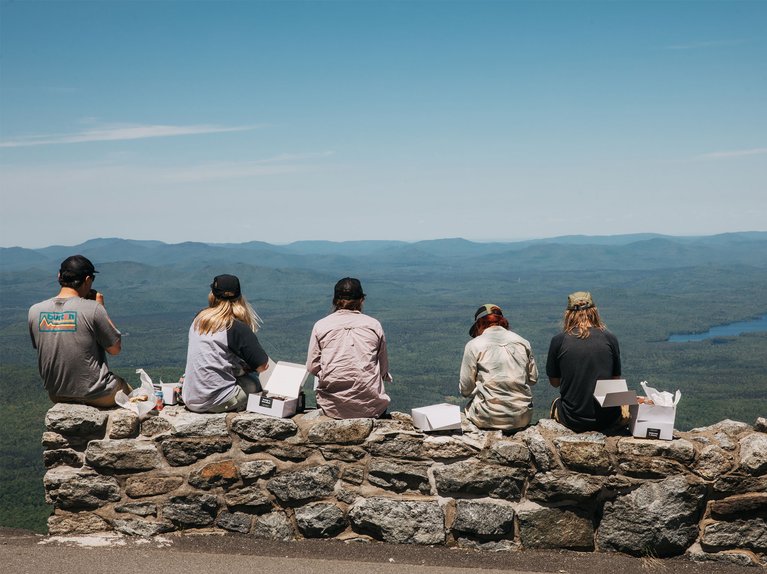 Biking Spot #2: Hardy Road
The Hardy Road trails have a nice mix of trail types spread over 8 miles of singletrack with some easier flat areas to intermediate and one black diamond downhill. We rode up "All In" which took about an hour or so and had some punchy uphill switchbacks and covered a lot of ground. On the way back down, we looped through "Ante Up" which featured some good drop opportunities and some well-maintained berms.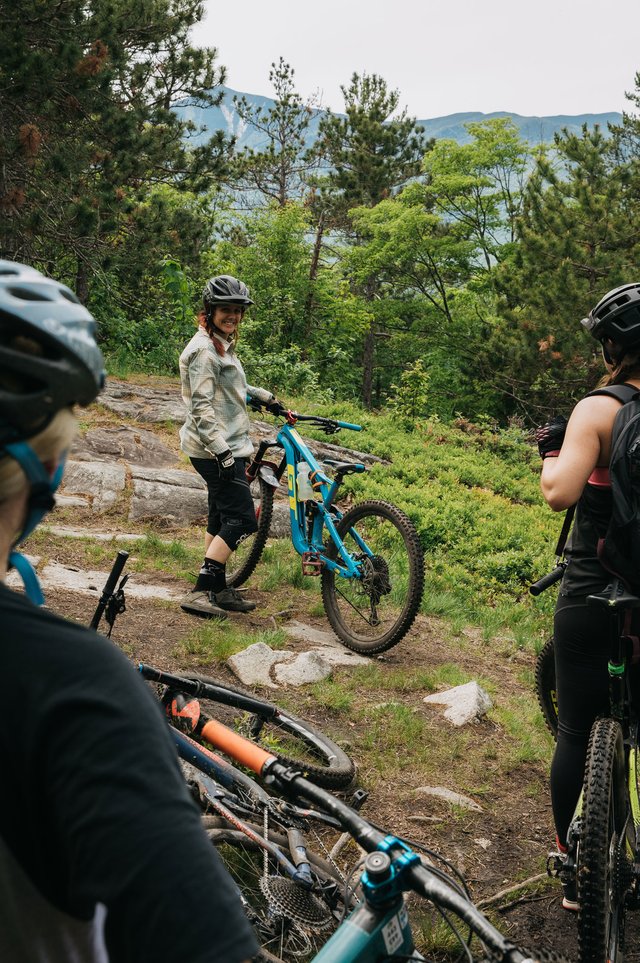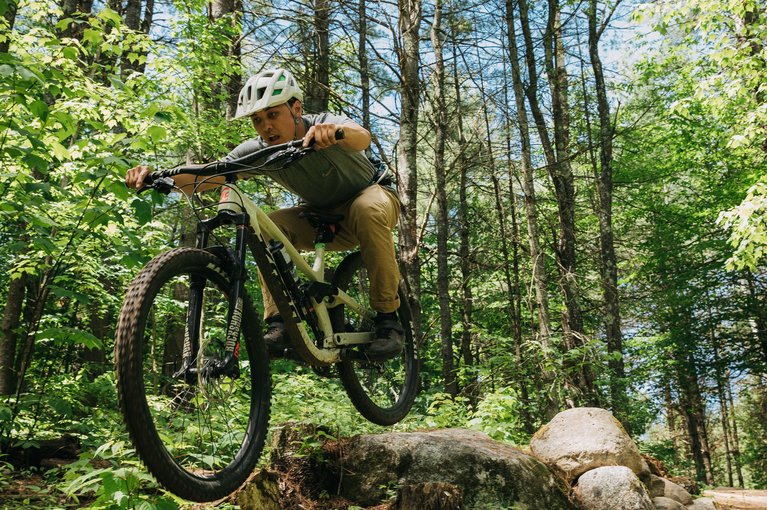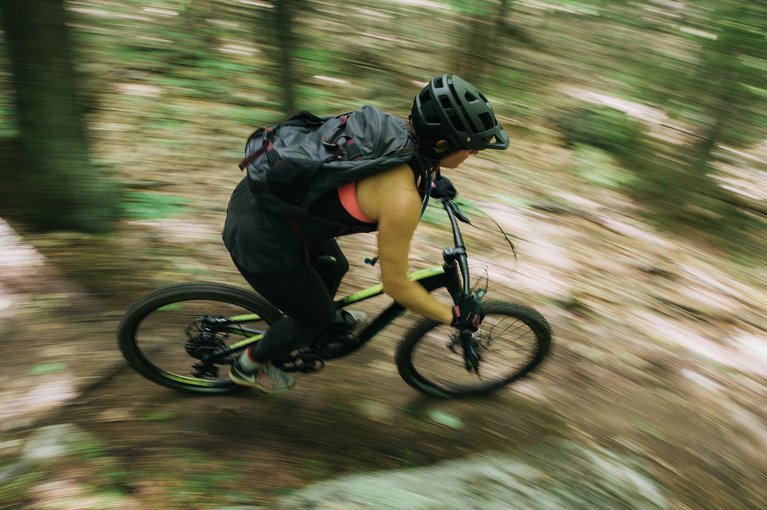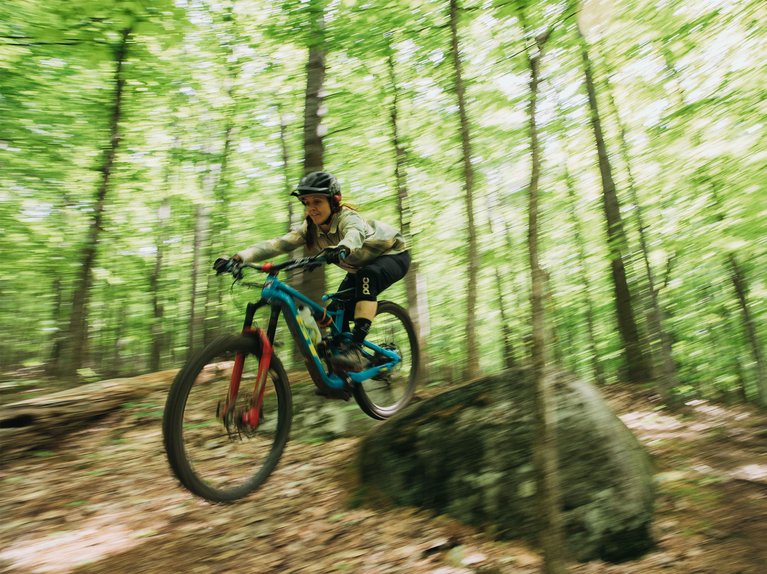 In one day, we were only able to hit two trails, but the good news is, there's way more left for another day. Both of the trails we took are small portions of what's available in larger trail systems and if you have more time, you can definitely get to more.
In terms of other planning resources, Trailforks and other sites have super detailed information to help you find the trails in New York that are right for you and your ability level.
Props also need to be given to the local folks who volunteer their time to maintain the trails we call our playground. Make sure you join your local trail alliance and/or spend a couple days a year giving back, too.
Before we fully called it a day, we had to get down on the post-bike tailgating routine. We pulled down the Tacoma tailgate and broke into our cooler and snacks. After a full day of mountain biking, we recommend you do the same.
Where are your favorite places to mountain bike in the Adirondacks?
---