What can we expect this winter season in Europe?
One thing is already certain: The upcoming 2020/21 snowboard season will definitely be anything but normal.
Although we can't wait to get our first turns in, none of us can predict what this winter will bring in terms of snowboarding. The COVID-19 pandemic, which already forced many areas to close early in the spring, unfortunately still has a tight hold on the world.
In Europe, a few areas in Switzerland, like our partner resorts Laax and Verbier, have already opened their slopes and lifts. All of this took place in compliance with strict safety plans. Most other countries and lift operators, however, are currently worried about the start of the season due to stay-at-home orders, travel warnings and unclear regulations regarding the opening of lifts.
The legal requirements change almost daily and vary greatly both between European countries and within the regions of a country. Even if it's difficult to predict at this point in time, we all have one and the same goal: To have as much fun as possible while we get through the winter safely and in good health.
So let's not allow the current uncertainties to spoil our mood, and let's remember two special things about snowboarding: First, snowboarding has always been an adventure. And second, snowboarding thrives on the creativity of each individual. We need to keep these two thoughts in mind this year more than ever.
Unfortunately, at this point in time it's impossible to provide an overview of the situation in the European ski areas. Still, we did our best to give you an overview of the most important ground rules as well as a few tips on how each of us can make for a safe and and enjoyable snowboard season.
Masks don't just protect against the cold.
Masks are now part of everyday life for all of us. Mouth and nose protection is a really simple but effective way to protect yourself and others from a COVID-19 infection. As on public transportation, in supermarkets and other enclosed spaces, face masks are also standard equipment on the mountain this year.
Some lift operators have already communicated that wearing masks is mandatory in waiting areas, gondolas, restaurants, restrooms and any other enclosed areas. And let's be honest: For many of us, and especially for children, this is not new. Face masks are already part of many people's standard equipment to protect against snow and cold temperatures.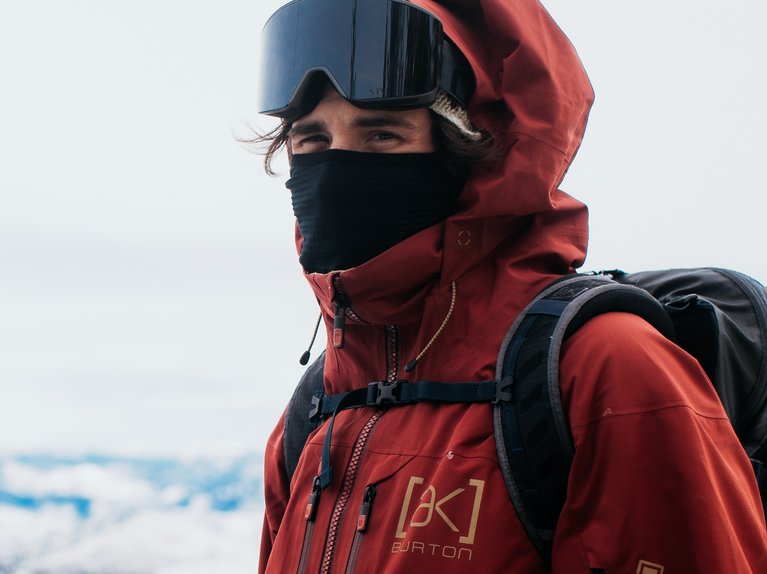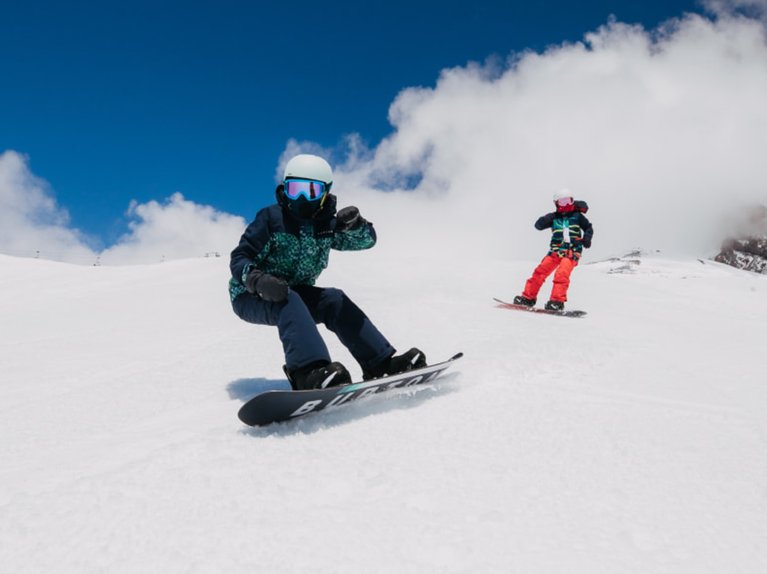 Proper etiquette when standing in line is even more important this year.
Just like the masks, keeping your distance is now an integral part of our everyday lives. In addition to wearing a mouth and nose covering, keeping a distance of at least 6 feet significantly reduces the risk of infection.
Not only we as snowboarders, but also the winter sports areas do their best to make it easier for us to keep our distance. Some examples of measures being taken by our partner resorts include:
Expanding parking spaces and extending operating hours for public transportation to reduce waiting times and make it easier for people to maintain social distancing
Extending hours of operation to avoid peak hours
Restricting capacity in gondolas and cable cars
Reducing group sizes for ski instruction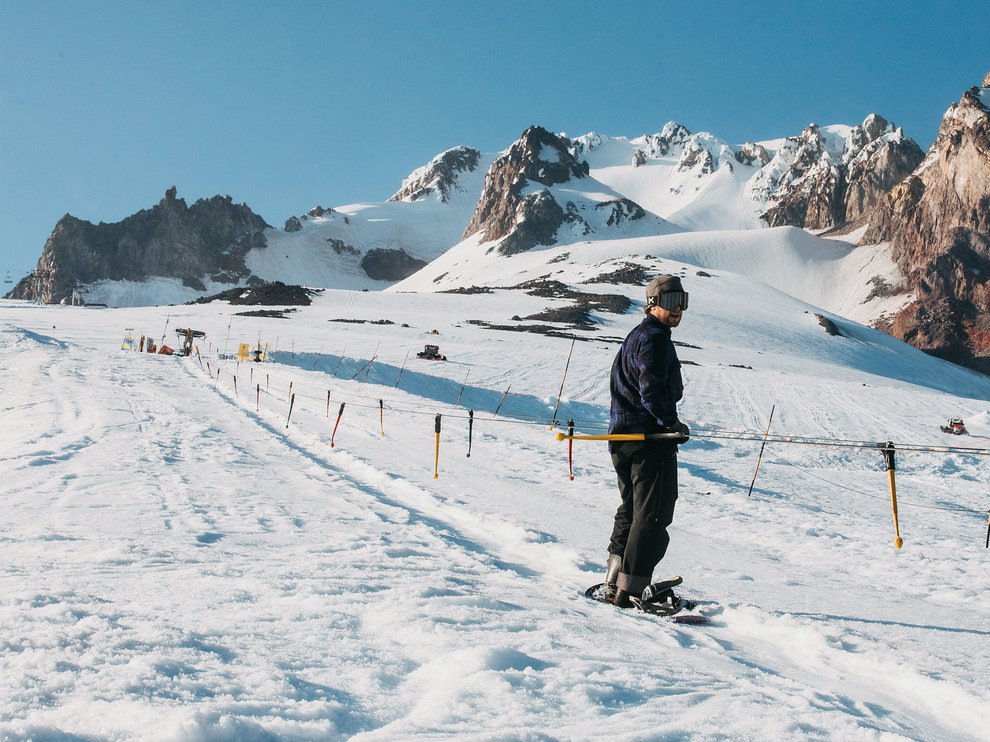 Contactless is the key word for many services.
Many lift operators have taken advantage of digitization options and have been working tirelessly over the past few months on solutions to offer contactless services.
This includes, for example, online ticket sales to avoid lines at ticket counters. For those guests who cannot use this service, ticket counters will remain open. In this case, contactless payment is used to further minimize possible risks.
Digital tools are also part of the recipe for success this year in restaurants and lodges. Tables can be pre-reserved online in many places and menus can be accessed via QR code.
Maybe even more of us will rely on homemade snacks this year. For all late risers who don't have time to make themselves breakfast in the morning, lodges also offer drinks and snacks to go in some places. Since most of us spend far too much time in enclosed areas anyway, it can be a good thing to enjoy our lunch break in the open air in the sun. If the weather doesn't cooperate, there is also the option for all those who arrive in their own car to spend their lunch break there. Of course, all of this is not the same as stopping at our favorite lodge, but it can be an alternative in this unusual winter season.
What else is there to consider?
In addition to wearing a mask and keeping your distance, there are a few things you can do to help create a "normal" experience this snowboard season:
Wash your hands regularly and use hand sanitizer dispensers
Leave windows in gondolas and cabins open
Follow rules and safety measures: This winter season will only be a success if we all work together on this!
For us, it's especially important to point out that the situation around the opening of lifts and slopes is continuously changing. Plus, the tips we mentioned in no way replace the measures defined by legislators or lift companies. It's all the more important to find out about the current situation, hours of operation and safety measures on the website of the respective area in advance.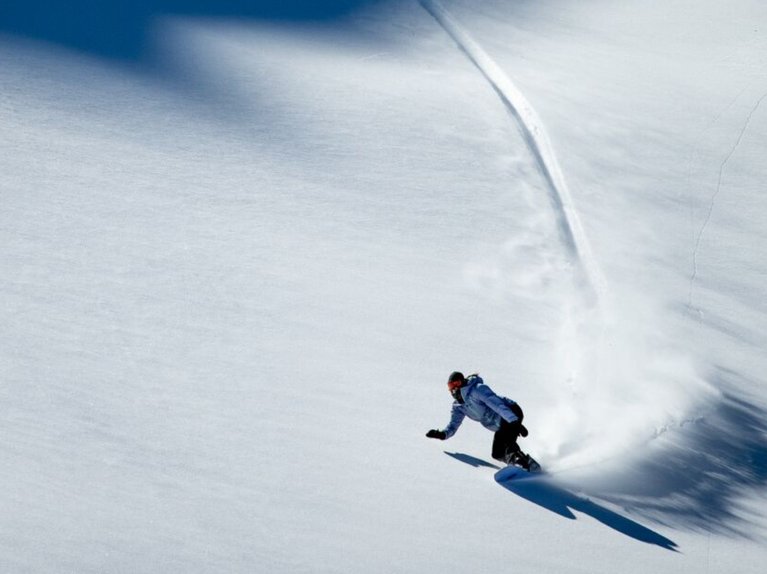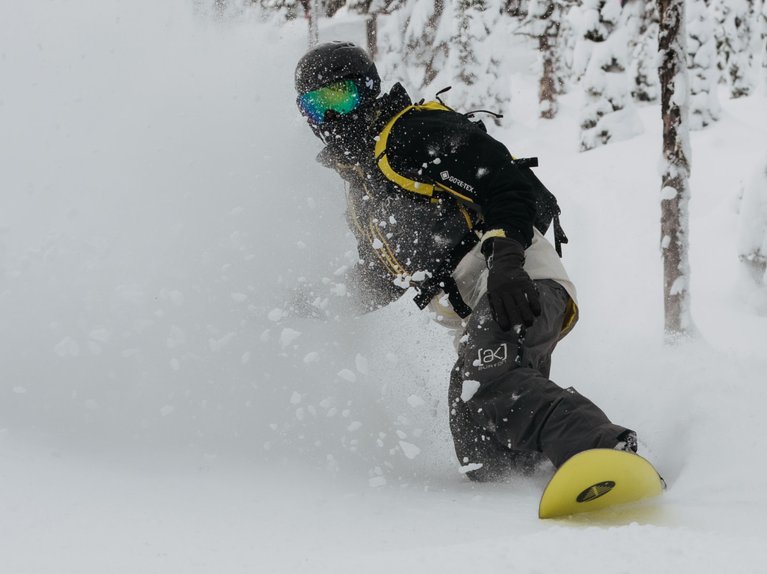 Are you ready for a secret now?
The next few lines really have to stay between us (and the whole community) - okay? Snowboarding is not just restricted to ski areas with lifts and lodges. You can strap on your board wherever there is snow. Assuming all areas have to close or even remain closed (which of course is not our hope!), your board doesn't have to stay in the basement.
Let's think back to a few years ago when American ski resorts didn't even let snowboarders on their lifts and slopes. We can also think back to the first half pipe, which was constructed in Tahoe at the municipal landfill. This and countless other examples show that it's in our nature as snowboarders to be creative and to make the best of the circumstances.
So here are a few tips for snowboarding outside of ski resorts:
Splitboarding - this is something everyone is already talking about, and for good reason. Touring is no longer just for skiers because splitboards also give us snowboarders access to off-piste terrain.
As soon as you are outside of the secured slopes, not only do you need splitboard equipment, but also the necessary safety equipment and the appropriate expertise. Anyone planning to leave the secured slopes should definitely take classes in avalanche awareness and relevant first aid beforehand. The knowledge gained should be refreshed on an ongoing basis and companion rescue (avalanche burial search) should be practiced several times a season. In this case, a lack of knowledge can have fatal consequences and even cost lives.
You can find more information on why an avalanche course is indispensable in this post. Along with Laura and Gabriel from "Life in White," we have also put together 8 tips on how to improve your splitboard technique.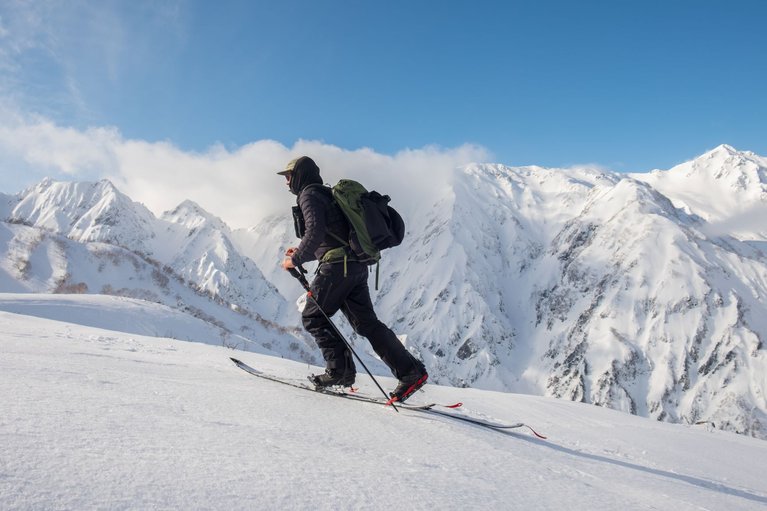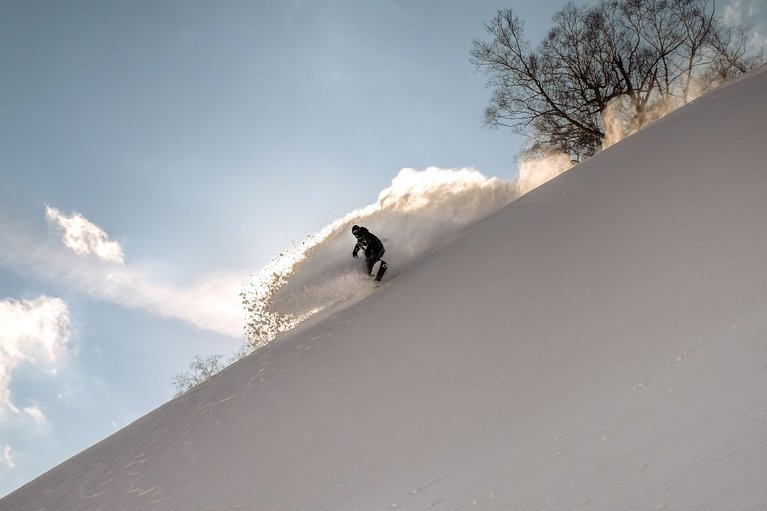 Surfing in the snow - a journey into the past. A rider and their board on foot on the way up, just like back when bindings weren't an issue. Does that sound like a lot of sweat and not much fun to you? Then take a look at the latest clip from our rider Seppl Ramsbacher and you might just change your mind. You'll find the weapons of choice for the surfing experience in the snow here: Resonator, Backseat Driver or the Throwback boards.

But stick to the regulations in your region when splitboarding or powsurfing, because it is not allowed everywhere. And don't take any unnecessary risks.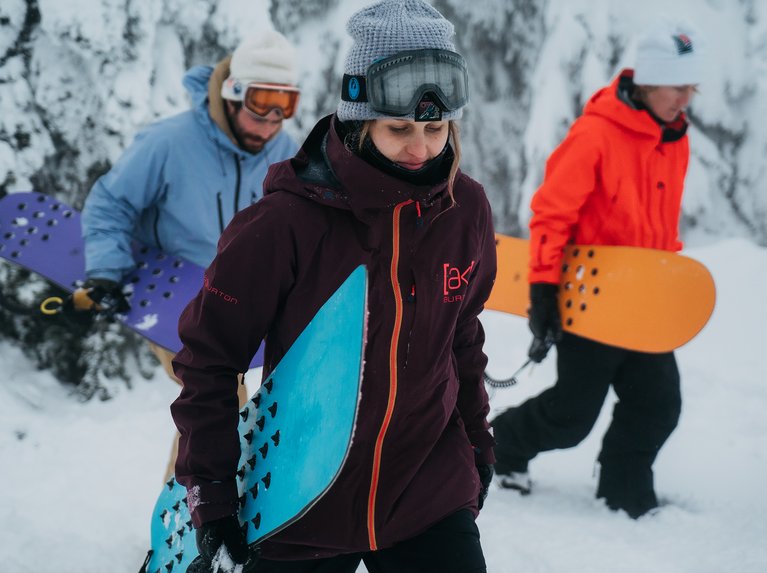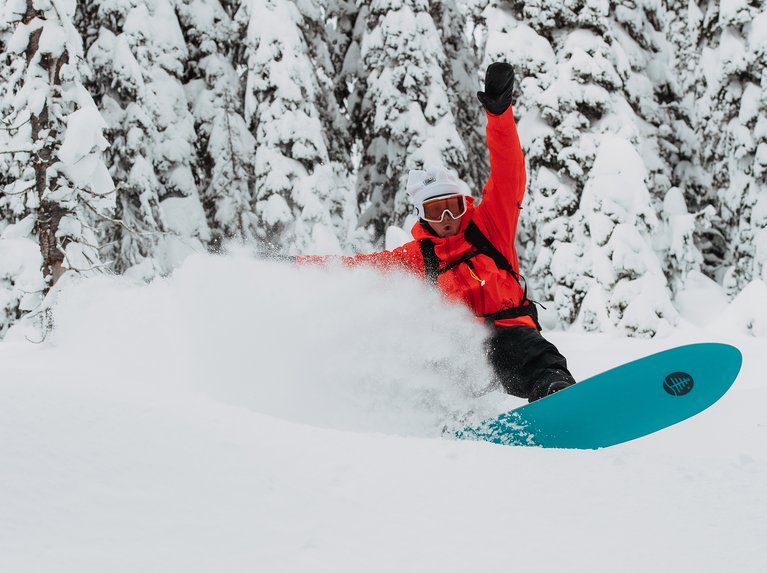 DIY - build your own park. Most yards go unused in winter. So why don't we convert them into a homemade mini-park? All you need is snow, a slight incline and of course permission if the land is not yours. Valuable tools include shovels, some salt (to prepare the takeoffs) and maybe with a little creativity you can even incorporate an obstacle or two from everyday life. How about PVC pipes, tires, a swing or walls? Let your creativity run wild and "jib it"!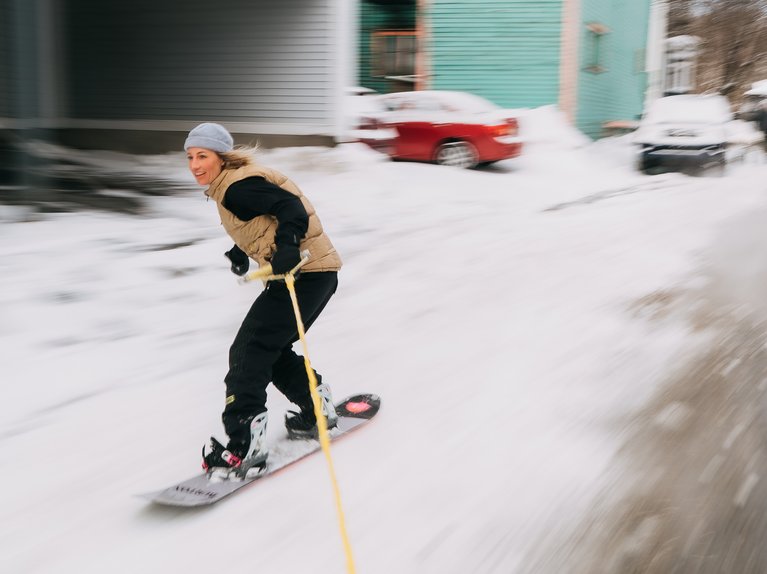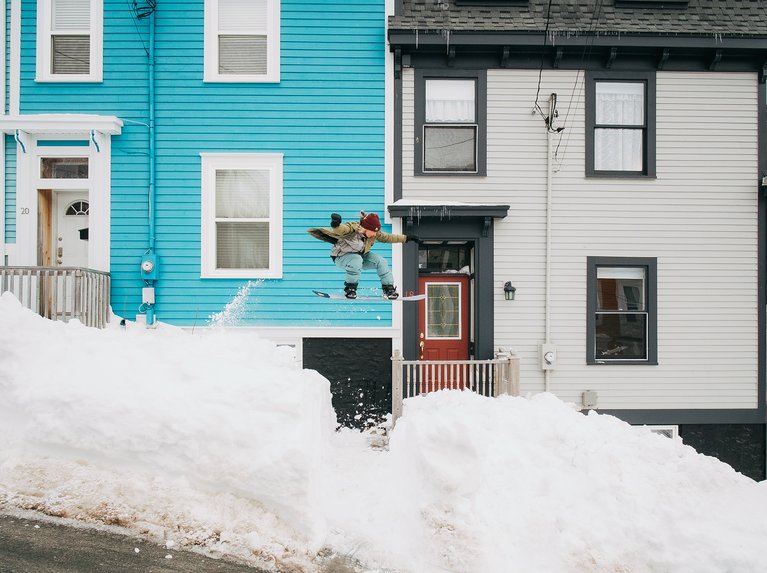 Whether on the street, in your own yard or in a nearby field, safety should always come first too. Not just your own safety, but also the safety of the people around you. Every place has its own risks depending on its features, so it is essential to take a close look at these and factor them in as soon as you start planning for kickers, rails or gaps.
Stay confident and have as much fun as possible.
So no matter how this winter season turns out, let's not forget that in the end, it's about having fun riding. Snowboarding is a passion that unites many of us, so we should stick together now more than ever and all do our best. Wherever you are this winter, be optimistic, treat each other with respect and understanding and above all, stay flexible and ride on!
To shorten the waiting time a bit and bring that certain snowboard feeling back home, we have something very special for you. Our latest snowboard film, "One World". Sit back, watch the film and look forward to your own first turns during this somewhat different winter season!
---