What to Expect On the Mountain During The 2021 Snowboard Season
One thing is for sure: The upcoming 2021 snowboard season is set to be the weirdest winter ever.
It's hard to say with 100% certainty what to expect this season. We're still facing the same COVID-19 pandemic that shut down most, if not all, resorts last year. Every resort and state has ever-changing guidelines and plans to keep everyone as safe as possible this winter.
It can be a bit confusing and overwhelming, but there's always a silver lining: snowboarding has always been a "do it yourself" adventure. More than ever, we're all in a position to find a creative approach to having as much fun as possible. With a little optimism and a flexible approach, we may end up making some of our most memorable turns yet.
With that said, here are some of the trends we've seen that will help you navigate how to get the most riding in this winter.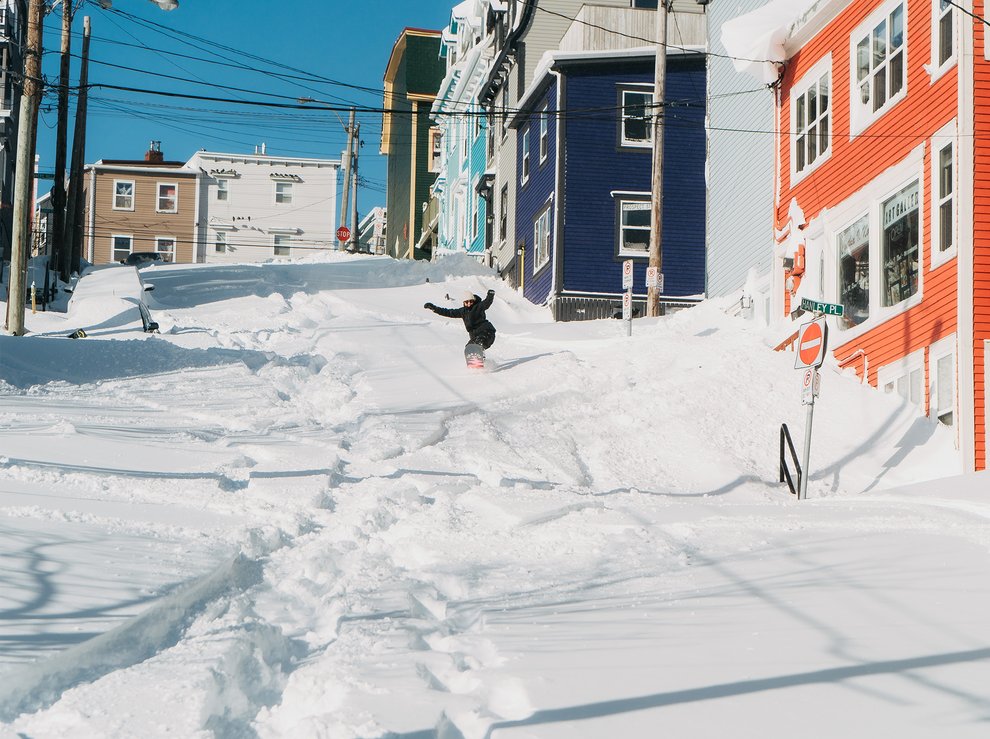 Mask up for everyone's sake.
We all know the program by now. Most mountains will require people to wear them in all buildings, common spaces, lift lines, during lessons, and while riding chairlifts and gondolas. It's going to be cold anyway, so wearing a mask may help you in more ways than one.
Of course, the big priority is preventing infected droplets from traveling far when we cough, sneeze or talk. So, you'll need more than just a neck warmer, balaclava, face mask, or neck gaiter. We suggest bringing two masks with you, one for warmth and one for protection, and layer the two while you ride.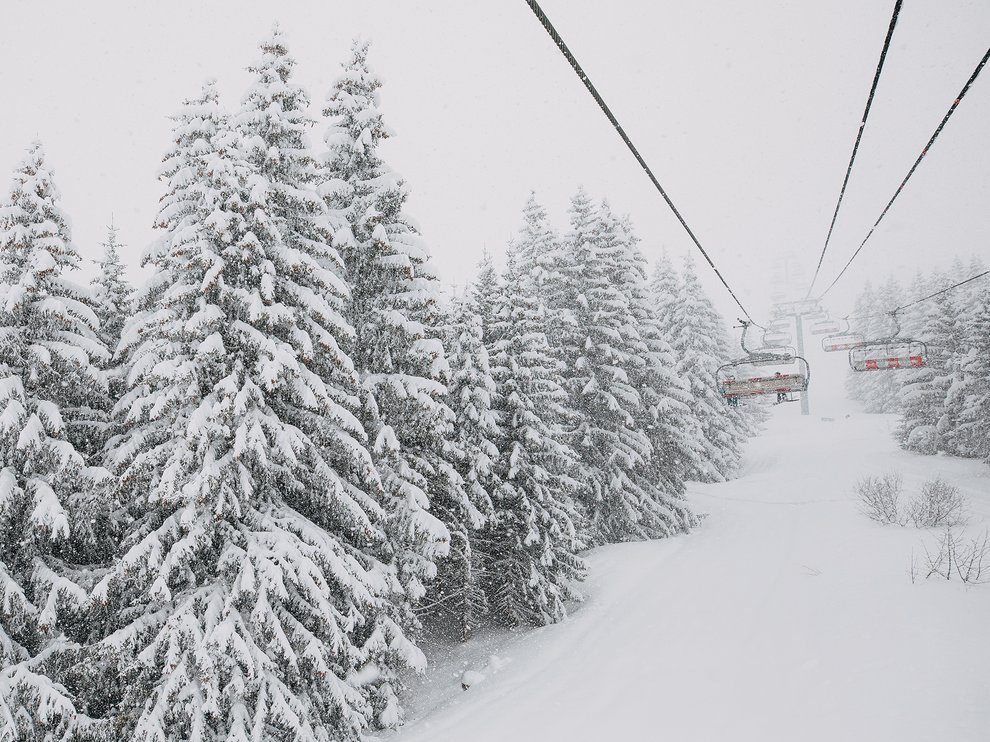 Chair for two, please.
Resorts have a huge responsibility to ensure guests' safety, which means controlling crowd sizes is now a bigger priority than ever. What that means for all of us is that riding this winter isn't going to be as simple as waking up and stepping into the lift line. So, let's all collectively make this our mantra: plan ahead!
Each resort has its own unique plan. Many seem to incorporate a Rider Reservation system. Much like making a restaurant reservation, these resorts will ask you to make a date-specific reservation each time you plan on going to ride. Based on the type of ticket you have the system will affect you differently.

Day Tickets - Many resorts have announced that they plan on limiting ticket sales in a given day. So, if you're just going out for one day, you'll want to familiarize yourself with the mountains policies ahead of time. This season, most resorts will be catering to season's pass holders, which means that a limited number of day tickets will be sold on a first-come-first-serve basis. Your best bet will be to purchase your ticket (by phone, web or app) a week in advance of when you plan on riding. This will give you plenty of time to reserve your spot while also learning the resorts most up to date COVID-19 guidelines.

Season's Pass - If you plan on riding a lot this winter, you're gonna want a season's pass. With the new reservation systems, resorts are rolling out the red carpet for pass holders, giving them priority over other mountain goers. In some cases, resorts are giving riders a set number of days they can reserve at a given time, guaranteeing them spots on the hill. Other resorts are putting no restrictions on pass holders and allowing them to ride whenever they choose. Being a pass holder, you'll get the real VIP treatment, but we do suggest checking with your resort before purchasing your pass to see which system they'll be adopting.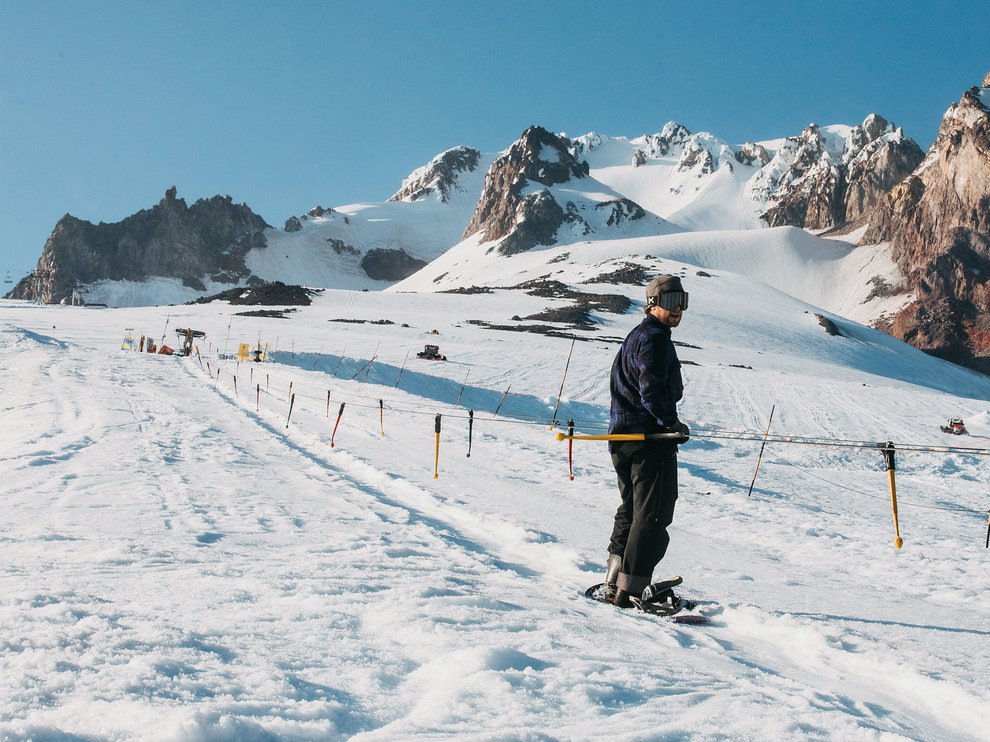 Liftline & chairlift etiquette: Do your part and keep apart.
Two places you can expect to see lots of changes this season are liftlines and chairlifts. Often the most crowded outdoor area on hill, resorts are implementing policies to ensure proper physical distancing while you're not riding. In line, you can expect to be spaced out six feet from the groups around you. Also, to the dismay of introverts, many mountains are ditching the singles line to help maintain physical distancing on chairs. Groups that are paired together, will sit on opposite ends of the lift with a space separating them in the middle. These practices may vary from resort to resort, and will require reworking throughout the season, so remember to be flexible and patient with resort staff and other riders.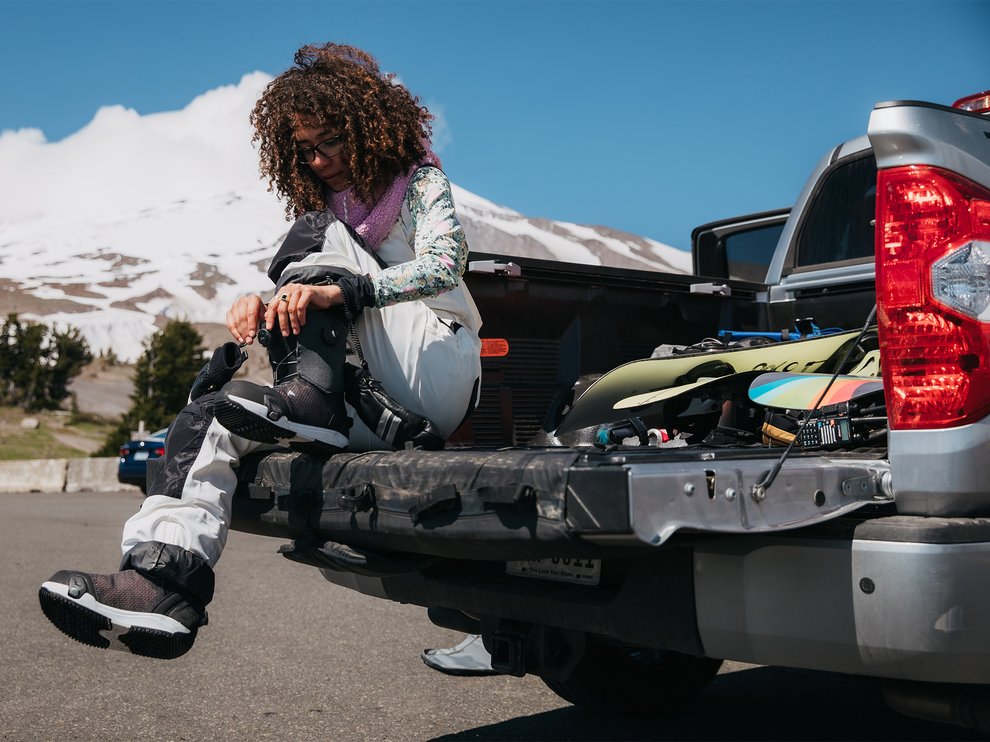 The lodge? Oh, you mean the parking lot...
Many riders are already on the lot-to-lift program, but for others, the lodge is as much a part of the snowboarding experience as riding itself. Obviously, the lodge will look very different this season than in years past. Like most restaurants and bars, most resorts will continue to offer food, but expect minimal seating. To counter this, resorts are pivoting to offer more grab-and-go choices, as well as outdoor options. Other resorts are encouraging people to bring their own food, and loosening restrictions on parking lot grilling. Catch us tailgating it up.

As far as getting booted or warmed up, it's still unclear what will happen. The most common trend we found, were resorts encouraging people to use their car as they would the lodge. Obviously not as convenient, this does seem to be the safest option. Some resorts plan on making wait lists for the lodge, then texting people when there's space for them. Other resorts are planning on increasing their number of outdoor heat lamps and fire pits for safer outdoor heating option. Of course, resorts will still provide bathroom access at the lodge, as long as you wear a mask and physically distance.
Yet another opportunity for a creative approach. Let's see who can master the "lot lodge" this winter (if you haven't already). Folding chairs and a good floor mat go a long way, but the sky is the limit.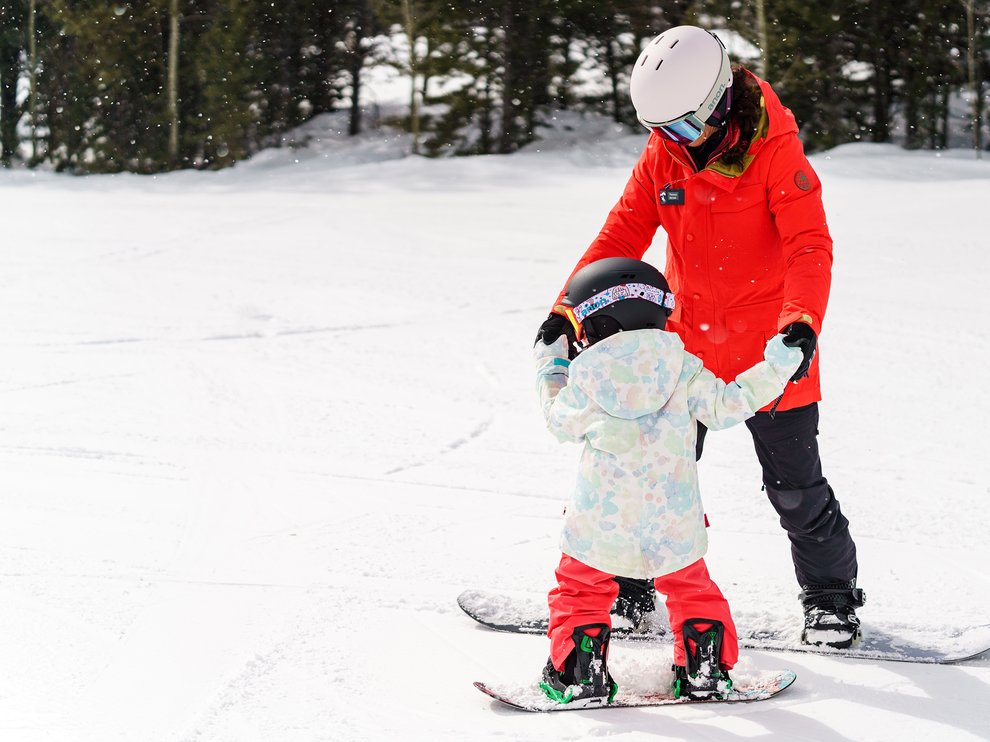 Want a lesson? Bring a doctor's note.
Many resorts have announced that they will not offer group lessons this winter. Some will do family lessons, in which will be easier for resorts to guarantee everyone's safety. Private lessons will still be offered, but depending on local regulations, you may need to prove you're COVID-19 free, submit to temperature checks, and provide contact tracing information. It may feel like you're jumping through hoops, but trust us: all the years of fun snowboarding ahead of you are beyond worth it.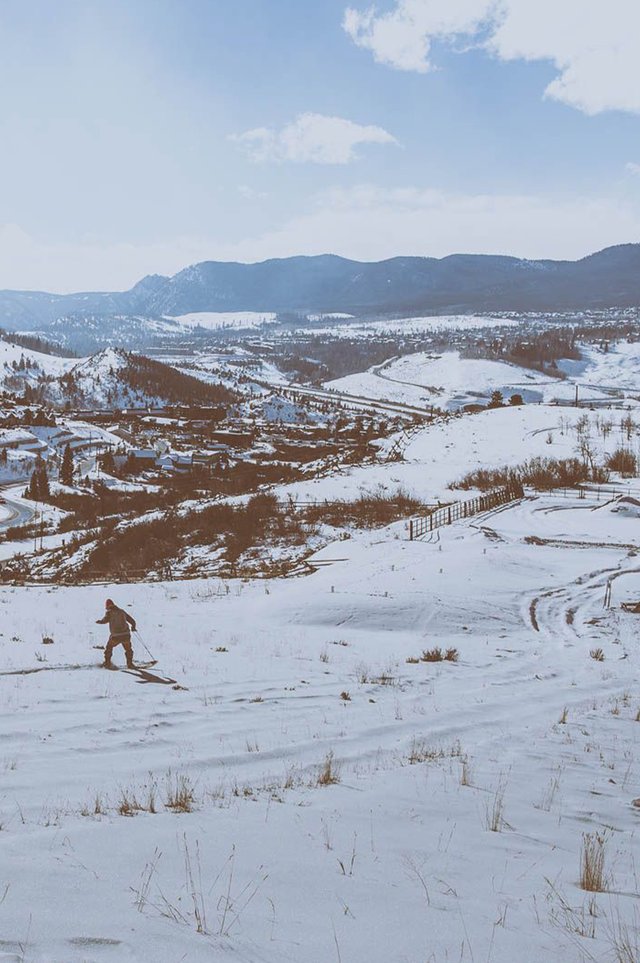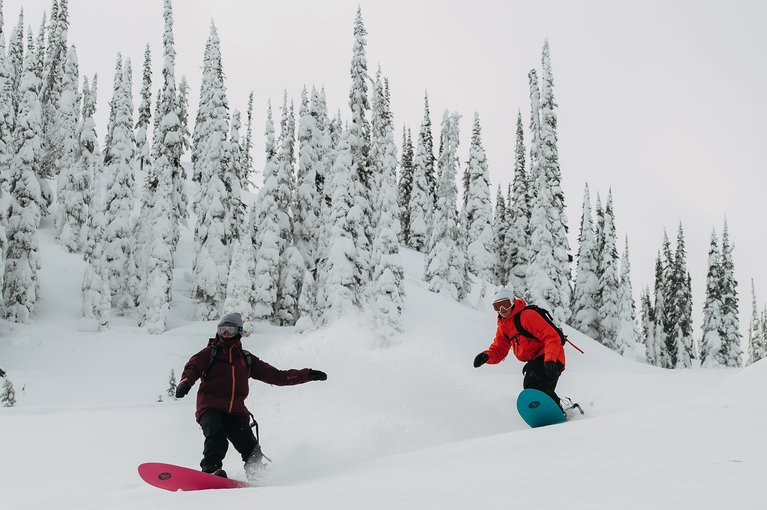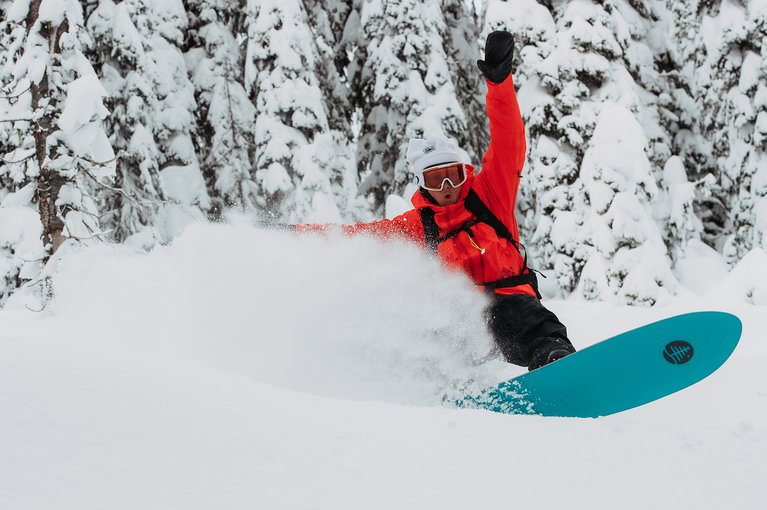 Want to hear a secret?
Ok, keep this between us (and the whole internet), but you can pretty much go snowboarding wherever there's snow. That's right, you don't need to go to a resort.
Let's say worst case scenario: your local resort shuts down (let's hope it doesn't), there are still tons of ways to go snowboard. In fact, remember this fun little tidbit: snowboarders were originally banned from resorts! The first halfpipe was actually just a ditch at the Tahoe City Dump. So, when you think about it, snowboarders have been turning trash into treasure for years.
Here are a few non-resort suggestions to keep you riding through the season:

Splitboarding – Everyone's talking about it, and with good reason. Splitboarding is the easiest way for snowboarders to access sidecountry and backcountry terrain without relying on heavy machinery like snowmobiles or helicopters.
If you do plan on getting into the backcountry, it's imperative that you educate yourself by taking avalanche and first aid courses. Like, no joke. Stop right where you are if you don't plan on getting an education in backcountry safety. It could mean your life or someone else's. The dangers are tragically real. Check out our On-Hill Snowboard Safety Tips All Riders Should Know and Why You Should Take an Avalanche Safety Course before committing to the split life.

Ditch the Bindings – Take it back to where it all started: the simplicity of a rider and a board hiking up a backhill run. Get your hands on a Resonator, Backseat Driver, or Throwback board (or even the DIY version that allows you to cut your own shape) and get after it in the back yard, local golf course, or out in the side or backcountry. Word to the wise, you'll want to keep this away from hardpack or icy conditions. Just grab some friends, pass it around and rip it up.

Backyard Park – Keep it DIY and set up some fun stuff to ride with your friends. Whether it's your backyard, the local park, or a playground, all you'll need is some incline and snow. Helpful tools include: a shovel, salt for firming up your takeoff jump, and something to jib, jump, butter... You name it. Get creative, anything can be snowboarded; a cone, PVC pipes, tires, traffic cones, sawhorses, swing sets, handrails, walls—the world is your oyster. Jib it.
Remember, whether you're in the streets, your backyard, or the backcountry, your safety (and the safety of those around you) is in your hands. Every place you ride has unique conditions and dangers to expect and prepare for. Look before you leap, don't go out alone, and study up on the unique safety measures for your area before you go. No, we aren't just saying this for liability reasons. This sh*t is real!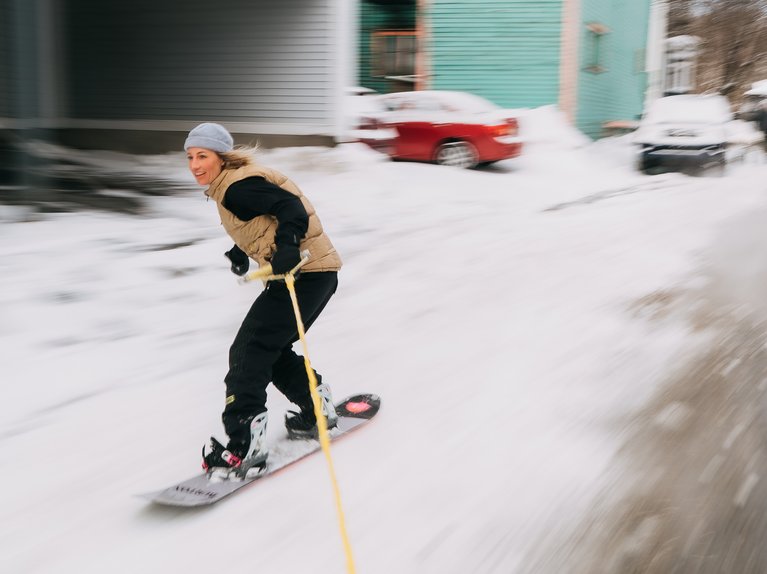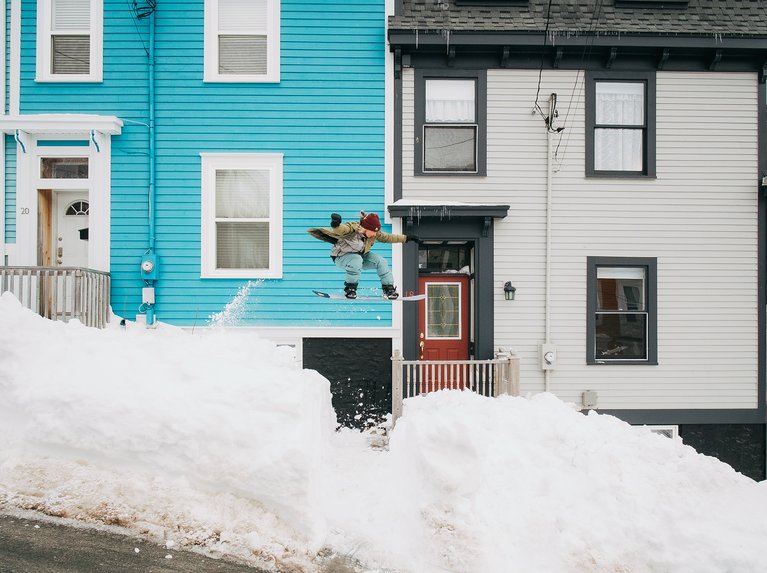 No matter how this season goes, it's important that we all remember that snowboarding is all about fun. This simple thing that brings us all so much joy also unites us. It gives us common ground, and a reason to look out for each other. That's a special thing to have these days.
So, no matter how you get after it this season, please be respectful of others, be patient, stay optimistic, and remain flexible. We're all still learning how to live in this COVID-19 world and the more we can support one another, the better this season will be.
Once again for those of you who only skim-read this post: exploring the backcountry is dangerous! Do not go out into the sidecountry or the backcountry without the proper safety training and equipment, and never go alone!
---