How to Pack: Tips for a Snowboard Trip
As much fun as your local resort is, it's good to get outta Dodge every once in a while.
Whether it's a road trip across state lines, or a flight across the pond, a good ol' fashioned snowboard trip is a welcomed opportunity to explore new terrain (and hopefully score some pow) all while experiencing the communities and cultures that make each mountain locale unique from the next.

As exciting as these trips can—and should— be, the preparation side of things can be a bit stressful... the keyword here being "can." While we can't necessarily help you with the lodging and airfare logistics, there's one thing we definitely can help with: packing.

From board bags and boot bags to toiletry kits and accessory cases, Burton has got you covered in the luggage department with the best bags in the biz. But like anything else in life, a tool is only as good as your ability to use it. So behold—our list of tips and tricks to lighten your load when packing for that next snowboard trip.
---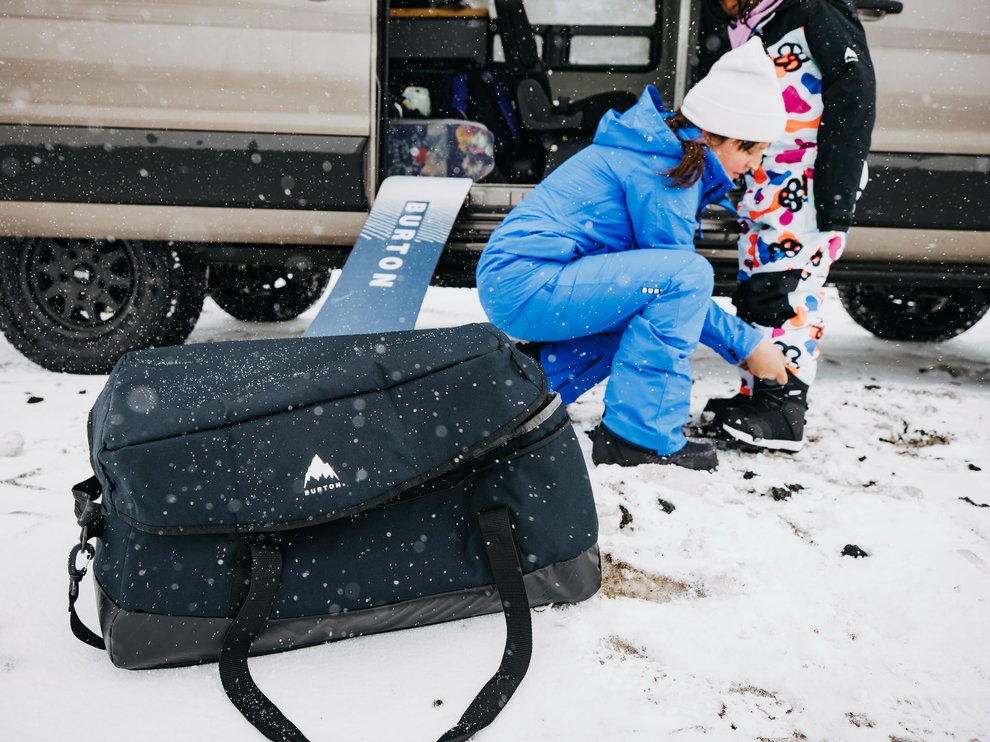 TIP 1: Make a Packing List
No brainer. Make a list and check it twice. It doesn't matter whether you scribble it on a napkin you pulled out of your glovebox or make a collaborative Excel file for you and the whole gang—just do yourself a favor and save yourself the headache and embarrassment of forgetting your underwear.
Does your hotel have a hot tub? Better bring the swim trunks. It doesn't? Still bring 'em. You never know when an impromptu opportunity could arise. But seriously, check the weather, plan your kits for on and off the hill, and for everyone else's sake, don't forget extra socks and under pants.
---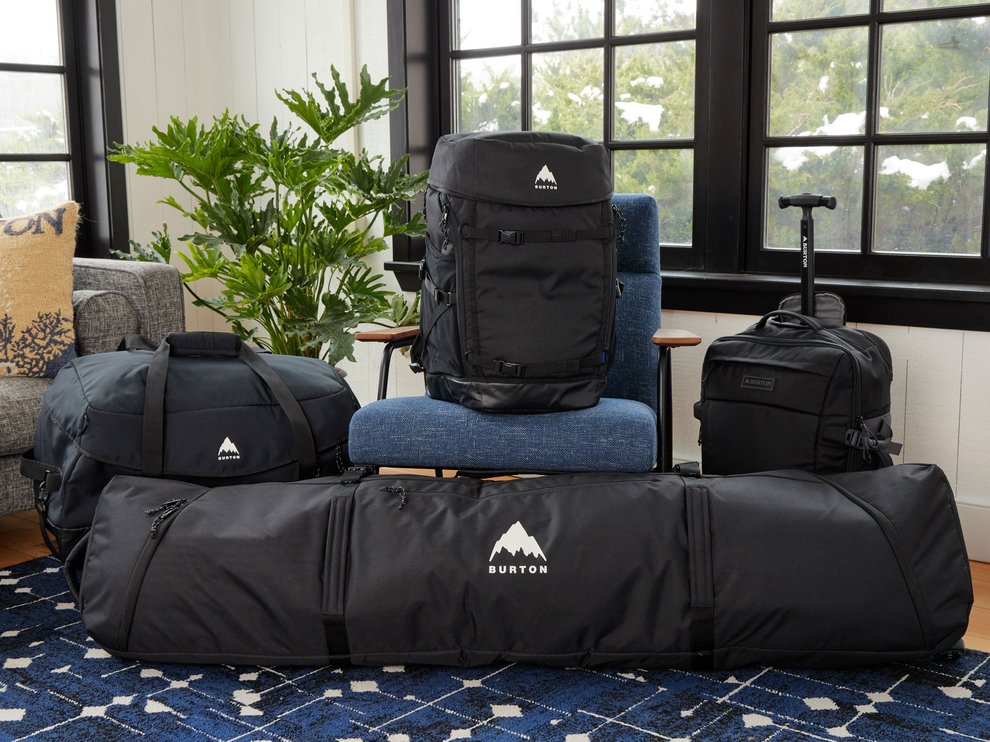 TIP 2: Have the Right Bag
Like we said—get yourself the right tool for the job and know how to use it. Priority number one? Quality bags. And it all starts with the board bag.

Looking for something simple yet effective? Check out our Gig Board Bag. It's got fully padded protection for multiple decks in a low-profile, over-the-shoulder design that more than gets the jobs done.

Plan on trudging through airport terminals, onto trains or through city streets? Then you might want to get some wheels beneath ya. Our Wheelie Gig Bag—which happened to be a personal fave of Jake—makes for smooth rolling with its bomber skate wheels and handy compression straps.

Still need more cargo space? Then look no further than the crown jewel of snowboard luggage: our Wheelie Flight Attendant. Whether you're a world traveler or a weekend warrior, this top-shelf bag offers ample space for the whole quiver in a conveniently wheeled design. The nifty Cram Zones stretch to hold that little bit of extra gear when needed, and a full selection of straps and haul handles give you plenty of transport options.

Need more organization? (We're right there with ya.) Then check out our selection of boot bags, duffels, and accessory packs to complement your board bag. From our nifty (and hella affordable) Accessory Case to stash tools and spare parts, to our full-fledged Flight Attendant 32L Accessory Bag to separate sweaty boots from the rest of your gear, our luggage combos are endless.
---
TIP 3: Bindings On or Off?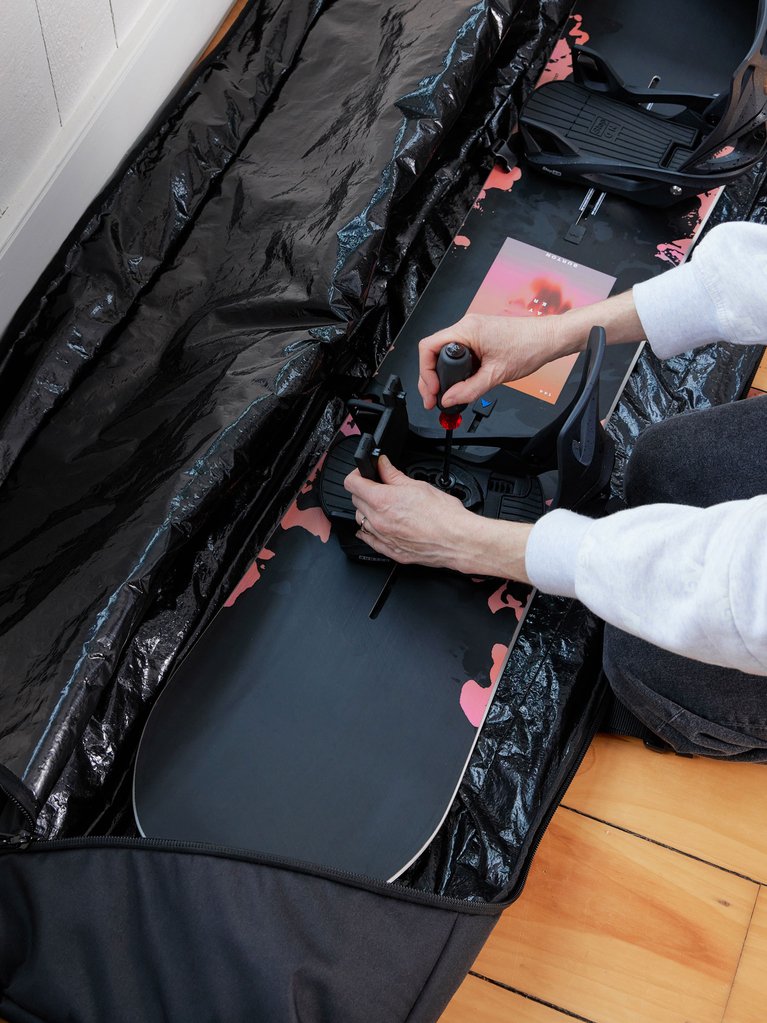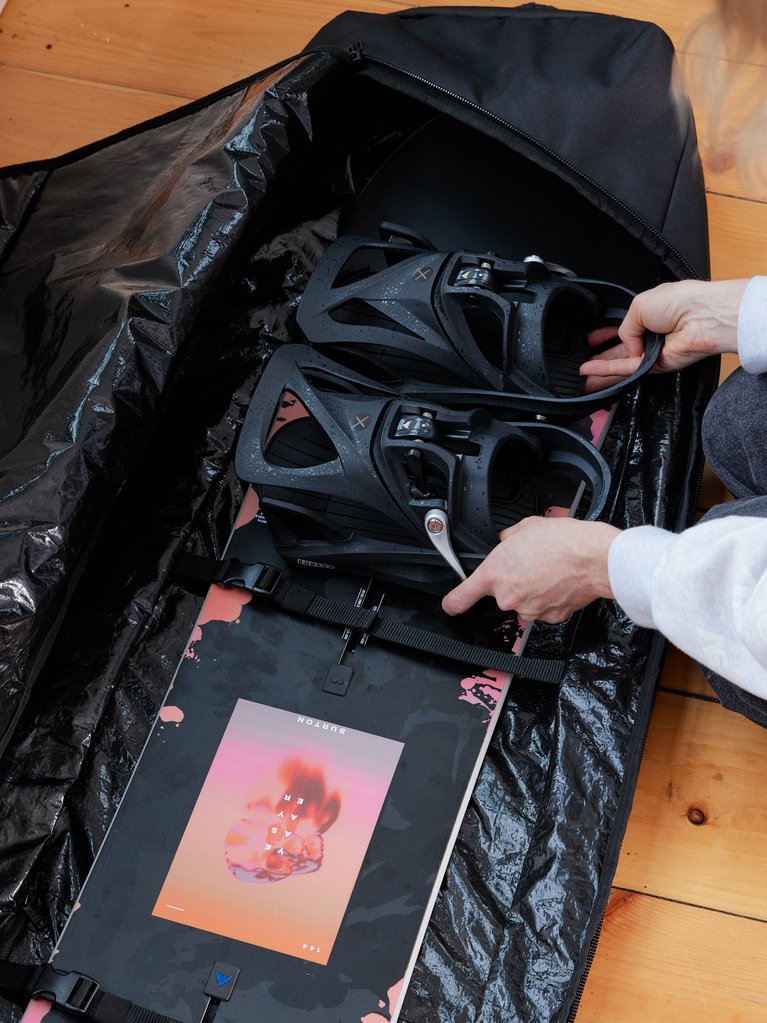 All right. Now that you've got your luggage selected let's talk about how to pack it. A question we hear quite often? Whether or not to take your bindings off. The short answer? Whatever you want.

Obviously, if it's a quick trip with one board and a manageable amount of gear, you might as well just leave 'em on. Just remember to use that dead space in your bindings (between the footbed and highback) to stash some socks, underwear, or whatever else you can squeeze in. The key is to always use every bit of space that's at your disposal.

Taking a few boards? Maybe you're bringing along the avy. gear (ie, you'll need room for a shovel), then we definitely recommend removing the bindings. This gives more flexibility when packing larger gear. Plus, if Mother Nature delivers on day one, you'll be a step closer to mounting up that pow deck.

But like we said—there's no right or wrong way here, so you do you.
---
TIP 4: Roll Your Clothes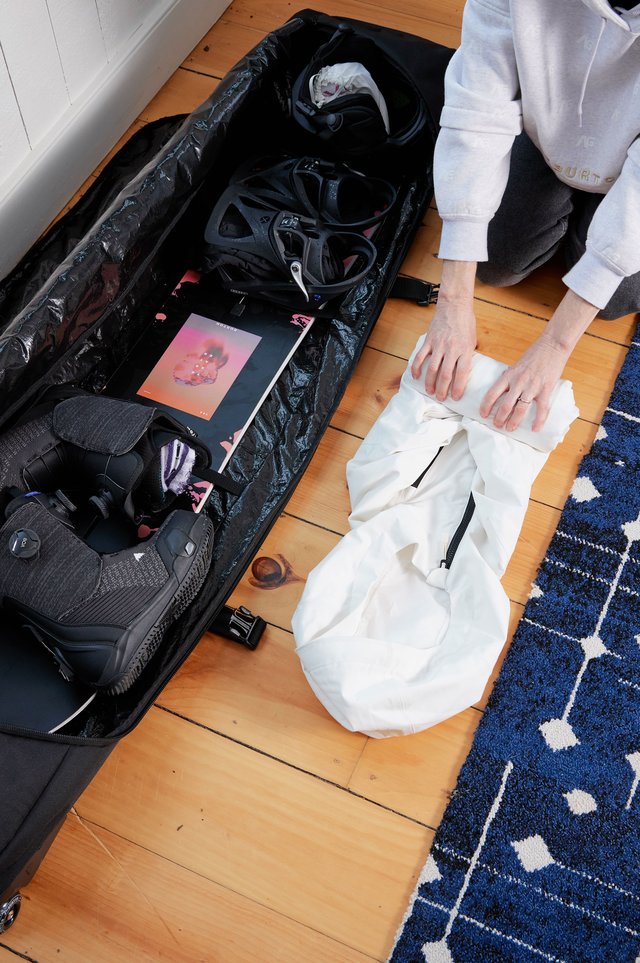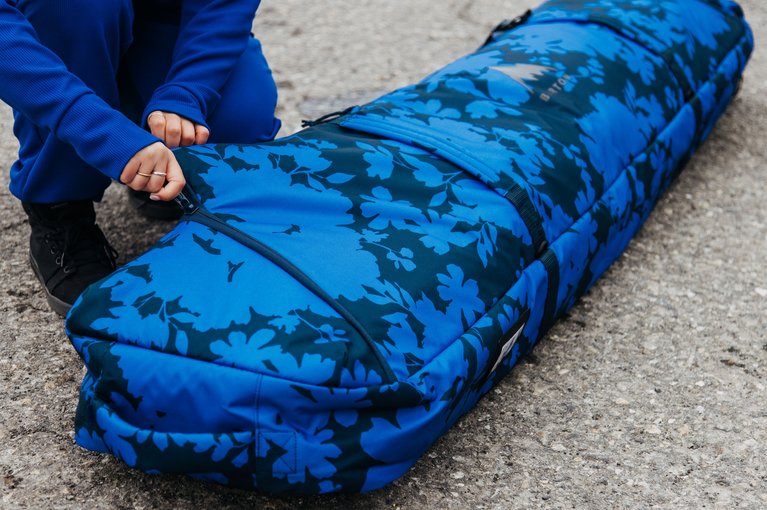 Here's a nifty trick we've learned through our travels: roll your clothes. You're probably no good at folding your laundry anyhow, so ditch the hassle and change your life in the process. By rolling up your stuff, you're conserving space (and time) when packing for your next trip. Plus, when your homies ask what the heck you're doing, you can hit them with this life hack and be the life of the trip (ok, maybe we wouldn't go that far, but it'll probably impress one or two of 'em).

And this little trick doesn't just pertain to your favorite tees. Socks, pants, even jackets, can all be rolled up to save that much desired space in your luggage.

You're welcome.
---
TIP 5: Goggles Need Goggle Cases
Ever ride around in a pair of scratched up, fogged up goggles? It sucks. Whether you've got a crispy pair of Anons, or any other pair of goggles, do yourself a favor: take care of them. You know that goggle sack they came in? Use it. Extra lenses? Make sure they're in a case too.

While your goggles and lenses will probably be just fine stashed in your board bag, we recommend taking extra precautions and transport them in a spot that guarantees their well-being. Maybe it's your duffel bag, or maybe it's the backpack you're taking on the plane—but save yourself the trauma of ruining your eyewear and keep those things protected.

After all, snowboarding is zero fun if you can't see clearly.
---
TIP 6: Stuff Your Boots and Helmet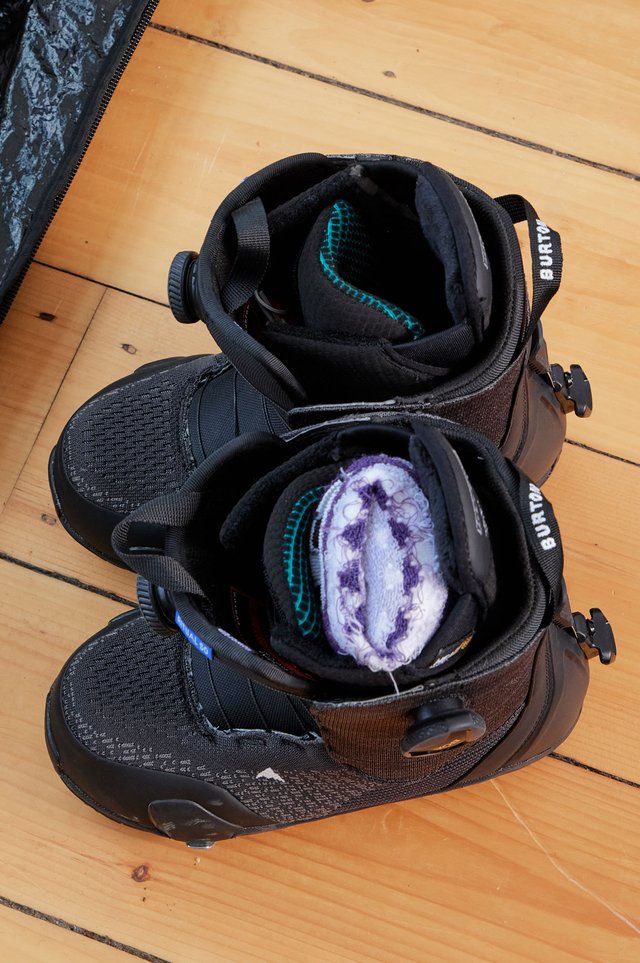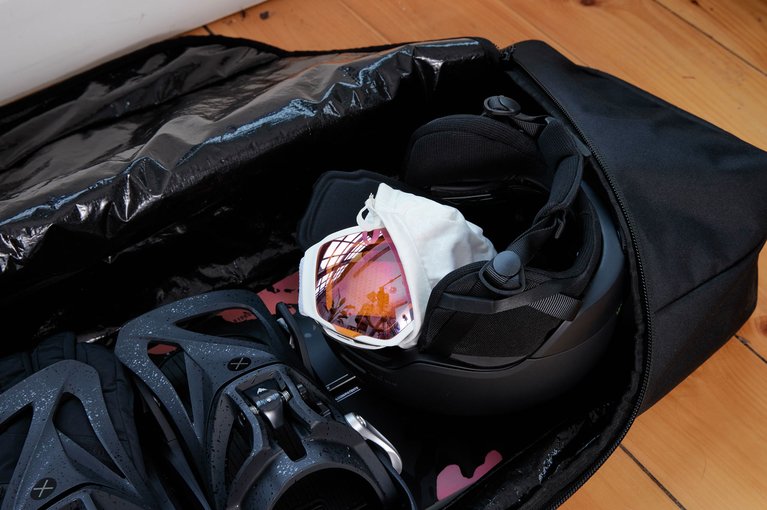 Remember that dead space we talked about earlier? Your bindings aren't the only place where it exists. Aside from just remembering to pack your boots and helmet (trust us, you don't want to forget them), think about how you can use them to stash additional belongings.

Our personal method of choice? Stuffing our boots with socks. I mean, they're gonna end up in there anyway, so no need to stress if your boots have a bit of a less-than-preferable scent to them.

As for your helmet? It's a great place to store stuff like facemasks, beanies, and really anything else that'll fit in there. Those goggles you were concerned about? The helmet is another great place to keep them protected in transport.
---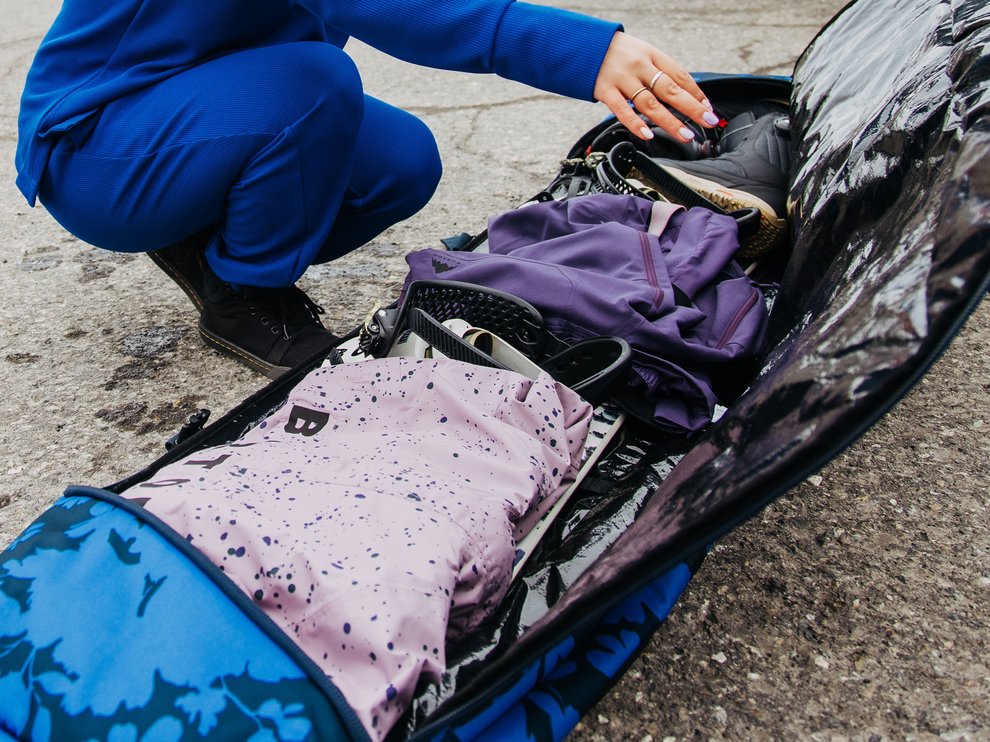 It's officially time to check that packing list again (you can throw away that ratty napkin now). Luckily, if you've read this far, you're probably locked, loaded, and ready to hit the road. Only thing left to do is grab the passport, head out the door, and start praying for snow. Enjoy the trip.

Oh, wait. You forgot your deodorant and toothpaste? Never mind. You already packed it in your handy dandy Low Maintenance Kit—cause if there's one thing essential to an enjoyable trip for you and the rest of the crew, it's some good hygiene habits. Your mom would be so proud.

Safe travels!
---