Inheriting the Mountains: Kimmy Fasani and Family Take on New Zealand
The idea of taking a baby on a long trip can be terrifying for new parents.
Regardless, my husband Chris Benchetler and I decided to take our five-month old son, Koa, to New Zealand for a three-week RV road trip. Since we spend so much of our careers chasing winter, we wanted to embrace the opportunity to start traveling again and to show Koa the world. It felt important for us to get back into adventure mode and really embrace all that both parenthood and travel have to offer.
We spent half our time near Wanaka and the other half was spent on the coast, near Dunedin. We wanted to snowboard, rock climb, sightsee, and Chris wanted to surf and ski. We chose New Zealand because it's so beautiful and easy to navigate in an RV. Our goal for the trip was to take it one day at a time and really enjoy the sights.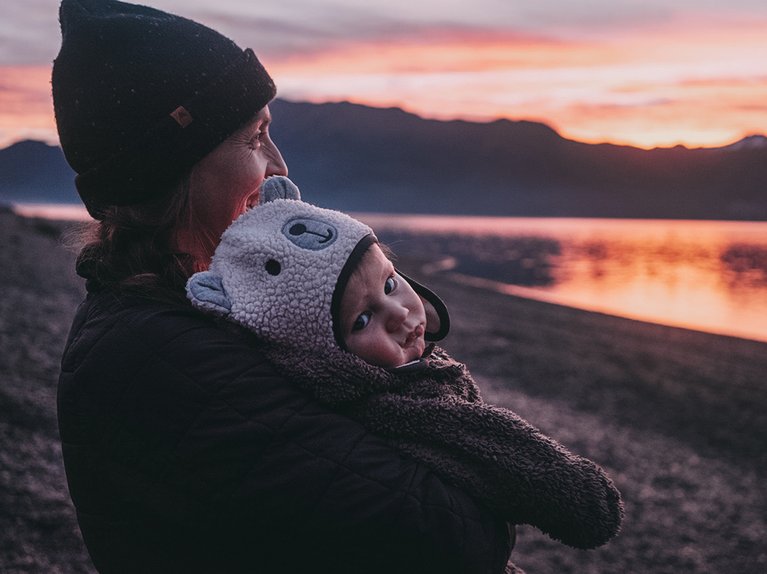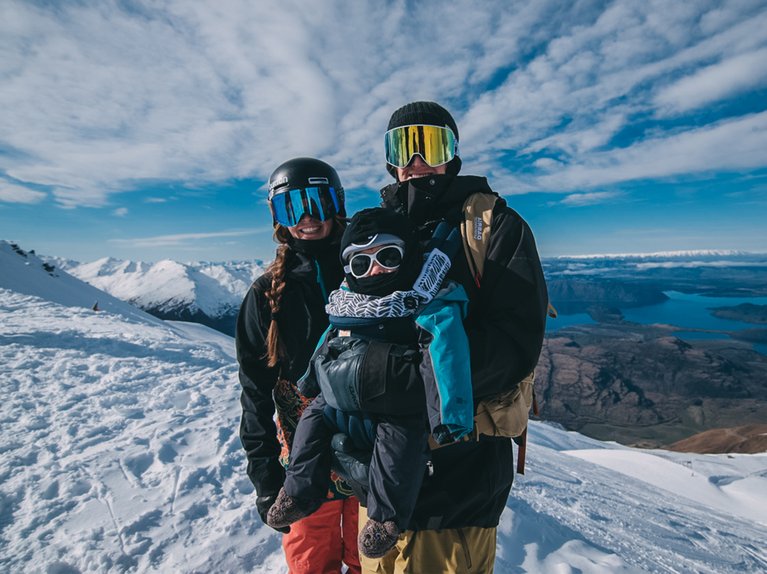 Breaking Down the Barriers
People had recommended that before Koa was born, we should book a trip to make us get out of the house and back on the road. This ended up being such great advice. After having Koa, the hardest part of traveling was leaving the house. Having a couple pre-planned trips motivated us to get back out there.
Prior to this trip, Koa went with us to New York and Costa Rica, so we realized early on that the travel anxieties were self-inflicted: sure, traveling with a baby meant we had a lot more stuff with us, but it was really special to share new moments as a family.
It felt important for us to get back into adventure mode and really embrace all that both parenthood and travel have to offer.
New Zealand is a far-away destination; the flights alone took us close to 15-18 hours. However, because Chris and I had been to New Zealand a handful of times each, we were as prepared as could be for the trip. We were already comfortable traveling around in our own van, so traveling in an RV seemed exciting and manageable—plus, we'd have an easy way to carry all the stuff a young child needed. We tried to keep expectations to a minimum and just embrace every moment of being new parents.
We spent a lot of time on this trip getting to know our son. Since we had a home on wheels, we could choose our destinations quickly and camp freely throughout most of New Zealand's South Island. That meant we were able to enjoy the moment without always rushing to get to the next spot.
While we were on-snow in New Zealand, Chris rode with Koa on his chest most of the time. It was such a special experience for Chris because he got a taste of how it felt for me riding while pregnant. After just one run, Koa would fall asleep in the carrier, so we were able to get a few peaceful laps together.
Obstacles on the Road
Koa was so observant throughout the whole trip. Seeing him grow over that three-week period of time was very cool. A month on the road is a huge time frame for baby's development. From the time we left California to the time we returned, Koa had reached new milestones: rolling over, starting to sit up, and trying solid foods. He wasn't a great sleeper before we left on this trip, but on the plus side, the time change wasn't a big deal.
The trip definitely had some more challenging moments. I was—and still am—solely breastfeeding because Koa refuses to drink from a bottle, so I only had small windows of time to be away from him. This made snowboarding a challenge. At one point, I had the opportunity to meet up with Jake Burton and Donna Carpenter for some heliboarding, but couldn't join them because of Koa's feeding schedule. This was hard on me... I have always been such an independent and motivated athlete, so not having that freedom felt limiting.
Still, I felt very lucky that I was able to be in New Zealand experiencing life on the road again, and I kept reminding myself to enjoy the journey of being a new mom. Before I know it, Koa will be out on the mountain riding with us and I will probably miss those moments when he was cuddled up next to me breastfeeding.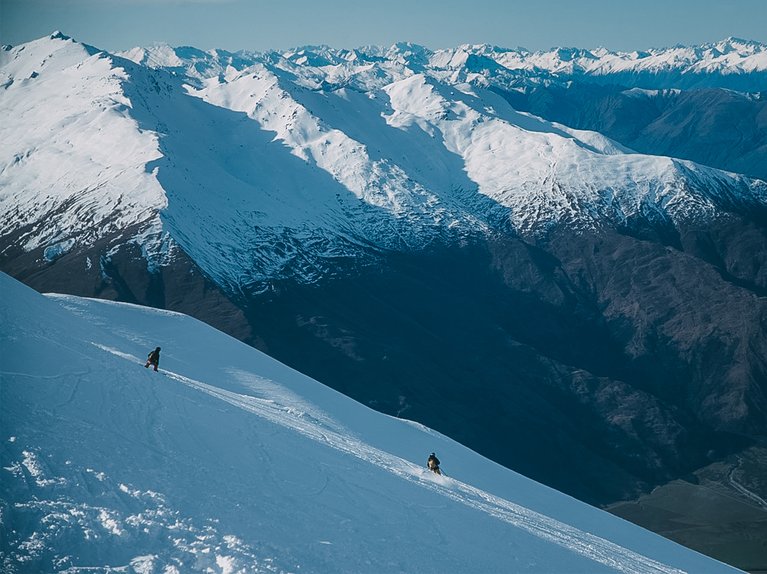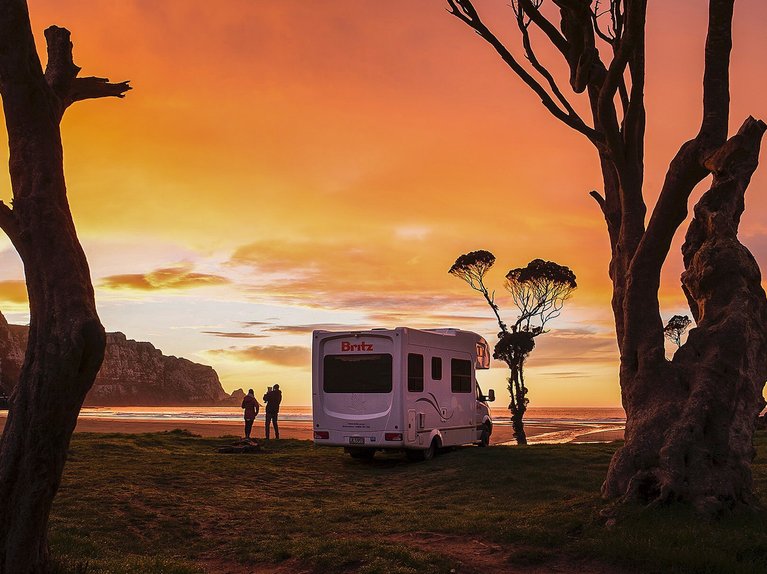 Reflecting on the Journey
Having a little one has only made me more thankful for the life I've been able to live. I am so grateful that I have been able to use my body to become a professional athlete, and extra amazed at the ability to carry a human life while remaining strong, powerful, and athletic. I'm looking forward to sharing all the activities I do with Koa as he gets older. It's important that he sees me remain passionate about spending time outdoors and maintain my role as a professional snowboarder—hopefully this teaches him that we'll always support him wherever his own passions lie.
It may be harder to balance it all with a little one, but seeing the world through their eyes makes life so much fuller. I also hope that by showing Koa the world from a very early age, he will start to understand how big, diverse, and incredible it is. Hopefully then he'll want to protect these beautiful places and find an outlet that fills his heart with happiness and passion. To me, everything is possible when you're passionate.
GoPro helped us created an edit of this unforgettable trip – check it out below.
---