The Mountains Are Calling: What to Bring on a Hike
As John Muir said, "In every walk in nature, one receives far more than he seeks."
Along rushing streams, past mystical forests or atop impressive mountain peaks – hiking is undoubtedly one of the most beautiful ways to explore nature. We have summarized the ultimate tips for your hiking gear so that you can fully immerse yourself in the beautiful landscape and not focus on an aching back or wet feet.
1. Bring the Right Footwear
It doesn't matter whether you hike through forests or climb rugged rocks. Proper footwear, which definitely does not include sneakers, is an essential part of your equipment on the mountain. For easy hikes, an all-round outdoor shoe is usually sufficient, but an ankle-high hiking shoe would be even better to protect your ankle from twisting. The following applies to good hiking shoes:
Water resistant: It's not just the weather that can become an obstacle — you may come across a brook or two.
Non-slip sole with a profile that has a good grip: If you've ever walked over damp roots or snow, you know what we're talking about.
Stability: Especially on long and difficult tours, you should use an extremely stable shoe.
Tip: Before you go on a long trek, you should definitely take a look at your shoes to prevent blisters. Don't forget special hiking socks that prevent you from sliding around in your shoes.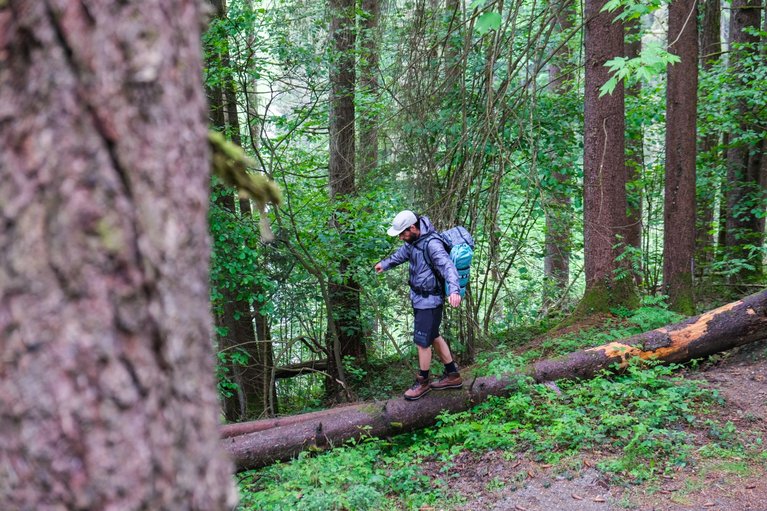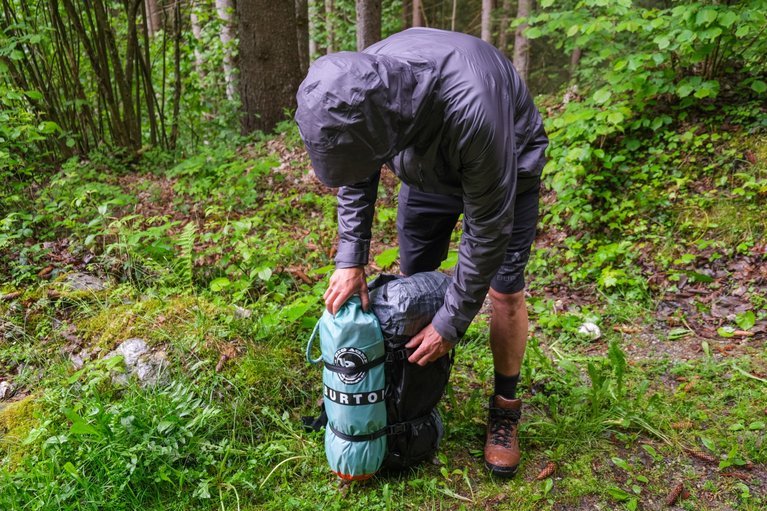 2. Wearing Layers is the Way to Go
While the temperatures may still be crisp at the start of your hike, it can get very warm during the day. In addition, the weather can change very quickly and you are not immune to rain. Wearing layers is therefore the best option for hiking:
Functional shirt and another to change into
Fleece jacket, choose a thin or thick version depending on the temperatures
Zip-off hiking pants, shorts or long pants
Sunglasses
Tip: Especially when the sun is shining, you should put on a hat and slather yourself with sunscreen — a sunstroke is no fun!
3. The Perfect Backpack
A 20 to 30 liter backpack should be sufficient for a day hike. It is important that the backpack has a padded carrying system to optimally distribute the weight on both shoulders and to allow enough air to circulate to the back. A waist belt also helps to distribute the weight of the backpack. Most practical is a water bottle holder on the side, or a way to attach a hydration system with a tube so you don't have to constantly take the backpack off to have a drink. The backpack you choose should have rain protection, so that your entire backpack will not be soaked in case of rain.
In addition to the choice of backpack, proper packing is an art in itself:
Things that you don't need immediately (bivouac sack) go all the way at the bottom
Heavy objects, such as your snack box, should be further up so that the backpack does not pull back
Smaller things such as sunglasses, pocket knives or handkerchiefs can be ideally stowed in the top compartment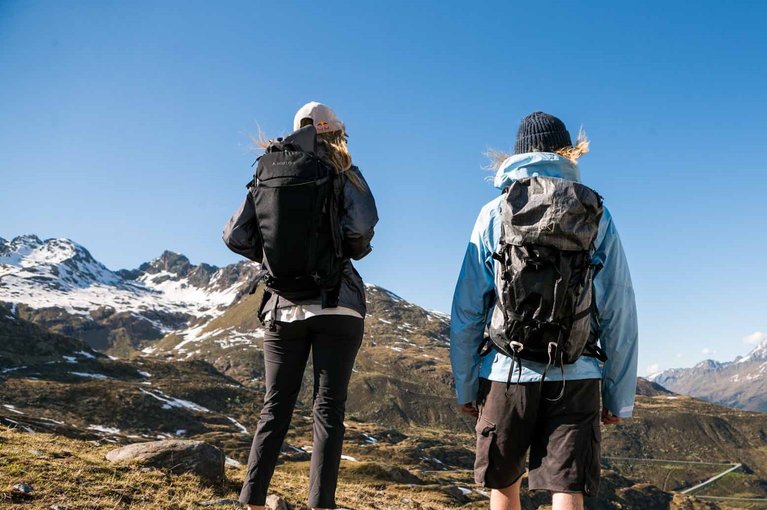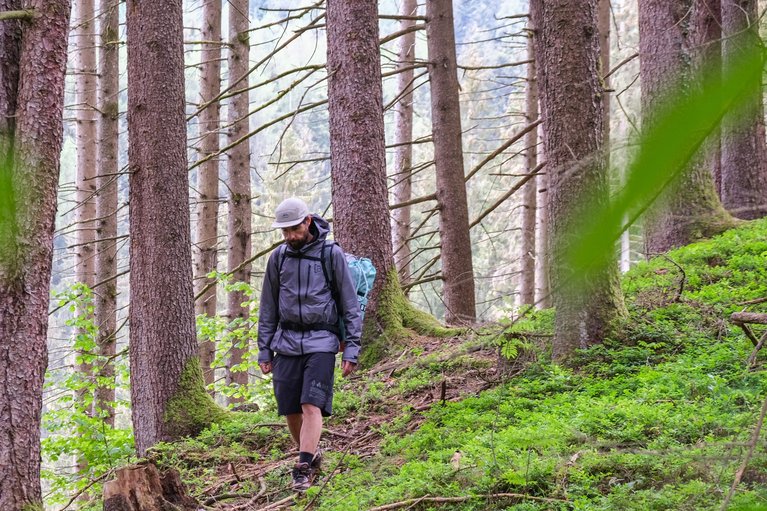 4. Don't Lose Your Way
Even if many trails are well marked, you shouldn't just rely on the signs. Even a smartphone is not the best solution for orientation, because sometimes you have very poor reception on the mountain. And if you haven't downloaded an offline map, you're on your own. This is why it is best to carry along a hiking map with a compass or a GPS device.
Because once you have made a wrong turn or encountered thick fog, those trail markers won't be so obvious.
5. Safety first: First aid kit, Bivouac Sack, Whistle
Of course we hope that you won't need it on your hike, but if something should happen, you'll be happy to have everything with you.
First-aid kit: In addition to the usual bandages, the set should also include an emergency blanket and blister bandages.
Whistle: A whistle can be very helpful to draw attention to yourself in an emergency. Many hiking backpacks already include a small whistle.
Bivouac sack: In the event that you have to pitch an emergency bivouac, the lightweight bivouac sack protects you from wind and rain.
Emergency numbers: Save the most important emergency numbers on your mobile phone before you start your tour (EU: 112, USA: 911, Australia: 000, New Zealand: 111).
Headlamp: You should always have a headlamp in your backpack.
Mobile phone: Even if you almost never leave the house without a cell phone, we would like to point out once again how important it is to have a cell phone with a fully charged battery in order to be able to make an emergency call.
6. Don't Forget to Drink & Eat
Especially when you are on the trail for a few hours, it is extremely important to take enough water with you. We therefore recommend packing at least one liter per person for hiking. Hydration systems with a tube with a capacity of up to 3 liters are very practical for longer hikes.

If there isn't a lodge nearby to provide you with regional specialties, you should pack a sandwich and snacks, like nuts, fruit or cereal bars. This gives you enough strength at the summit or along the way.
7. Everything in Balance: Hiking Poles
As a beginner, hiking poles can be a real help with keeping your balance. But the hiking poles also relieve your joints on difficult mountain tours with steep ascents and descents and thus ensure better weight distribution. Telescopic poles can also be easily attached to the backpack, should you ever not need them.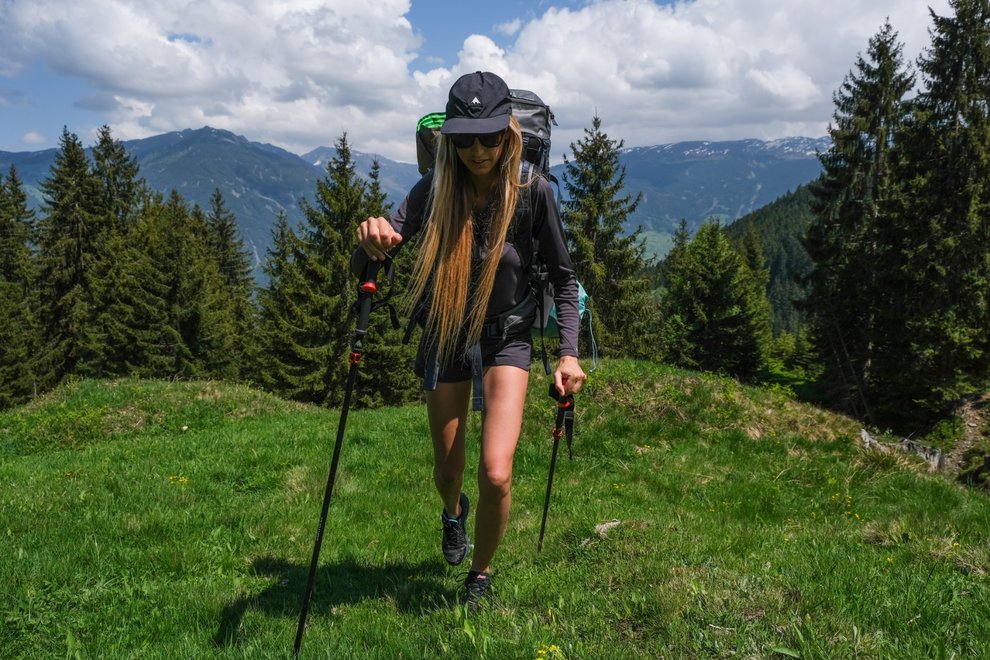 Off to New Adventures
Embark on new paths and explore nature on foot. You will be well-prepared with these tips for your equipment. So grab your friends and plan your next tour, because hiking is not only more fun with company, it is also much safer.
And one more thing: it doesn't always have to be the hardest tour to discover beautiful places. So make sure to take a tour that is appropriate for your fitness level.
---