Employee Picks: What We're Running This Winter
Hang around Burton HQ for just a few minutes and you're bound to see something that gets your heart rate going.
With Craig's Prototype Facility right across the parking lot, it feels like you're at one of the epicenters of snowboard innovation (because you are). Now imagine working here, constantly being exposed to all this rad stuff, and having to wait until it hits the shelves just like everyone else.
We're thinking about product all the time. Duh! Right? Not only are we in the business, but we're out there almost every day using the stuff. So, with that in mind, we grabbed some folks from around the office to see what's sparked their interest this season.
Jessica Pearl – Human Resources
Jessica's one of many friendly faces in the HR department. No surprise that she's thinking of others, which inspired her to choose a bright print version of the [ak]® Helium Insulator. She wanted something super warm and bright so that she stands out on the trail.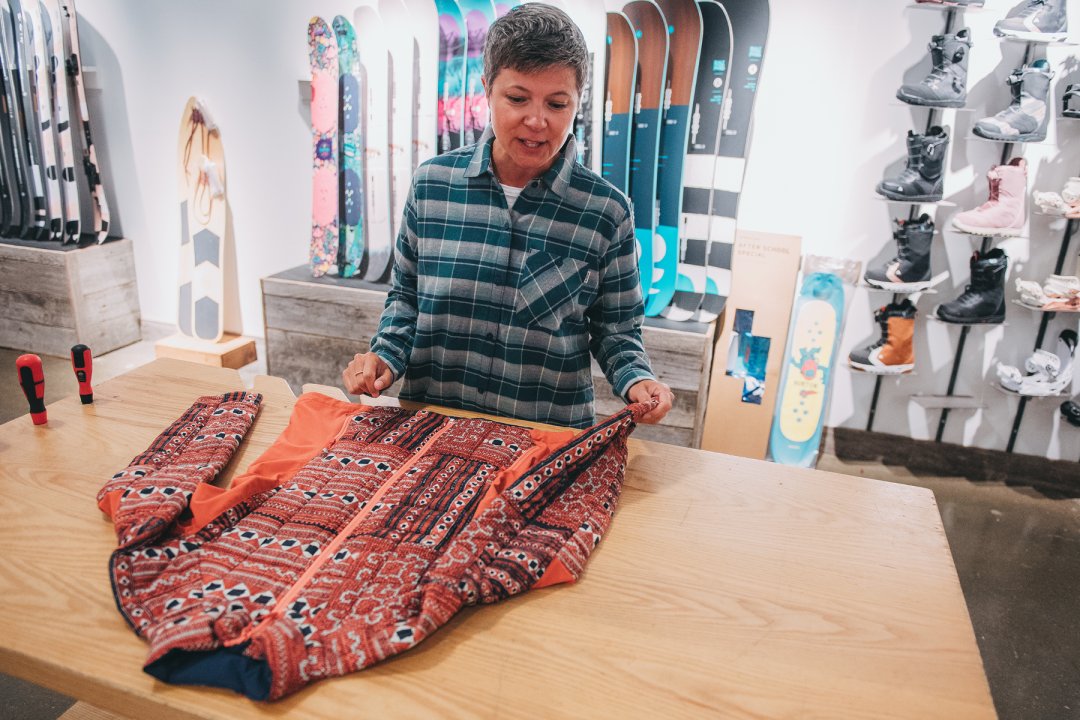 She's also excited to get her hands on the Hideaway. Still improving all over the mountain, she likes the Hideaway's friendly, catch-free ride compared to fancier models like the Talent Scout or Stick Shift.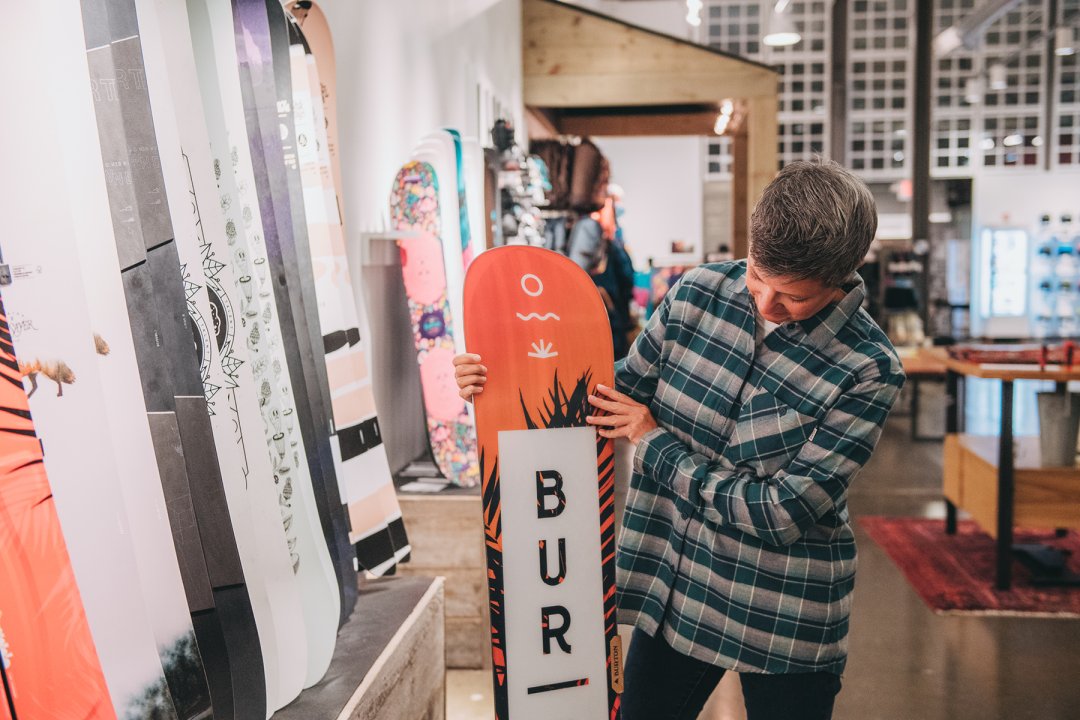 John Brown – Marketing Creative
The creative department is full of unique personalities, and JB is no exception. He may seem quiet at first, but his choice in an all-orange [ak]® outerwear kit is a sure sign that he can fire it up alongside the best of 'em. According to him, standing out in the lift line is just one of the benefits of dressing up like a parking cone.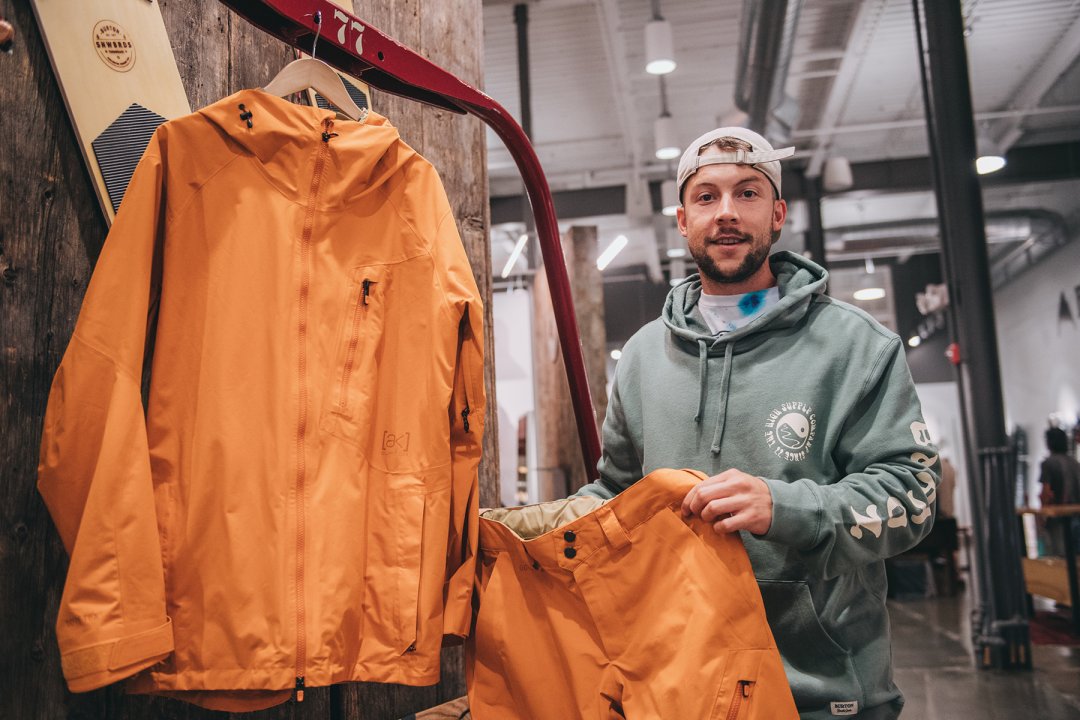 "You can't run from ski patrol, and it's not the greatest color for poaching," he says. "But you'll sure stand out on the hill, and they'll all know you're rocking that Gore-Tex protection. I also love that the media pocket that helps me blast dead tunes while hot lapping stock run."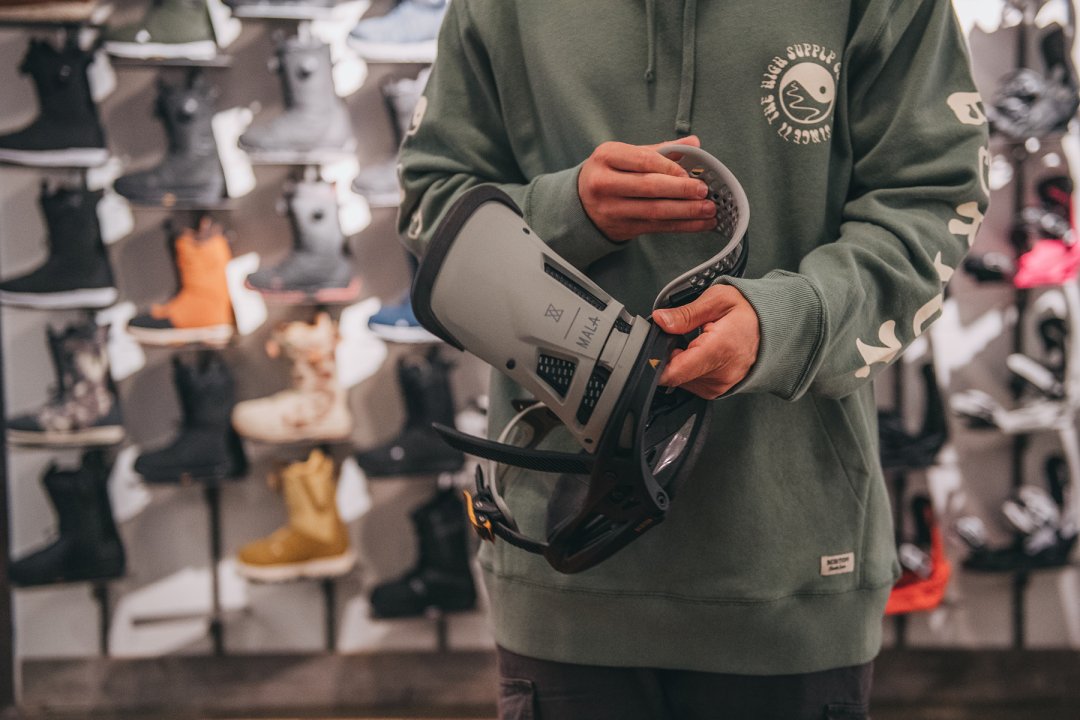 JB also pointed out that he's a lover of the Malavita Bindings. If Earth were ever overcome by a new ice age and JB could only choose one binding to ride out the storm, he says there'd be no more versatile and reliable pick for all mountain freestyle satisfaction.
Jenn Swain – Sustainability
If you haven't heard, we're on a big mission to make everything we do at Burton as good as can be for both people and the planet. Jenn plays a central role in all of our efforts towards sustainability, so it's no surprise that she reached for one of our most innovative offerings on the softgoods front: the Evergreen Down Jacket.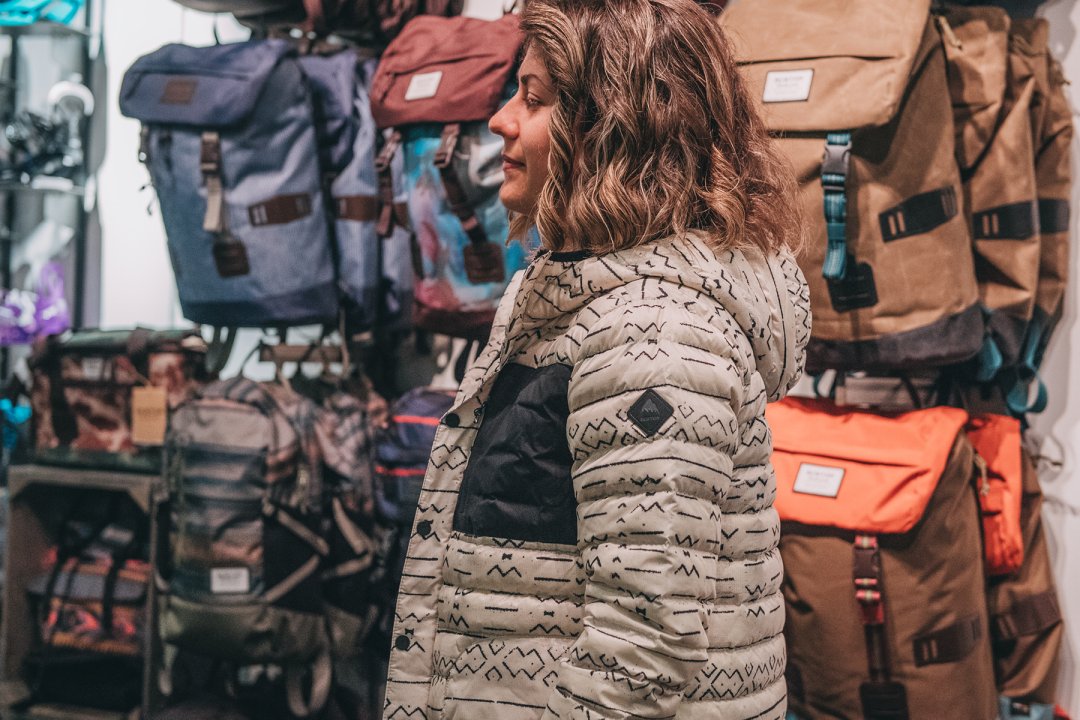 "It's a classic, layerable, and great for après," she says. "It's also is a great example of our commitment to social and environmental responsibility. It's bluesign® approved and coated with PFC-free durable water repellency, meaning that it was manufactured using chemistry and practices that are safe for human health and the environment. It's filled with Responsibly Sourced Down, and like all Burton products, it was manufactured in factories that adhere to Fair Labor Association principles – the gold standard for labor and human rights."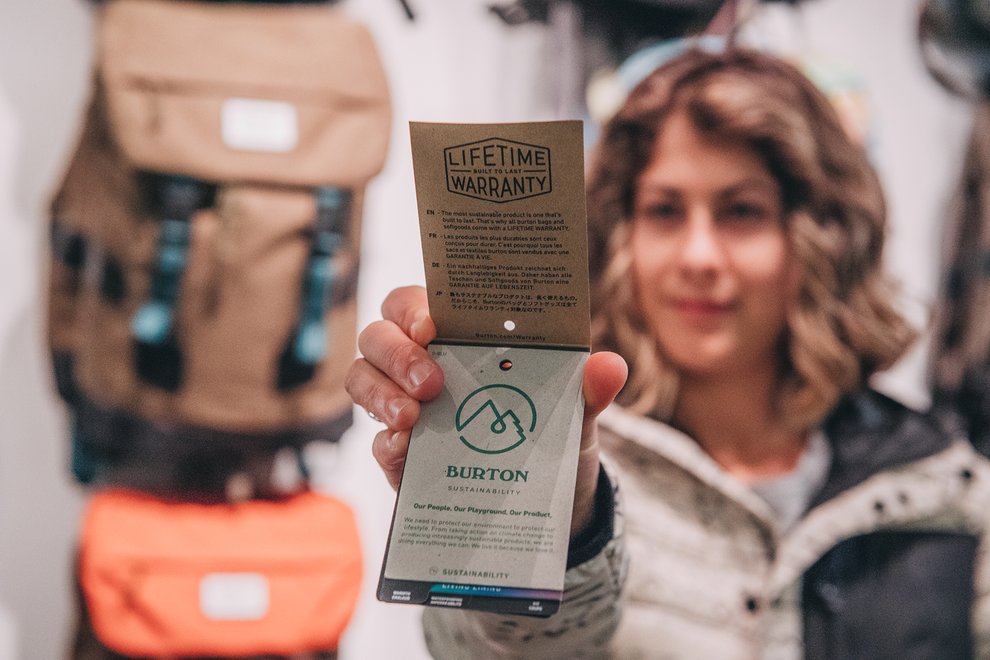 Sam Bertolino – Hardgoods
Many of us at Burton HQ couldn't become professional snowboarders, so instead we became snowboard professionals. Sam Bertolino may not have been trying to go pro, but judging by the way she rides, she maybe should have! Lucky for us, she ended up playing a critical role in the hardgoods department, working on boards, boots, and bindings.
Her picks are focused on making an all-out assault on our home mountains of Vermont. The Stick Shift is her favorite board.
"I love this puppy," she says. "It's super surfy, technically a pow board but good for the whole mountain. I totally charge with this board, and can rip it in pow and on hard pack."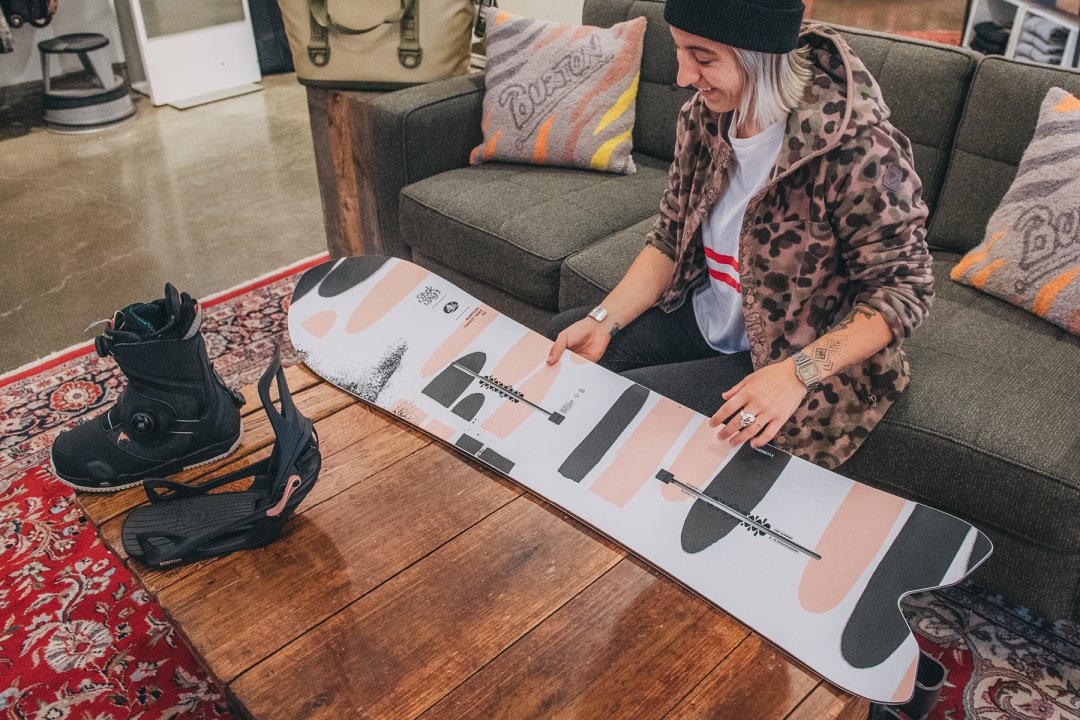 Sam also runs Step On® Boots and Bindings. In fact, she claims, "After riding them, I won't go back." They offer incredible heel hold, super engaged toeside turns, and make the whole riding experience easier. In fact, you can bet that Sam will get more laps than you this winter because of them.

Don't just take our word for it, though. Head to your local Burton Flagship Store to find out about when the next demo will be at an official test center near you. Our Burton Guides are more than happy to help you find the right setup for you, and to tell you their own picks once the product hits the shelves.
---