Celebrating the Stash at the 6th Annual Slash 'n Berm Banked Slalom
Like most great things at Burton, the Stash can be traced right back to Jake.
It was 2003. Snowboard parks were growing in popularity all over the world, inspiring a whole new way of riding. Our founder, Jake Burton Carpenter, took notice, and the decision he made shortly thereafter resulted in a wave of action. Three years later, the Stash was born.
The Stash at Killington Mountain in Vermont just celebrated its 10 year anniversary, and a whole crew from Burton HQ went down to celebrate. For those of you scratching your heads, like, "Wait, what's the Stash?" Just strap in, and let's go there…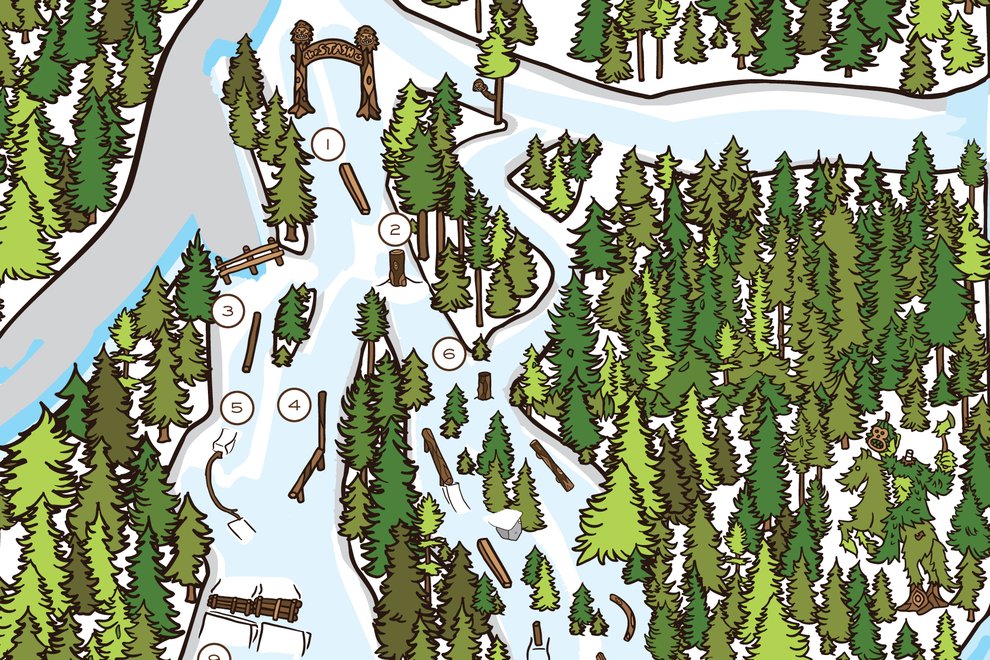 Freestyle, meet freeride.
"Jake had just gotten back from Bear Mountain in California," explains Jeff Boliba, VP of Global Resorts. "He told me, 'Hey I'm noticing a lot of riders are just straight-lining between the rails in these linear parks. They can barely hold an edge or make proper turns, but they can crush rails and jumps.' So, he wanted to spread the spirit of all-mountain riding. "
Jake was heavily influenced by the late Craig Kelly, a legendary pro who left the contest circuit for the freedom of freeriding, and left a huge mark on nearly every aspect of Burton Snowboards. That's why the very first Stash park at Northstar Resort features a mural of Craig and a timeline of his career thanks to his wive, Savina Kelly, and artist Scott Lenhardt. The team riders at the time, including Kimmy Fasani, Marco Grilc, Christian Haller, and Mikkel Bang (among others) were also brought in to lend their expertise to a conversation that was all about blending styles.
"We asked them, what can we do to inspire these park riders to get after the whole mountain and blend freestyle and freeriding?" Boliba says, "Resorts weren't approaching parks like this. At this moment in time rails, metal, and non-native materials were the only features resorts knew. We saw an opportunity to help them be more creative with their approach towards developing freestyle terrain and wanted to help them innovate the next generation of resort runs. There were things that had never been done before, like making a park run through the trees with features, jumps, and transitions, integrating cat track gaps, or a Cabin you could jump."
And here we are over a decade later. The program has extended around the world. There are stash parks at Northstar, CA; Killington, VT; Jackson Hole, WY; The Remarkables, New Zealand; Flachauwinkl, Austria; Avoriaz, France; and a Lil' Stash park at Loon Mountain, NH.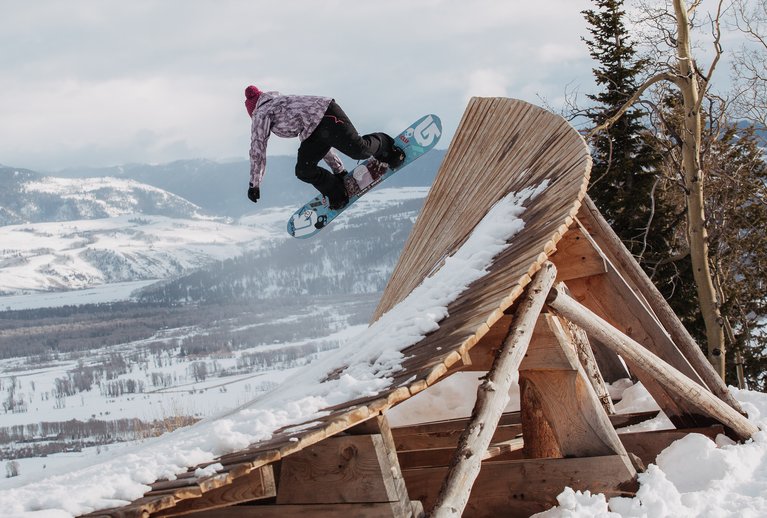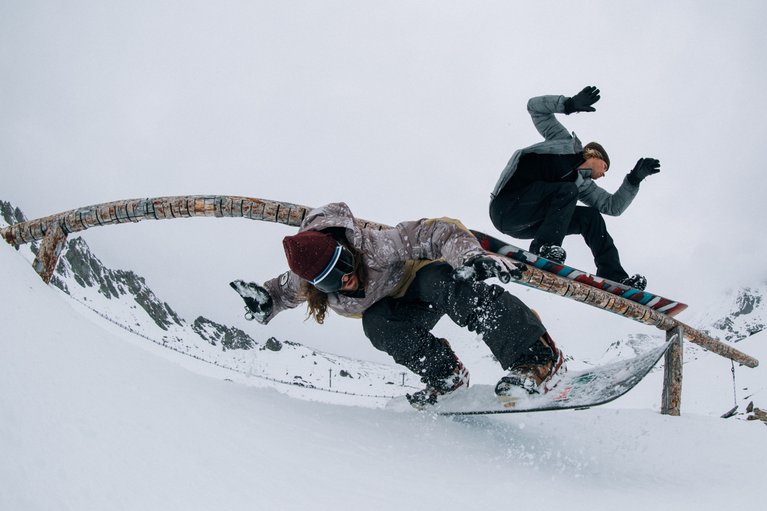 A Slash 'n Berm Celebration
Events have gone down in each Stash nearly every year. They started with little grassroots sessions called Stash Gatherings, and have evolved from there. Banked slalom races, video shoots, rail jams – you name it.
At Killington, with the help of Anon Optics, Darkside Snowboard Shop, Burton, and the Killington Parks crew, helmed by Jay "Rosey" Rosenbaum, they've developed an event series like few others. They call it Slash 'n Berm. Now in its sixth consecutive year, it's a prime example of what happens when a local community takes hold of their Stash park and blows it out to its full potential.
Picture this: a banked slalom course through the woods, with jumps over log jibs, berms over wallrides, and hairpin turns just inches away from branches and shreddie sculptures. There's no easy way down. It's a matter of survival, creativity, and skill. The winners aren't just those who possess the ability to go fast on course, but who are brave enough to do it. This was the scene at Slash 'n Berm.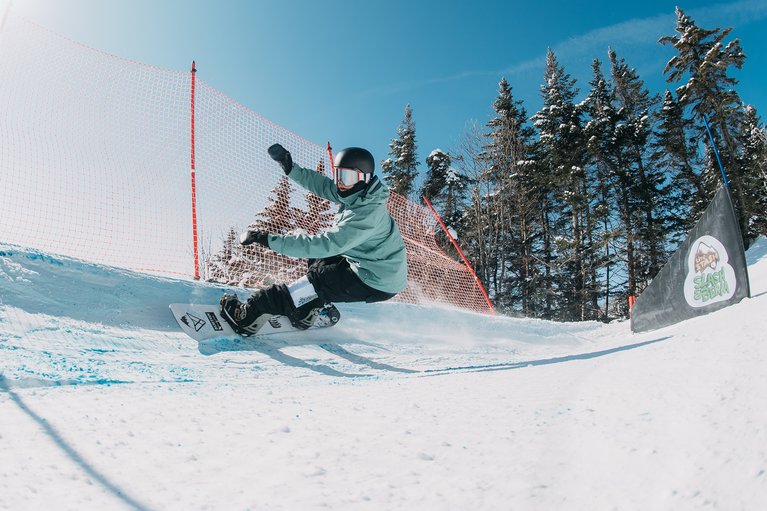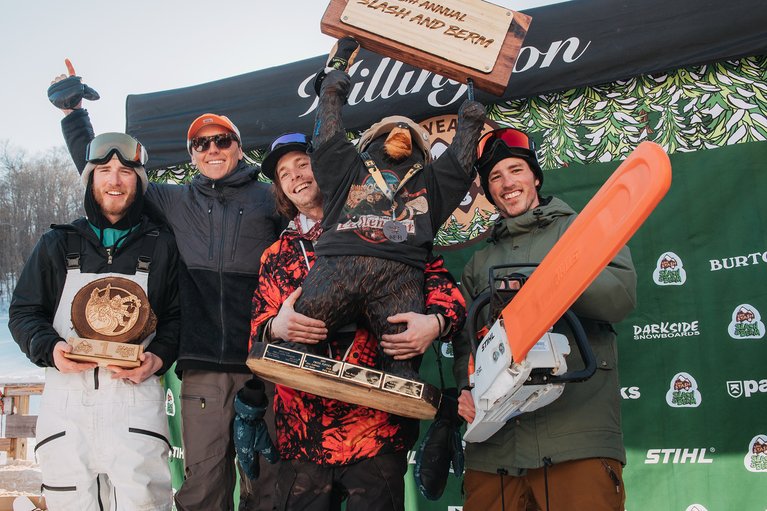 It felt like a culminating year. The course seemed like the most well-rounded mix of scary and speedy. The community rallied, and brought loads of energy all weekend. Our newest partner in the Stash program, STIHL Chainsaws, brought two of their chainsaw artists. Griffon Ramsey came through before the event to carve up the first ever female shreddie, and Adam Mulholland carved a kid shreddie live during the event.
The weekend kicked off on Friday with the industry team race day, and closed with the first ever Lil' Slash 'n Berm, where the youngest rippers got to enjoy a course sized just for them in the Lil' Stash. This is what it's all about: community, grassroots action, and well-rounded riders getting buck on a mix of park and freeride terrain. No one got hurt (beyond repair), and everyone had a good time.
Jake, we've said it before and we'll say it again: you were right.
---