How to Make an Indoor Riglet Park for Kids
There is no reason you can't keep your kids hyped on snowboarding year-round.
Whether the season's over, the weather's got you down, or you're avoiding a global pandemic, check out this guide on indoor snowboarding and how to make an indoor Riglet park. In fact, with Riglet boards and accessories from Burton and a little bit of creativity parents can get kids building foundational skills from the comfort of home with minimal effort.
Indoor Riglet Park Gear
Not quite sure how to get started? No problem! In general, we recommend Burton Riglet products for kids as young as two years old; Riglet products provide safe, low impact indoor/outdoor fun that is intuitive-to-use for parents and won't break the bank. At a minimum, there are three items you will need for a successful indoor Riglet park shred.
Snowboard: The Kids' Burton Riglet Snowboard is a 90cm plastic board with an edgeless construction that was specifically designed as a learning tool for kids. The grippy pads on top of the board help keep little feet in place and when they're ready to progress, you can add Burton Grom Bindings for a complete experience.
Towing Aid: The Burton Riglet Board Reel is mounted to the nose of the snowboard and allows parents to pull the rider around on any low-friction surface, inside or outside.
Floor Protection: The Burton Hover Cover is a soft felt sleeve that fits snowboards up to 90cm and protects hardwood, tile, and linoleum floors from getting scuffed or scratched (it also makes indoor gliding easier).
For more options on gear for kids of all ages and abilities, check out the rest of the youth snowboard collection for sizes that range from 80cm-130cm; then, just add a Riglet Reel and you're good to go.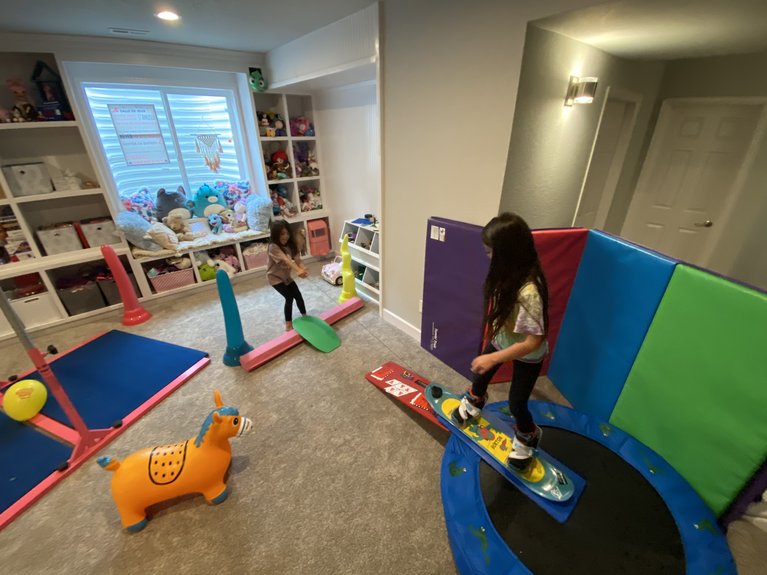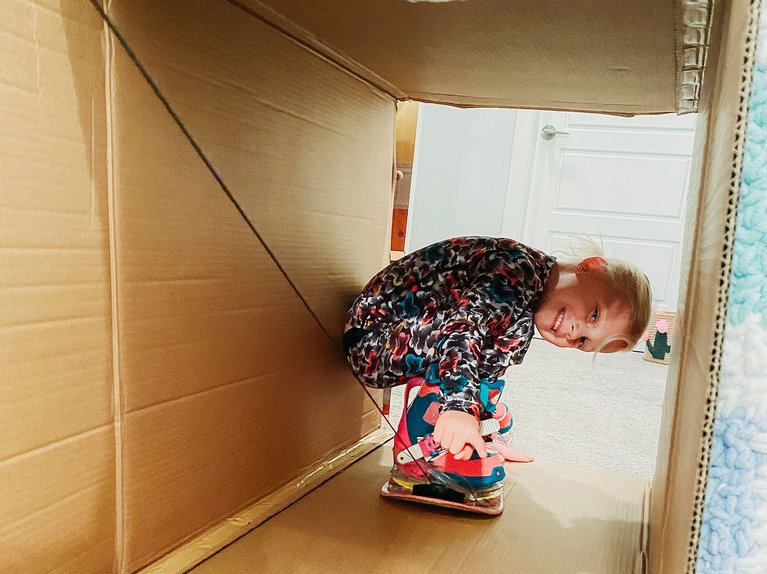 Building an Indoor Riglet Park
There are lots of different ways to build an indoor snowboard park using simple household items but there's really only one rule: have fun! Start with small simple features and work your way up in size and complexity, focusing on skills that match the ability of the kids using them.
Before we dive in, let's review a few safety factors:
Young children should always be supervised while being pulled on a snowboard or when playing with snowboard gear.
Always play under control.
Make sure to use sturdy items for your indoor park.
Pad table corners and other sharp features that could be hazardous.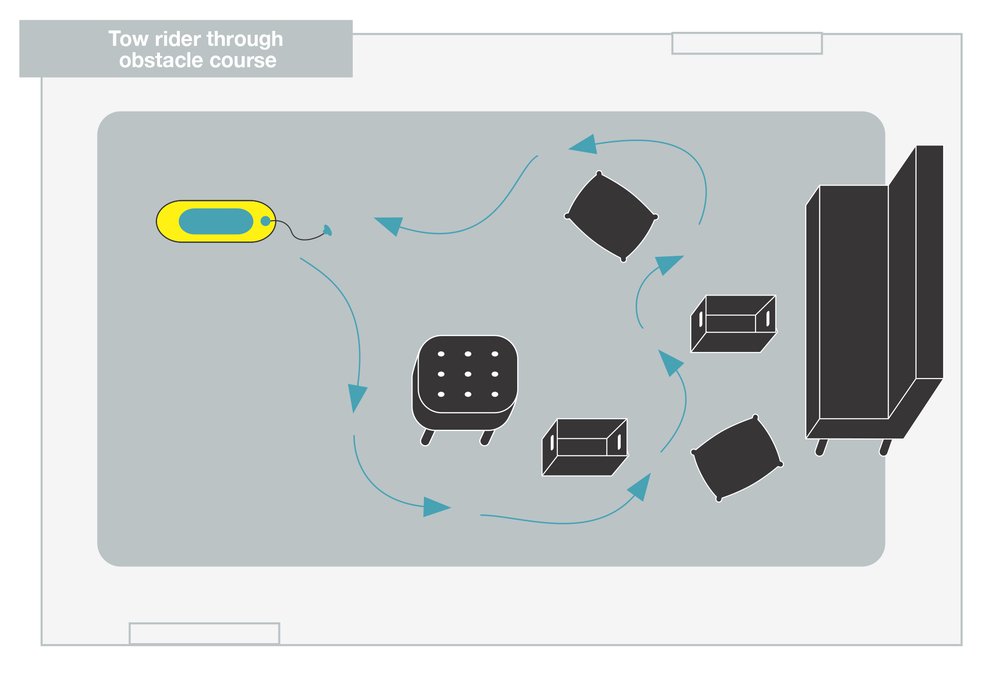 Level 1: The Intro Obstacle Course
There is plenty of room for variety and creativity as you build your course, but a better option is to let your kids jump in and help out. A great Level 1 approach is a simple obstacle course: grab anything that can act as an obstacle (chairs, cushions, toys, pets, grandpa) and arrange them haphazardly. Then, pull your kid through the course using the Riglet Reel.

Skills to build: Balance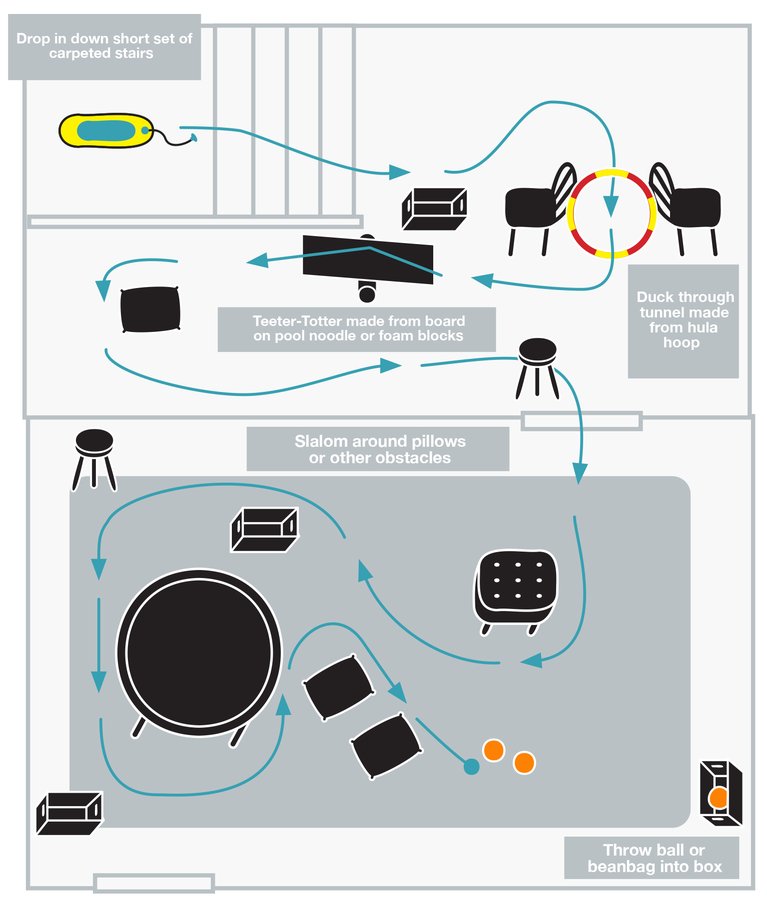 Level 2: The Level Up Course
Once they're ready to progress, make the course more challenging. Add in extra obstacles and secondary objectives: have them catch a ball or shoot a ball into a laundry basket while holding their snowboard stance. Another fun option is to use two stools and a broom to create a limbo scenario that requires them to duck and lean while being pulled on the board.

Skills to build: Balance, Stance, Flexion and extension (lowering the center of gravity by crouching and increasing the center of gravity by standing tall)

Level 3: The Ultimate Course
Looking for more difficulty? Combine the activities and obstacles from Level 1 and Level 2 with even more objectives. A few additional ideas include leaning a hula hoop between two chairs to create a tunnel and building a small teeter-totter with a foam roller and a piece of wood. For an added challenge, have kids practice holding a grab through the whole course or set up a spin goal to practice 180s and 360s.

Skills to build: Balance, Stance, Flexion and extension, Grabs, Rotations
Indoor Snowboarding Games for Kids
Indoor snowboarding practice can help kids build skills like balance and confidence that translate well to on-hill riding. Additionally, this practice is a great way to keep kids excited about snowboarding in the off-season. Plus, parents can structure the practice as a game to provide hours of entertainment and family bonding time.
So, grab your Riglet board, toss together some household items (a cut-up pool noodle, two yoga blocks, two pillows, or anything else you have two of), and place the board on top, with one item under the nose and one item under the tail of the board. Once it's balanced, practice some of the games outlined below and watch them progress!
Foot to Foot Game
In this game, kids practice getting low (flexion) on the board and then getting tall (extension) on the board. This maneuver is important in understanding how balance and center of gravity play a role in snowboarding and can help strengthen critical muscle memory. Play around and pretend they're trying win a game of limbo.
Rotation Game
One of the most fun moves for kids (and adults) is to practice rotating their body left and right. Once they've mastered that, you can even encourage them to add a jump and attempt a 180 spin. Too easy? Try a 360!
Grabbing Game
Explain some common snowboard grab tricks and ask your child to select their favorite. Then, have them practice their favorite grabs while balancing on the board. Some ideas for easy-to-learn grabs include:
Tail grab
Nose grab
Indy grab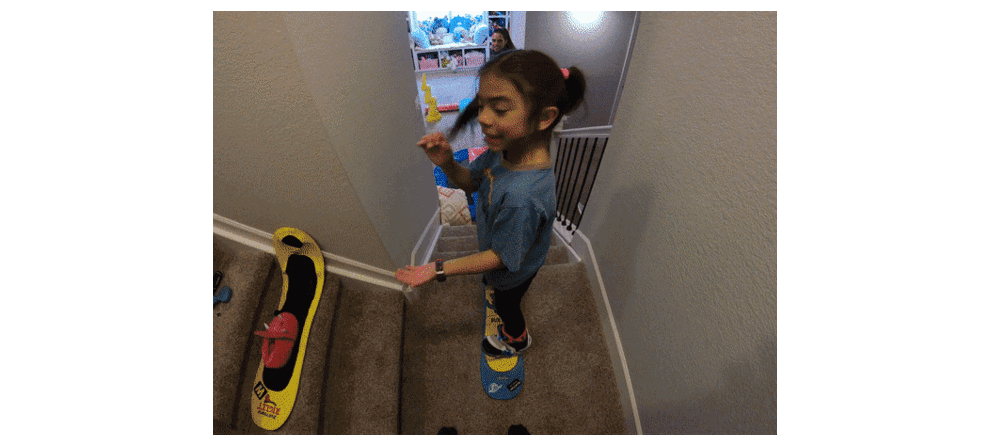 A Final Work on Youth Snowboarding
Whether you're snowboarding on grass, snow, or carpet, make sure to stress the importance ofhaving fun. The groms of today will be the Burton Team riders of tomorrow, but only if they fall in love with the sport like the rest of us did.
Did you build a rad indoor Riglet park at your house? Share the inspiration by posting to Instagram and tagging @Burton; we'd love to see your family's progression.
---