How to Teach Snowboarding to Kids (So It's Fun for Everyone!)
Call us biased, but there is no better way to spend a day with your family than on the mountain.
Sharing the sport you love with your loved ones is the ultimate experience, but it can be daunting at first. All the gear, the weather, the travel with little ones in tow… is teaching kids to snowboard worth it? According to the parents among us, yes. We asked the moms and dads of Burton for their tips on getting out there with the whole family, so that it's fun for everyone. With the right mindset and strategy, it can be the most rewarding thing you do this season.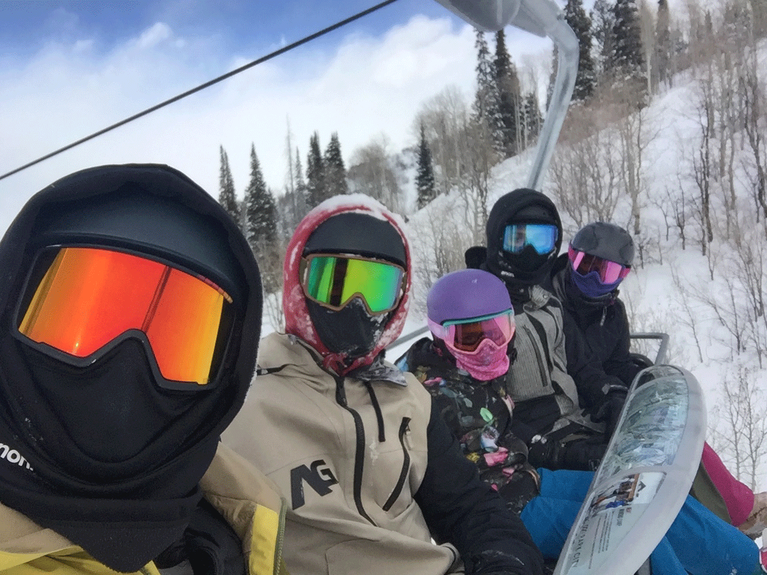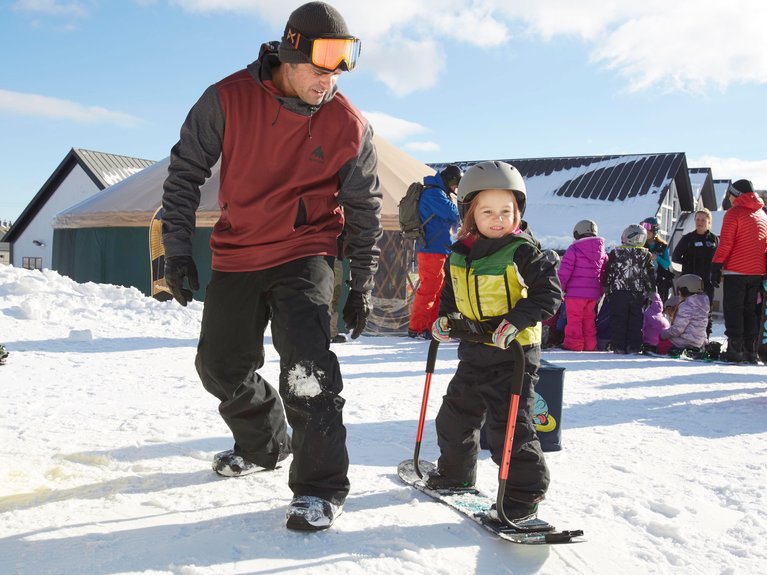 Get the Right Tools
Jeff Boliba –Vice President of Sport & Participation Resorts
The love of snowboarding can begin in the house, thanks to some of the learning products and tools we have created. Each one of my three kids were brought home to a board underneath the crib. When they are able to play with snowboarding in the house, you are able to take away the potential of nasty weather that can turn kids off.
Burton Riglet Snowboard. They can use the board as a toy to pull around their stuffed animals or siblings. Naturally, they are going to want to start riding on it themselves. The Hover Cover works great on hardwood floors, and you can take it off to use it on carpet or in the backyard.

Handle Bar. This is a great way for kids to try snowboarding without having to put on boots or strap bindings on. The handle allows them to easily step on and practice standing sideways in the front yard, backyard, or sledding hill.

Beginner Set Up. Once your child has a real board, boot, and bindings set up, you can attach the Riglet Reel to the front of it and pull them around outside on snow. Just pulling kids around will help learn to balance and make movements on their snowboard will translate to the mountain.

Rider's Bag. Having a specific bag for your child to keep all of their snowboarding gear in is key. You can then teach them to dry their gear out after riding, and then place everything back in the bag. That way, everything is in one place and you don't have to waste time and stress gathering everything up before heading to the mountain.

Lessons. Some programs (like the Burton Snowboard Academy at Northstar) have a Riglet Park and terrain-based features provide an amazing way for kids to learn. They also have trained snowboard-specific coaches. Certified kids' coaches are fun and know how to work with kids. Find a Riglet Park near you.

The most important thing is to keep it fun. Make snowmen, give them hot chocolate, high fives, candy, let them play, and get some friends involved. Don't ever push snowboarding on them, let it be guided discovery and they will love it for life.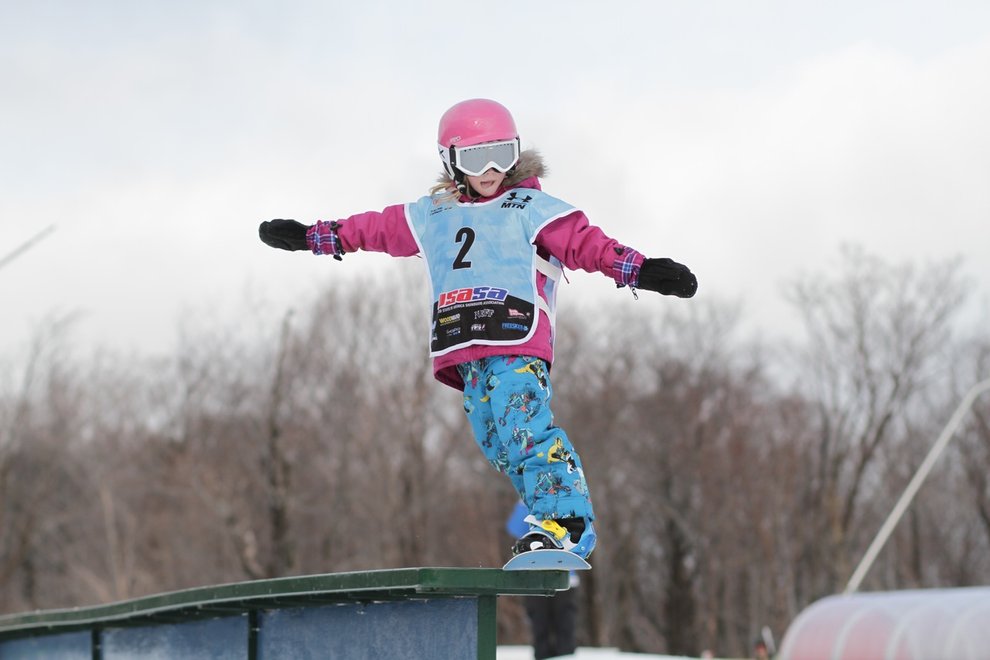 "Snowboarding and the mountain always = fun, no matter what."
Fun, No Matter What
Chris Fidler – Senior Director of Product Management & Creative - Hardgoods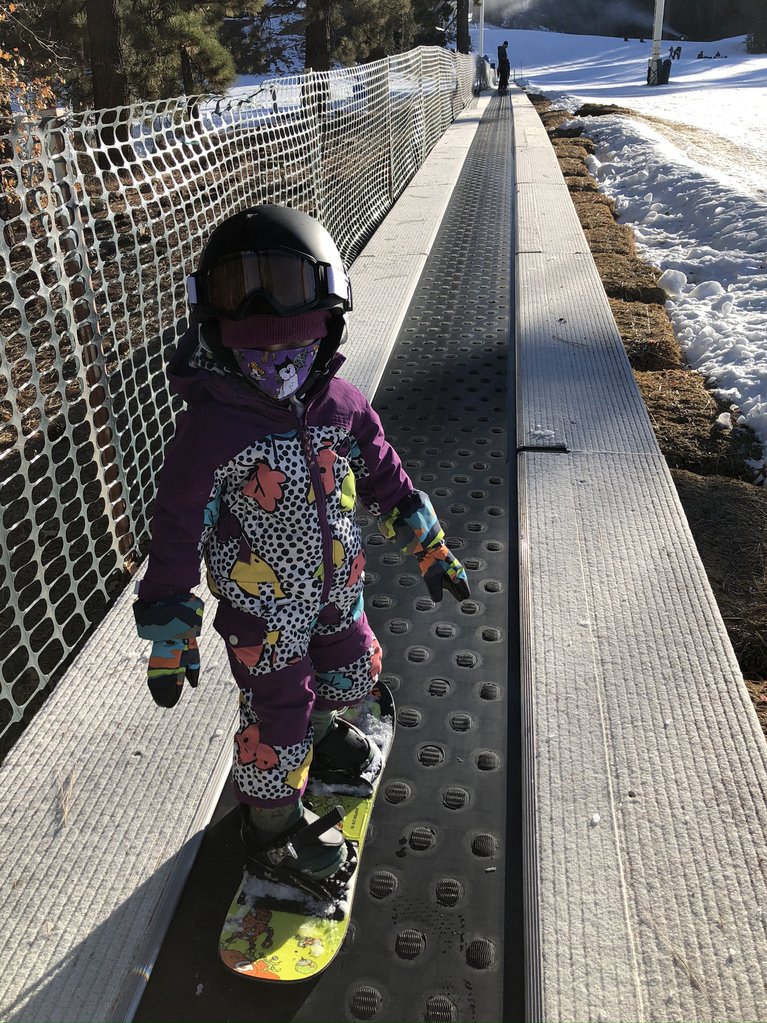 Make it fun. There are many different ways for a little one to experience snowboarding. The more you can let them explore and get comfortable through various scenarios, equipment, and games, the easier the entire experience is for them.

Build Progression. Burton has an incredible range of gear to help the little ones get comfortable and progress at their own pace. We found that starting with the Riglet board indoors was a great way to acclimate to the idea of snowboarding. Then, we took the Riglet outside and played around in the snow. The Handlebar was a huge step in getting Evie to maneuver her snowboard independently. Once your child is comfortable, pop the Handlebar off and put bindings on their board. Now you can begin to experiment with different ways for them to ride, whether you are pulling them with the Riglet reel, helping to guide them in front of you, carrying them for a few turns, or they are starting to go on their own.

Adjust expectations. Plan to trek to the mountain, haul a bunch of gear, carry around a little one, play in the snow, drink some hot chocolate, and probably eat some snacks. Anything above that can be treated as a bonus victory for the day! The shredding will come as their comfort level, and excitement grows!

Show off. As Evie progressed, we found that riding with other friends actually allows her to show off and inspires her to try things she may have not wanted to do yet. With Evie, she would go from casually riding with us to wanting to go on her own and show off when our friends would show up on the hill. This little extra boost results in her trying an entire steep slope on her own just to show off to a friend.
Let Them Lead the Way
Lindsey O'Brien – Partnerships and Quality Coordinator – Chill Foundation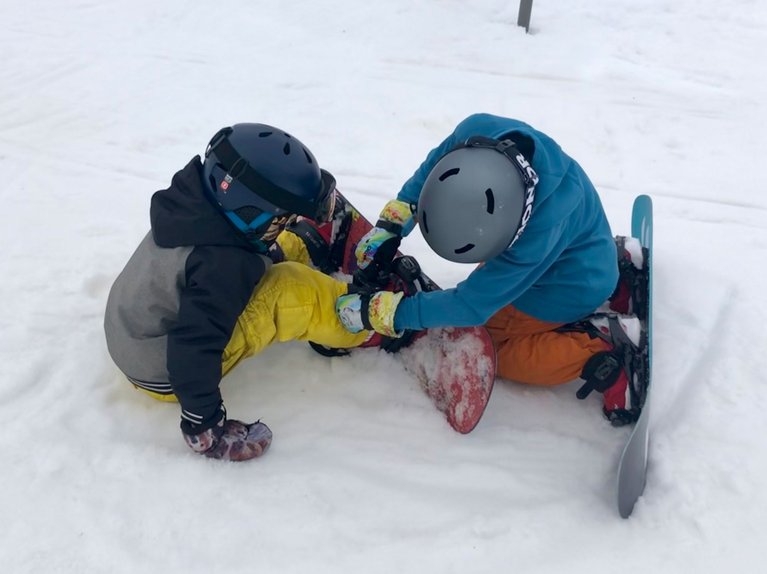 Do laps on the lift that goes over the park. To see the awesome stuff people could do on a board — that really stuck with them.

Have them carry their own board. It may not seem like a tactic to keep them out there, but it really helped them to feel super independent and, hey, it makes a parent's life easier.

Let the kiddos pick the trails. Even it means the same tree trail every. Single. Run. I can't tell you how many times I have followed my little guy down Broken Arrow at Okemo.

And you know what? Kids are kids. We definitely had a couple times where everything was a total fail, but we got back out there next time. That's what life is about.
No Lodge, No Problem
Miya Howells – Senior Global Merchandise Planner (Product)
We're grateful to be able to get on the mountain as a family. It's the activity that feels the most "normal" in these COVID times, and it has been amazing to watch our 6-year-old progress! While most of our routines remain the same, we've had to make some adjustments due to limited access to the lodge for eating and warming up.
It's the activity that feels the most "normal" in these COVID times.
Snacks & Treats. We've always carried snacks/treats, but this year we've ramped up the amount, stuffing her and our pockets with as many snacks as possible. I try to have some special treats specific to the mountain – right now, jellybeans are a hit, making it fun to guess the flavor on the lift ride.
Hand & Toe Warmers. In the past, we'd take breaks and go inside the lodge and warm up for 30 minutes to an hour. This year with the limited access to the lodge, I've been carrying toe warmers to help extend our time on the snow and put them on when her feet are cold.
Extra Masks. Since it's mandatory to wear a mask on the mountain, they'll inevitably get wet, freeze, or get lost. We carry additional masks just in case we need to switch it out for our little one.
Celebrate Progression. Pre- or post-pandemic, we make a point to cheer on all progression. Whether it's something small like taking a run on the magic carpet or big like trying a new trail, we want to make her feel proud of her accomplishments. This also allows us to set goals for future improvements.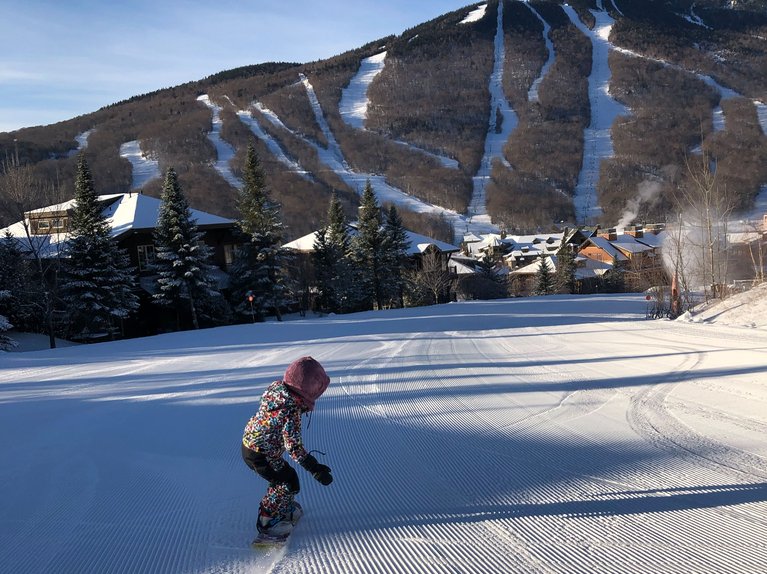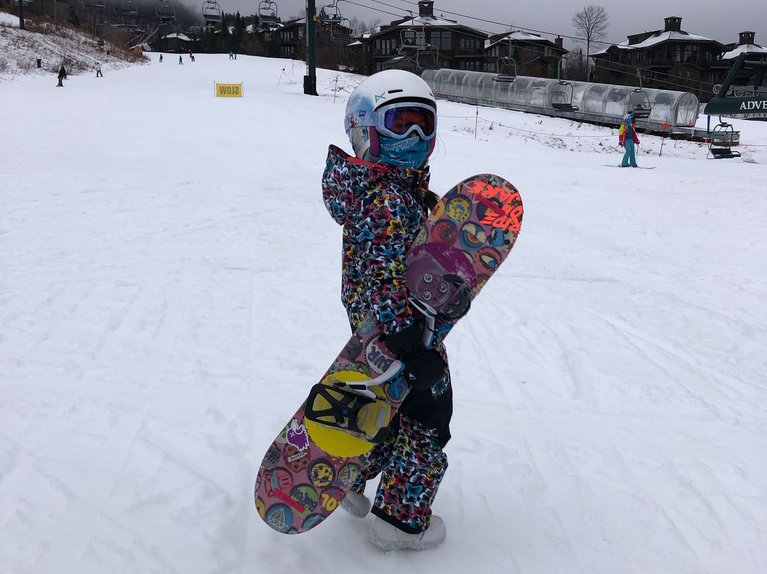 Set the Right Conditions
Michael Gardzina – Senior Manager of Brand Content

Go as often as you can, but do not get disappointed if the day ends after one ride on the magic carpet.

Try to avoid super cold and icy days. When it is fresh snow or slush, the kids learned so much faster and a fall wasn't a day-ender.

Don't push them. We wanted our kids to love the mountain. The best days are when your kids are having so much fun riding they don't want to leave. Switching off duties so each parent can take a lap is a great way to keep it fun for the adults.
Get the right gear. Pulling your kids around on a Riglet board is a good way for the kids to get their balance and feel the board flex under their feet. When they get a bit older, the Burton Kids' snowboards have proper flex and are so advanced that both my kids were able to link turns. Properly sized boots and bindings also helped my kids to ride and connect turns around three years old.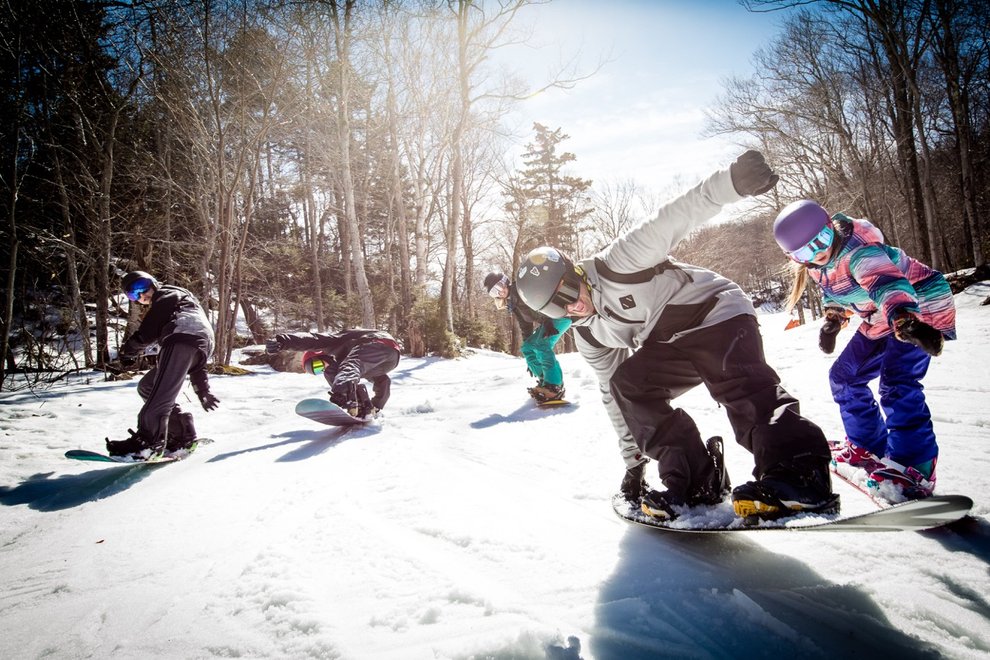 Ride Wherever, Whenever
Sharon Coburn – Global Support Specialist International

Use what you've got! Backyards, sidewalks, anywhere there is snow, they can slide! Even pulling them on flats can get them used to the feeling of standing sideways. Don't feel pressure to trek to the mountain and make it a big deal – just go outside wherever you are and have fun together.

Falling is fun! Take away anxiousness by letting them try falling from standing still (helmets mandatory, of course!). They'll learn that it isn't too bad and can even be fun! Try throwing snowballs at each other, make a snow angel, really anything that can focus on the fun, and keep reiterating that falling is part of the fun! You can cheer them for each "wipeout" as you ride – but not too much, as I learned it can also easily turn into a game.

Share the love. Sometimes after a few laps, Tyler is over it, so we switched to a sled in our backyard. However, as I pull him in the sled, I make sure to be riding my board – so he can see that Mom has fun on her snowboard too!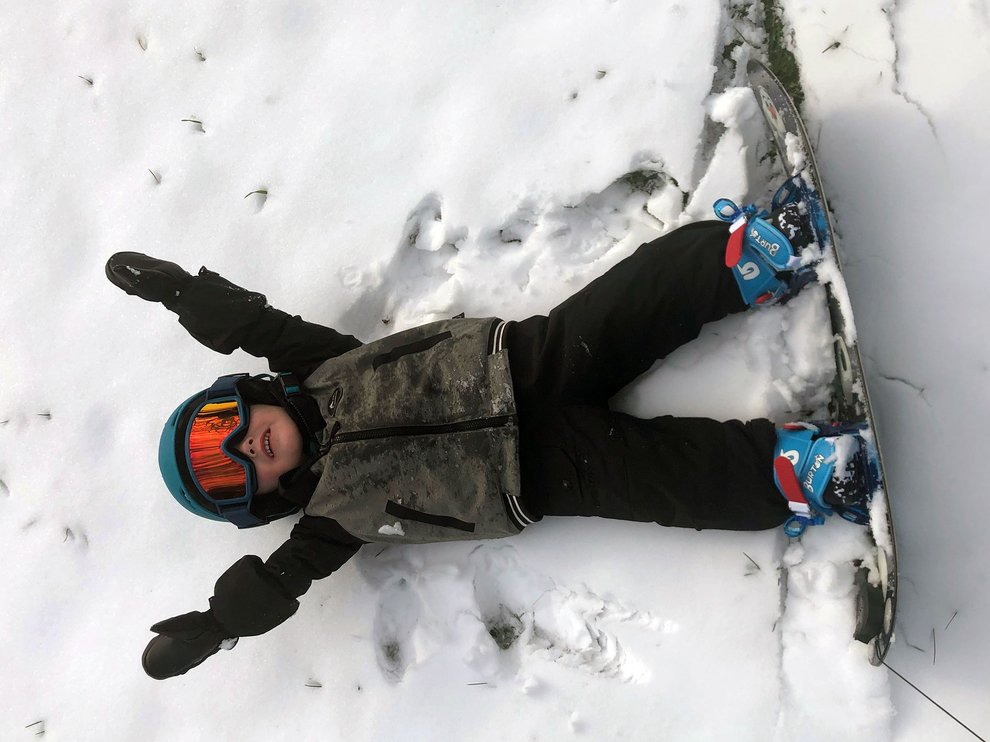 Get some awesome photos or video of your family riding together? Share the inspiration by posting to Instagram and tagging @Burton; we love to seeing your family's progression.
---