Burton Ambassador Emilé Newman: Making The Natural Selection Tour Sustainable
Snowboarding's carbon footprint is directly at odds with preserving the natural terrain we love to ride.
Car rides, lift rides, air travel, snowmobiles, grooming, park building, hotel stays, gear production, gear maintenance—every aspect leading up to the turns we make has an impact on the mountains we love and moving toward not only reducing our own impact but that of companies, events, and other entities within snowboarding will only further protect the natural world.
Enter individuals like Emilé Newman. The Jackson, Wyoming-based Burton Ambassador is equally passionate about splitboard missions as she is about the alpine environs in which she traverses. As the Sustainability Coordinator for the Natural Selection Tour, Emilé, along with her partner Lucas Isakowitz, is guiding one of snowboarding's newest and most meaningful events toward not just becoming carbon neutral, but achieving drawdown status. What does this mean? Read on to hear from Emilé and Lucas about how they are using their love of snowboarding along with their scientific and environmental knowledge to achieve a milestone in sustainability, contributing not only to their Teton Range home, but far beyond the snow line around the world.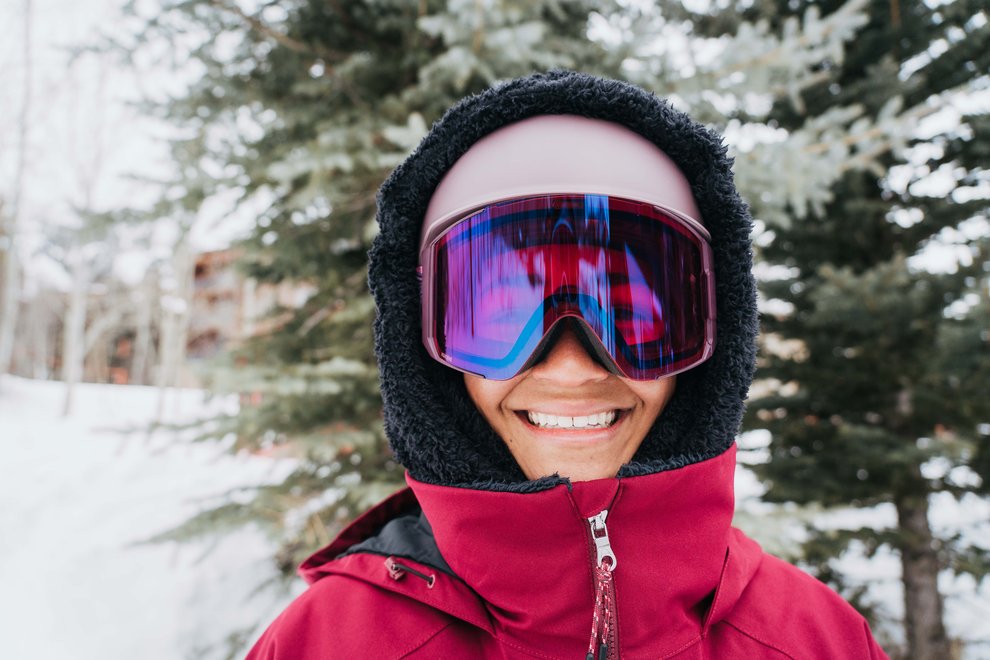 Can you tell us a little bit about your background leading up to the sustainability consulting that you are doing now alongside Lucas?
Emilé: I went to the University of Montana for undergrad. I studied environmental studies and natural resource conservation and really the science of climate change and policy pretty generally. Then for six years, I did some field research - worked for the government a little bit. Then I went back to school, where I'm now focusing on ecosystem conservation and land management. I have a pretty solid background in carbon cycling and the study of soil. [For what we do now,] Lucas has a substantial background in climate policy and working on the governance level. So we've been able come together for sustainability consulting—sort of our planet Earth, our powers combined, ha.
How did you get involved with the Natural Selection Tour?
Emilé: I know Travis Rice, and Carter Westfall, who is the CEO of the tour. I've lived in Jackson for a long time and they knew I was in school for this so they reached out and asked if we could do this work for them. We were happy to.
What does your role as the sustainability coordinator for NST entail?
Emilé: For the most part we're doing carbon accounting and off-setting. So, part of that is to have the meaningful conversation with Travis and lead team, Liam [Griffin, NST COO] and Carter, to decide what the scope and aims are for any sustainability plan. The team had decided that they wanted to focus on really putting Mother Nature first and honoring the pivotal role of nature in making this project happen. So, they partnered with Conservation International and Yeti to commit to this goal, initially, of being carbon neutral. Then, through conversations with Travis, we actually decided if we wanted to take a meaningful position on really aggressively combating climate change, that it would be more impactful to be a 100% drawdown event, which means going beyond carbon neutral.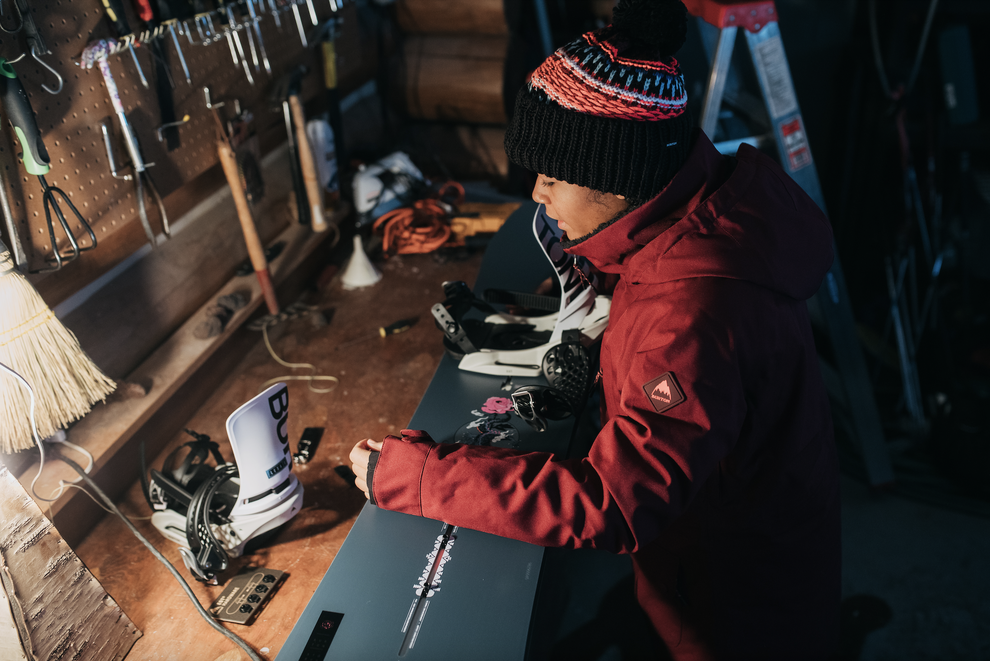 "You have systems that net release greenhouse gas emission or you have systems that act as sinks and store those greenhouse gas emissions for long periods of time."
What does it mean to be a drawdown event?
Lucas: So the first part of that question is, what does it mean to be carbon neutral or to offset your emissions? As an event, with Natural Selection, you have a ton of athletes flying in from all over the country, you have a lot of fossil fuel emission that comes from diesel cats and generators, and everything that is releasing carbon into the atmosphere creates greenhouse gas emission in the long term. So, to be a carbon neutral event means that you're funding projects that will draw that carbon out of the atmosphere and put it back into some sort of stored system. In this case, it was reforestation or protecting natural climate solutions that already exist on the planet. Trees have been putting carbon back into the soil for millions of years through the process of photosynthesis. So, to be carbon neutral means that 100% of the carbon emissions that you are emitting during your event are somehow being stored or put back into…
Emilé: A carbon sink.
Lucas: To be a drawdown event, means that you are not just making your calculation net zero, but actually taking away more carbon from the atmosphere than you're putting out.
What is a carbon sink?
Emilé: So generally speaking, we have a lot of these terrestrial and marine carbon cycles. With each of these different systems and processes, you kind of have this loop. You have systems that net release greenhouse gas emissions, or you have systems that act as sinks and store those greenhouse gas emissions for long periods of time. One of the most prominent carbon sinks on our planet is literally the soil. There are multiple types of carbon sinks: wetlands, the rainforest, the grasslands that cover a large swath of the US. In the more northern latitudes, we have permafrost, which has been a net carbon sink for many, many hundreds, and millions of years, but it's now beginning to turn into a carbon source.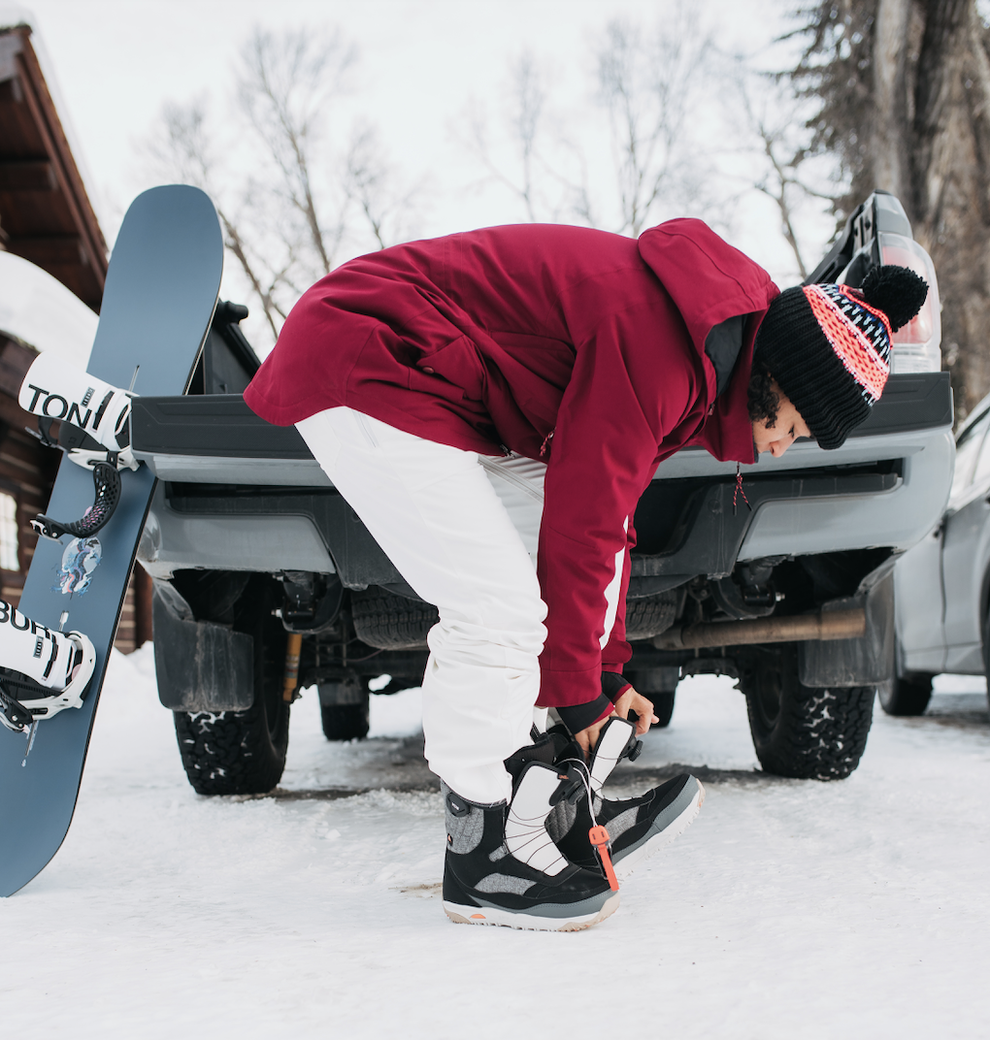 "Like your financial portfolio, it's important to diversify the carbon offsets you're buying, right? It's important to note that a lot of the carbon sequestration, or storage, happens in the trees themselves, like in the Amazon."
So the process of calculating how to offset carbon emissions when working toward being carbon neutral or a carbon drawdown is called carbon accounting. This is what you both worked on for Natural Selection.
Lucas: The term carbon accounting, what it's trying to capture, is the idea that everything that we do on the planet actually has a cost. So, if we're going to burn fossil fuels for our travel to the event or in the running of the event, in the same way you would manage a budget, we're trying to account for that spending by trying to find a way to offset that spending by putting carbon back into the soil. So it's just simply trying to calculate all the emissions that we've put out, and then finding a way to put it back into a place where it's not going to lead to negative consequences for the planet.
What does it actually look like to offset the emissions for Natural Selection?
Emilé: Conservation International is one of the lead sustainability partners [of the event]. During the Jackson Hole event, we fundraised through some of Schoph's art and also set aside funds to, once we're done with the calculations, buy that amount of carbon in the form of offsets through Conservation International. And what that money is going to be put towards is a carbon reforestation project in the Chyulu Hills in Kenya. Its specific climate related goals are to prevent the emission of 37 million tons of CO2e over the project's 30 year crediting period by stopping deforestation, forest degradation and grassland conversion. And then the other set of offsets that we're buying are in North Dakota through Ducks Unlimited. They actually have carbon offsets ready to purchase through a multigeneration grazing ranch area called the May Ranch. Like your financial portfolio, it's important to diversify the carbon offsets you're buying, right? It's important to note that a lot of the carbon sequestration, or storage, happens in the trees themselves, like in the Amazon. But it's also important to store within strong carbon sinks in diversified systems, so we're also buying these carbon offsets in grazing systems where a lot of the carbon is sequestered below ground in the soil. A lot of carbon storage happens in both grasslands and in forested systems, but thinking about the variation around climate change and the impacts and threats, we're experiencing a lot more wildfires, right? So once those trees burn, you're losing a lot of that stored carbon, so that's why we're also buying offsets in grasslands, because when those burn, a lot of the carbon is still sequestered below ground. You don't lose it as much.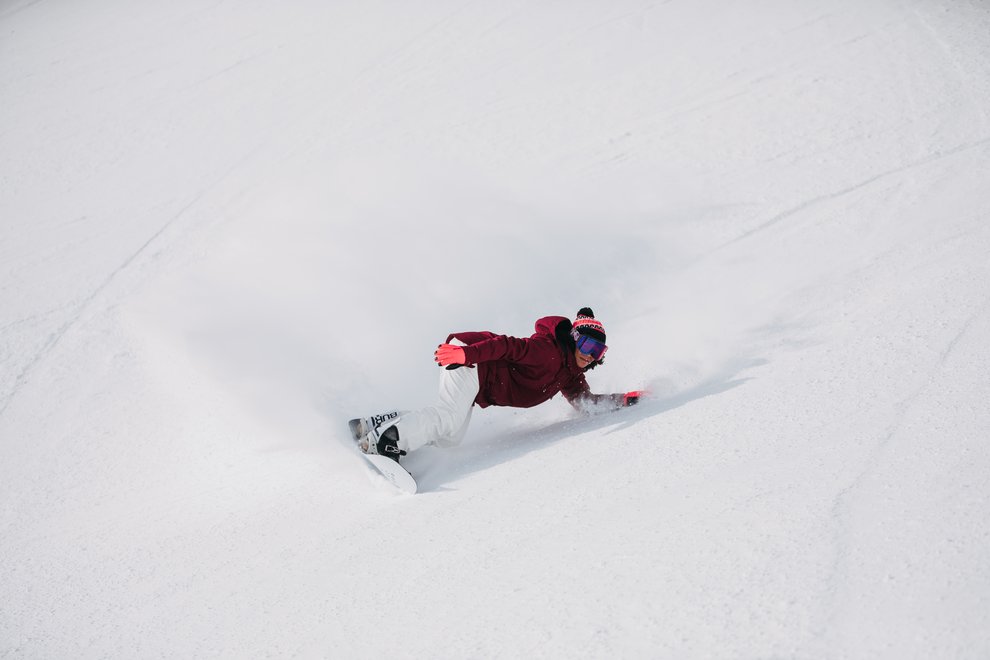 This effort to become a drawdown event seems like a first of its kind within snowboarding?
I know that there are governing bodies that work with the World Cup of soccer and things like that to try and offset their events, but I have not heard of anyone doing a drawdown event or really using that language in the mainstream. It was really cool because, coming from our background, Lucas and I were very adamant that if you want to make a stand, this is the way to do it and really it wasn't a tough sell to Travis because this is Travis' ethos and what he lives by. It was just really cool to watch him not even second guess that and just be like, "Yeah, this is what we're about. It's a no-brainer." It's really cool to see an event like Natural Selection be in trailblazing role like that. And then also to say, it's not been perfect. So much of the climate issue gets stuck in trying to be perfect, but a bunch of collective steps moving forward is still moving forward. So, we know that we have a lot to work on and to make better, but it's really cool that we're taking this bigger, public-facing first step.
The role of Mother Nature and the environmental systems of each location of the Natural Selection Tour are a very important part of the NST story and the broadcasts of the events have contributed to viewers' awareness of what's going on in the mountains they like to spend time in. This is likely a common question that you receive, but are there any resources or advice that you could offer to your fellow snowboarders regarding what we can all do in our daily lives to help to protect the places we love to play in?
Emilé: This is such an interesting question because I think it's a two-sided coin. There are the things we can do in our personal lives, yes, but the first point I want to make is that it is not fair that the burden of fighting climate change has been put on the individual. I think we need to start holding the corporations that we buy from, and the governments that we live within and under, to account. So, we need to vote, first and foremost. Because the burden of solving this shouldn't be on the common person. We're all just trying to make due in this system that we're nested within. Then the other point I would say, is just get educated. It's awesome that Burton is a B-Corp. They're taking steps as a business and a corporation to do the right thing. It is still imperfect, but it's a step forward. It's really cool to see Burton doing that work and taking that initiative. I think within people's personal lives, think about the fact that even if we solved climate change tomorrow, waste is a huge issue. Stop using plastic. Period. Buy from your local farmers market. Really think about your consumption and what you're buying and how long you're using it for. Take as much as you need and nothing more. It's an important ethos.
Lucas: The burden should not be on the individual. We need to create structures that allow climate change to really be combated. And change happens both from the top down and the bottom up, so you need regulation and policies, but you also need individuals to pressure those governments and those corporations via voting and via their wallets.
Emilé: Yeah, and it's not hard to buy your own offsets, you know. It's pretty easy. There's a lot of resources online.
Buy Offsets - Gold Standard
General Resources - Carbon180 & The New York Times - How to Buy Carbon Offsets
Follow #BurtonAmbassador and Emilé Newman to keep up with her latest trips and what she is doing in her community.
---