In The News: 152 Global Headquarters Hub Project
Did you know that our headquarters campus, which spreads across 80 and 152 Industrial Parkway in Burlington, Vermont, encompasses over 150,000 square feet of total space? Since 2014, we've been looking for other traditional manufacturing partners to lease about 20,000 square feet of vacant space, but haven't found any takers. The proposed Burton Global Hub Project would repurpose existing unused warehouse space at our campus in the South End Arts District to include a new restaurant, taproom, indoor skate park, and music venue.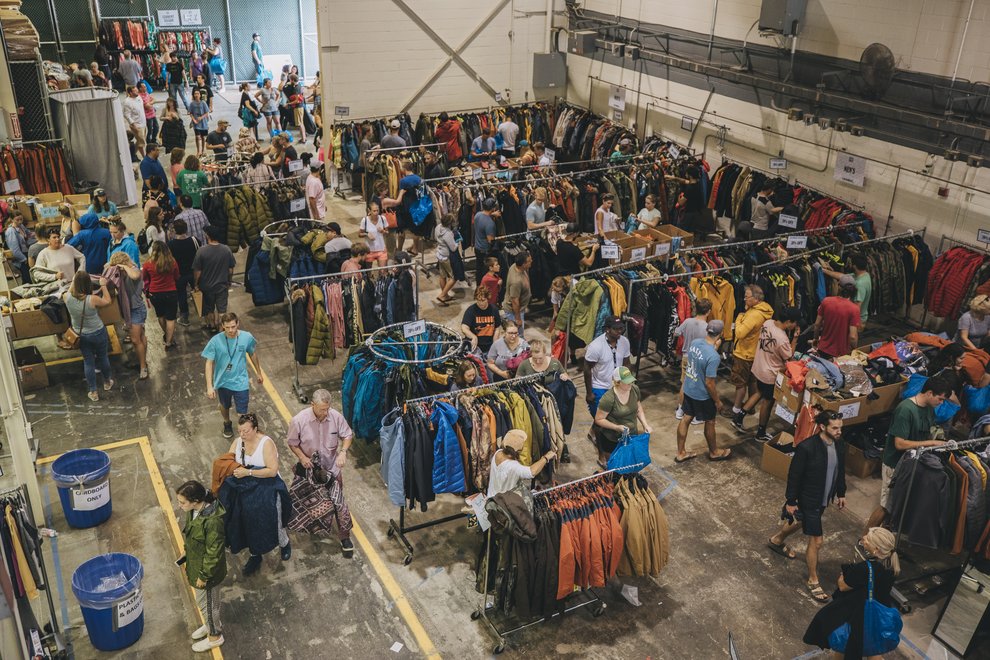 Heading into 2019, we're making some significant infrastructure investments to our 152 Industrial Parkway facility, including upgrading a storm water collection system, replacing the fire alarm control panel and other infrastructure work to keep their building up and running. Leasing out unused space with complementary uses to our existing R&D, manufacturing, and Product Labs would help offset these costs.
The anchor for the project is a performing arts venue. Current performing arts centers in the zoning district are limited to 5,000 square feet and must face Pine Street. We've been working closely with the City seeking to remove the size and location restrictions as they are currently listed. We're also working closely with the City of Burlington and residential neighbors to ensure the Hub is incorporated into our campus in a responsible and sensitive manner.
Our Hub would complement the exciting growth happening in Burlington's South End Arts District — many art and cultural venues, retailers and a long list of restaurants and breweries that have already moved in to the neighborhood. The proposed changes to our 152 building would also allow us to sustain manufacturing and R&D functions that are currently taking place within the facility. Citywide, the building redesign would support multiple industries and a growing number of jobs by bringing thriving business and activities to the community. The project would also provide rooms and meals, as well as property tax increases to the City's tax base.
If the zoning change is approved, our project is still about one or two years away, and we predict opening in 2020 or 2021.
UPDATE: January 30, 2019
We're excited to share that on January 29th, the City of Burlington Planning Commission voted to approve a zoning change amendment that would allow Burton to move forward with plans for repurposing a section of our 152 Industrial Parkway building. We've also had conversations with potential project partners and our neighbors about the project. There's still a lot of planning work ahead of us, but we are excited to see our vision of a mixed-use facility with R&D, manufacturing, food, recreation, retail, and entertainment start to take shape!
The zoning amendment change now heads to Burlington's City Council for discussion and review. A vote is expected to take place sometime in March or April.
UPDATE: May 15, 2019
Last night on May 14th the Burlington City Council Ordinance Committee voted to recommend that the full City Council should pass the zoning amendment that would allow performing arts centers on Industrial Parkway with a Conditional Use permit. A full City Council discussion and vote will take place on a date not yet determined.
UPDATE: May 16, 2019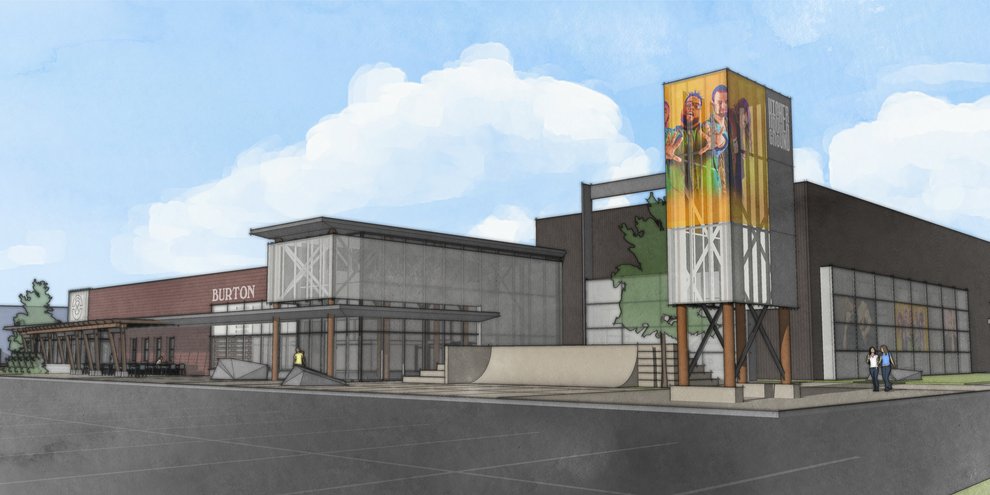 Have questions about Burton's Global Hub project? Look no further!
Where is the proposed Burton Hub location?
Our Industrial Avenue campus is in the Burlington South End Arts District, between Home Avenue and Queen City Park Road, across from Green Mountain Transit, Rhino Foods and the Edlund Co. The Hub would be located at 152 Industrial Avenue next to our global headquarters offices and retail store at 80 Industrial Avenue. Today 152 houses Craig's Prototype Facility, Warranty Center, snowboard museum, company archive, dealer showroom, photo studio, and the Chill Foundation; 152 also has over 30,000 square feet of unused/vacant space that would accommodate several new uses..
Why is this project important to Burton and other businesses in the South End Arts District?
Since we moved to Industrial Parkway in 1992, Burton has grown and changed a lot, and we now occupy over 80% of the 150,000 square feet of space in our two buildings. Because we have a mature and stable business model here in Burlington, most of our growth is projected to happen in International markets over the next 5+ years, so we don't have plans to fully occupy the remaining 20% of our facility footprint. Since 2014, we have been looking for other traditional manufacturing partners to lease the extra space to but haven't been able to find any takers. And heading into 2019, we have to make some significant infrastructure investments to our 152 Industrial Parkway facility including upgrading our storm water collection system, rebuilding crumbling parking lots, replacing fire alarm panels and other utility/infrastructure work just to keep the building up and running. So we have been working to find complementary tenants to both fill our unutilized space, and to provide some rental income to help offset the costs of the infrastructure investments.
Citywide, the Hub would support multiple industries and a growing number of jobs by bringing thriving business and activities for the community to our area of the South End Arts District. It would also provide rooms and meals and property tax increases to the City's tax base. We are also interested in expanding our factory tour experience through our Craig's Prototype facility. Did you know that today you can take an on-the-factory-floor tour of our snowboard manufacturing operation and at the same time see state of the art R&D labs in action, 3D printers, fabric innovation, and more? As part of the Hub, we are planning to expand our tour operation and bring more people through our facility to experience snowboard and other product manufacturing and R&D first-hand.
Can't Burton bring on a traditional manufacturing partner to lease their unused space?
We have made many efforts since 2014 to find a traditional manufacturing occupant to lease our unused space but have been unsuccessful. The City of Burlington Community and Economic Development (CEDO) team made another push to find potential tenants in 2018, with essentially no luck. Local manufacturing trends and uses have changed over the last decade. Manufacturing in Burlington is not easy, given the high cost of real estate and the personal property tax. In the past 10+ years, many traditional manufacturers have left Burlington for these reasons, most recently with Blodgett Ovens relocating from Lakeside Avenue to Essex Junction. All together hundreds of thousands of square feet of former manufacturing/industrial space in the South End has been transformed into mostly office usage.
Why does the zoning have to be changed?
Our plans for the Hub include a performing arts venue, and we are in discussions with Higher Ground to move from their current location in South Burlington. Currently, performing arts centers in our zoning district are limited to 5,000 square feet and must be on Pine Street. We have been working closely with the City requesting the size and location restrictions be changed or removed. The performing arts venue would be one element of our plans, and it's an important element that would complement the rest of the mixed use plan; in fact most of the other partners are interested in getting involved in this project because of the performing arts venue as it would attract a diverse audience and customer base. That is Burton's primary motivation as well – we are interested in showing a wider audience what our company and brand are all about.
One important note… if the zoning change is approved, performing arts centers will remain a 'conditional use' under the Burlington Zoning Ordinance, which means there are stringent requirements to receive a permit including traffic, noise, neighborhood impacts, and other criteria. So the zoning change is simply one step in the process, it's not the final step before construction.
What is the proposed traffic flow to and from the proposed entertainment Hub?
The soon-to-be-built Champlain Parkway would be used to access to the Hub – as the Parkway's first intersection at the southern end of the road will be with Home Avenue, which is right around the corner from us on Industrial Parkway. According to Burlington's Department of Public Works, construction will begin during the 2019 construction season.
Is there enough parking at the proposed project location?
We have over 400 parking spaces, big enough to accommodate plenty of visitors.
What partners have expressed interest in coming on board?
We are assembling a pretty amazing line-up of long-term Vermont companies and brands to be part of the Hub. This includes Higher Ground, Talent Skatepark, The Chill Foundation, Mad Taco, and other restaurant partners. And Burton will remain the core focus for the site with our R&D center, labs, warranty center, storage, archives, and Flagship Retail Store.
Why is Higher Ground interested in this location?
Higher Ground has been at the forefront of the live music scene in Vermont for 20+ years and is excited to bring their world-class facility to Burlington's South End Arts District. They've been in search of a new location for years, and our site aligns pretty much perfectly with their needs – part of our vacant/unused space at 152 Industrial Parkway includes a large 'room' with high ceilings that is essentially the perfect size and shape for a venue, we have ample parking, the Champlain Parkway will provide easy access for cars and pedestrian and bikers, and we will also integrate food, recreation, retail, and an R&D tour making this a cool multi-use destination for locals and visitors alike. Higher Ground was originally located in Winooski and they are now in South Burlington; their venue has played host to thousands of artists for the music community of all ages. In addition to music, they would also continue the broad community programming they've always hosted and supported — benefit concerts, non-profit work, children's programming, seated shows, and outreach to make their space available for everyone. Being located within 05401 will be a boost to their community programming as well.
How big would the performing arts venue be?
The 'room' mentioned above is about 8,000 square feet and would be surrounded by ancillary services including a lobby, coat room, bar, backstage/greenroom areas, loading dock, etc. The total size would be comparable to their current location.
Would traffic from the Hub be an issue for neighbors?
Industrial Parkway today is often a busy and congested street with a beehive of activity from businesses and residents. This busy time includes day-time hours, but also throughout the evening hours as multiple businesses on Industrial Parkway run multiple shifts with people, vehicles and deliveries coming and going. We expect any additional traffic during daytime hours to be very manageable, and additional traffic during nighttime hours will be able to take advantage of the Champlain Parkway. On all these points, we aren't traffic engineers, and the Conditional Use permit process will require that we can answer any and all traffic related questions specifically and in detail, so if the zoning change moves forward, we will be commissioning a traffic study to go much more in-depth.
Separate from the Hub discussion, Burton has been in discussions with our business neighbors and the City of Burlington regarding the condition of Industrial Parkway. It's in rough shape and not able to handle the current traffic, pedestrian and storm water drainage impacts that are occurring today. The City has committed to develop a plan to fix the street, including improving storm water handling, and adding a sidewalk. The city has committed to doing the planning and engineering work in 2019, and construction could move forward as soon as 2020.
Would noise from the Hub be an issue for neighbors?
Noise should not be an issue to the outside world because most of the uses are already happening on Industrial Parkway. The main new use would be a performing arts venue. That facility would be desiged to be sonically-isolated, meaning no concert noise would get out, and no outside noise would get in. People coming and going from the venue shouldn't present a noise issue either as the closest residence is several hundred yards away.
---