How to Make a Backyard Riglet Park for Kids at Home
With a little bit of snow and a little bit more creativity, anyone can get their kids snowboarding at home with a backyard Riglet park. This option is great for families that aren't able to get out to the resort regularly and those that are simply looking for an easy way to spend more time outdoors. So, if you're wondering how to get started, you're in the right place. Burton's guide includes an overview of the gear kids will need, some safety factors to consider, and a few different backyard features to focus on.
Backyard Riglet Park Gear
Backyard snowboarding is a great way to build fundamentals that will make the transition to resort riding much easier when the time is right. Also, starting at home gets the whole family involved making it fun for everyone. There are a few key pieces of gear that kids will need (spoiler: Burton offers an extensive line of youth snowboarding gear specifically designed to help kids get comfortable standing sideways).
Don't have a Riglet snowboard? No worries! You can use any small snowboard with the Riglet Reel. For more options on gear for kids of all ages and abilities, check out the rest of the youth snowboard collection for sizes that range from 80cm-130cm.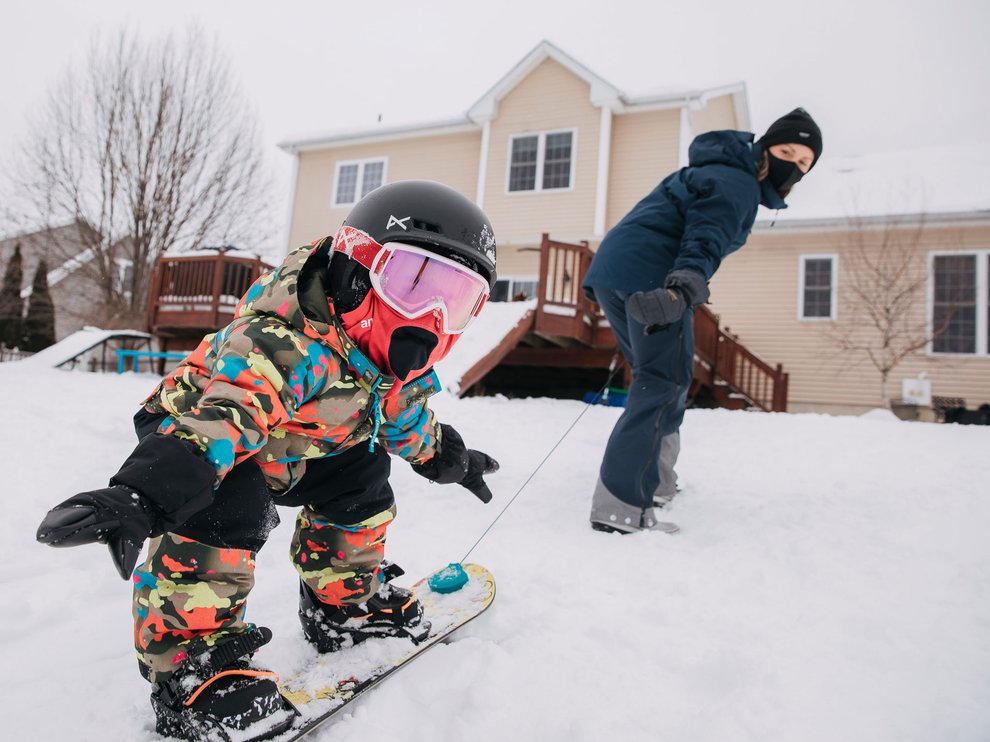 Building on Outdoor Riglet Park
Building an outdoor Riglet Park in the backyard is easy, and all you need is a few everyday household items and a little bit of snow. In general, we recommend starting small and working up in difficulty as kids gain confidence and skills. But you should focus on making it your own: be creative, have fun, and let the kids help. And remember, the most important thing is that the kids are having fun—don't force it.
Before we dive in, let's review a few safety factors:
Young children should always be supervised while being pulled on a snowboard or when playing with snowboard gear.
Always play under control.
Make sure to use sturdy items for your outdoor park.
Pad corners and other sharp features that could be hazardous.
Level 1: The Intro Course
For The Intro Course, use sports balls (soccer ball, basketball, volleyball, or any kind of ball) to make "gates" and create a snow ramp by building up snow on either side of a log. Pull kids through the course and have them practice their balance. Keep it fun and exciting by drawing a box at the end of the course and having kids stop and pose in their favorite grab.
Burton tips:
If kids are a little timid or apprehensive to get on their board on snow, have them pull a toy through the course first to get comfortable.
When pulling kids over the snow ramp, make sure to adjust the length of the Riglet Reel to get the proper tension; this is safer and provides the puller with much more control.
Snap a photo of poses in the box at the end of the course for a record of the progression.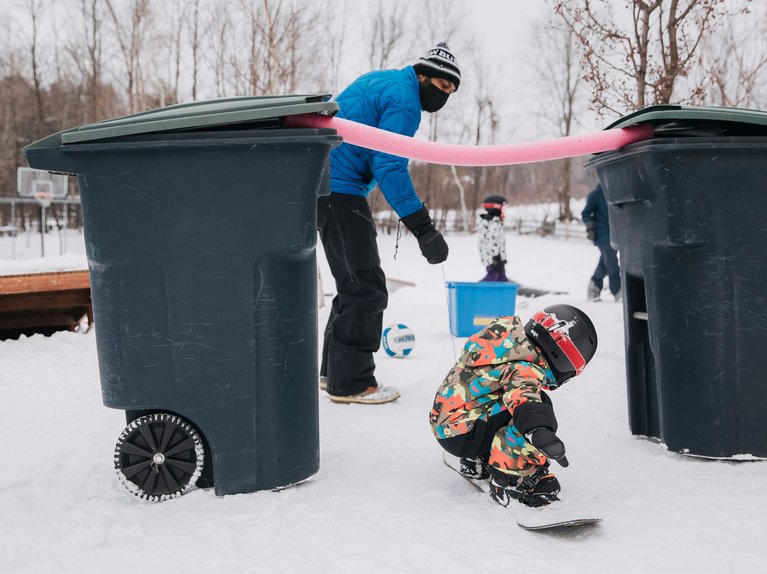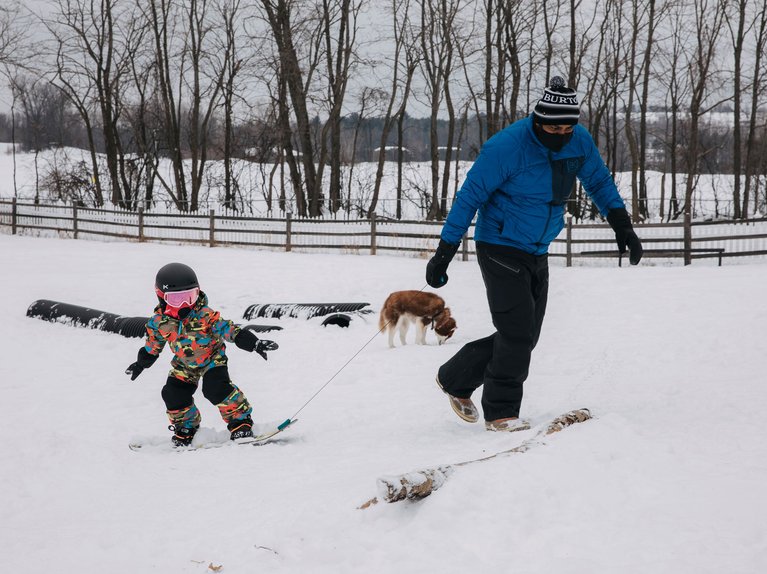 Level 2: The Level-Up Course
Once kids are feeling comfortable with the intro course and are ready to progress, add some additional obstacles. Increase difficulty by placing a recycling bin or bucket along the course and have kids toss a ball in while being pulled. Ball shooting helps kids build flexion and extension (lowering the center of gravity by crouching and increasing the center of gravity by standing tall) and expands on basic balance skills.
Burton tips:
Set up additional boxes along the course and have kids pause and add in a grab or try an ollie (vertical hop) at each stop.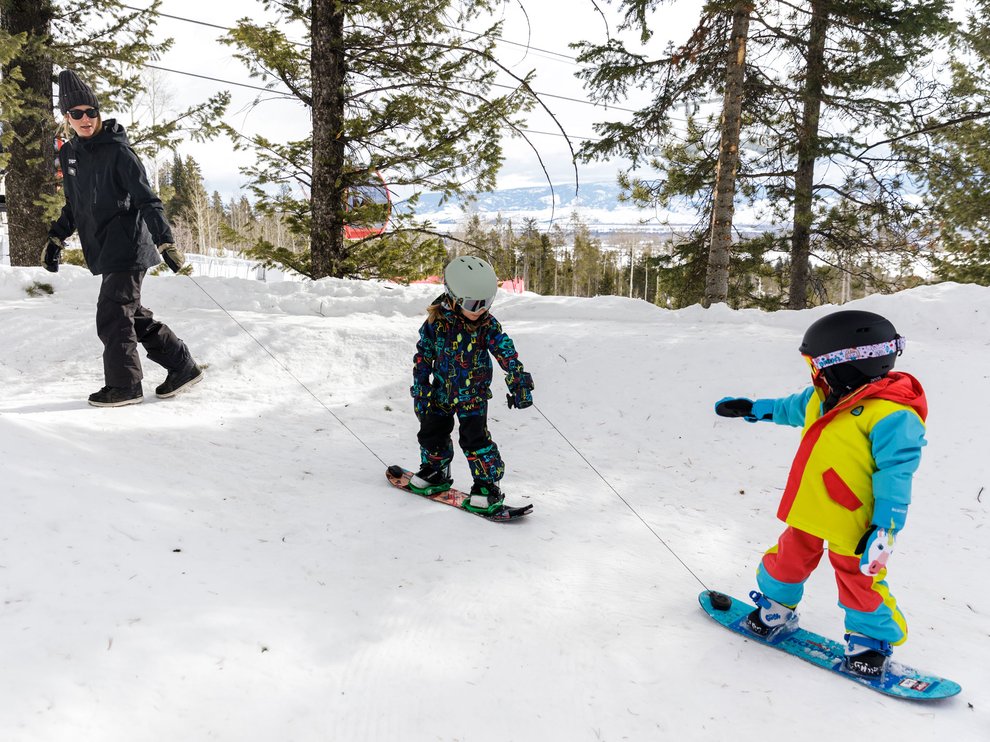 Level 3: The Ultimate Course
Ok, the kids are crushing it and now it's time to take it up a notch. Take everything from Level 1 and Level 2 and include some new obstacles for them to work on. Parents: grab a shovel! This is the part of this activity gets really fun. Start with a small snow ramp to help your kids get comfortable with the motion of going downhill. Once the kids have the basic concept down, whatever you're willing to shovel is within the realm of possibility.
Burton tips:
Make a mini snow quarter pipe and use a branch or log as coping; have kids practice riding up and then down in the reverse direction.
Toss some snow on an upside-down recycling bin and you've got a tabletop or a box to slide on.
Other fun options include a limbo, and snow rollers.
Want to take these recommendations on-the-go? Download the complete (printer-friendly) Home Backyard Riglet Park PDF guide.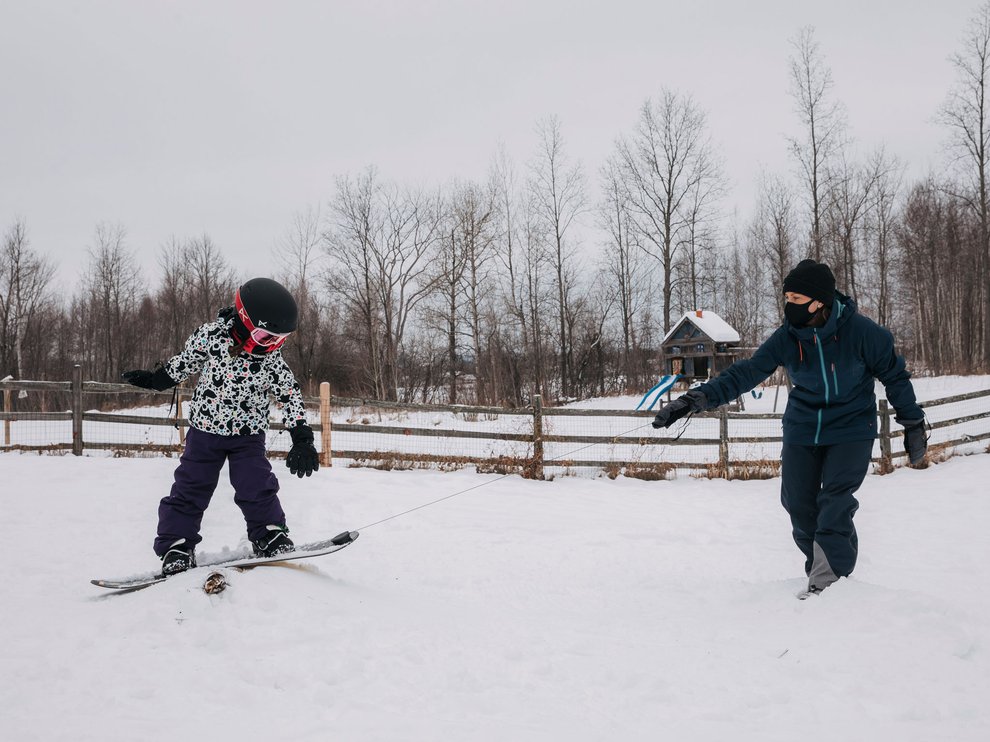 A Final Word on Backyard Snowboarding
Backyard snowboarding is definitely fun for kids. But it is also really, really fun for parents. In fact, many Burton parents who have gone through this process (and watched their child learn to love a sport we love) report finding a new love of the sport themselves.
And one final tip:
Build an early season backyard park and spend all season improving, updating, and riding with the family.
Did you build a rad backyard Riglet park at your house? Share the inspiration by posting to Instagram and tagging @Burton.
---