A Humanized Guide to Burton's Spring/Summer Tech
Have you ever wanted to interrupt a salesperson at the gear shop like, "Hold up. Can you just explain what this actually does?"
On the plus side: the level of sophistication in all this gear means it really works. On the not-so-plus side: with so much science behind every item, it can be hard to figure out what's going to work best for you.
We've always been hyper-focused on tailoring every little detail of every product. Back when Jake was prototyping everything in his barn, it was all about asking what would help riders have a better time outside. It was a natural evolution to take that mentality to everything we make: rain jackets, socks, luggage, hats… Seriously, everything. Come take a tour of Craig's Prototype Facility at Burton HQ and you'll see just how far we go to push innovation and performance.
All you want to know is: will this thing work, or not?
We could just say, "Yes, it works!" But why not get into it? Here's a rundown of the more esoteric names and terms in our tech glossary, minus all the sci-fi jargon…
Burton x bluesign®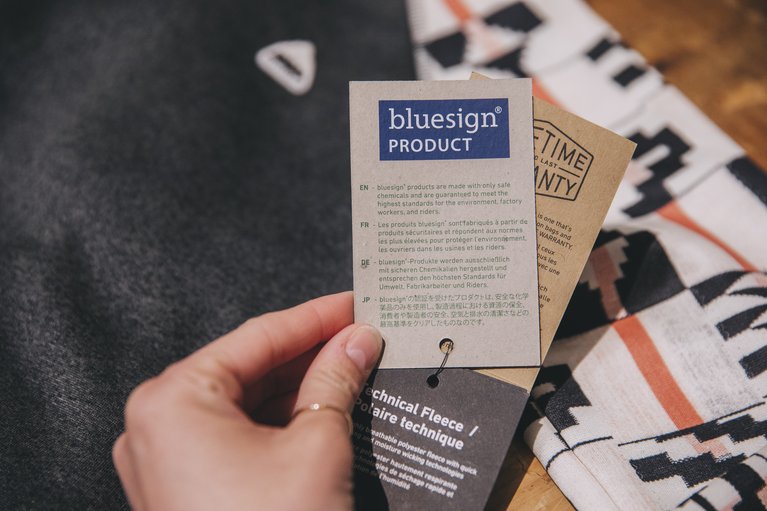 Let's start here, because we've taken on some ambitious goals for sustainability in the coming years, and ensuring that more and more of our softgoods (bags, jackets, and apparel) are bluesign® products is a huge part of that process. See, bluesign® approval means the whole supply chain has been united to reduce the impact on both humans and the planet. bluesign® products meet the highest standard available in the textile industry for chemistry.
Click here to read more about what bluesign® approval really means.
Bags & Luggage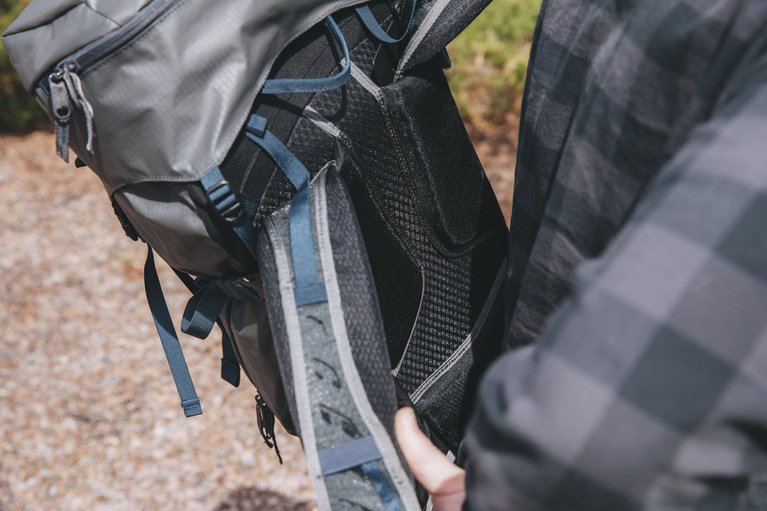 Here's a fun one: the Aeropro Enclosed Trampoline back panel. This raises the part of the pack that otherwise would be touching your back, creating a space between the pack and your body while enclosed mesh sides prevent snow or sticks from getting stuck between you and your pack. Find it on the [ak] Incline 20L, 30L, and 40L packs.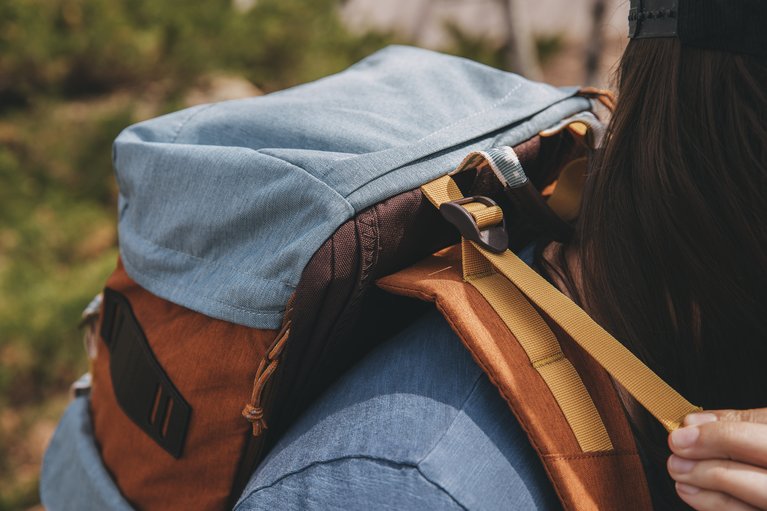 Ever heard of Load Lifters? They're super handy! They're little straps running from the shoulder strap to the actual part of your backpack. Tighten them down once you have the pack on, and they'll keep everything snug in place, which reduces swing weight, and improves load distribution. Find them on the Annex, Gorge, Upslope, and Incline packs.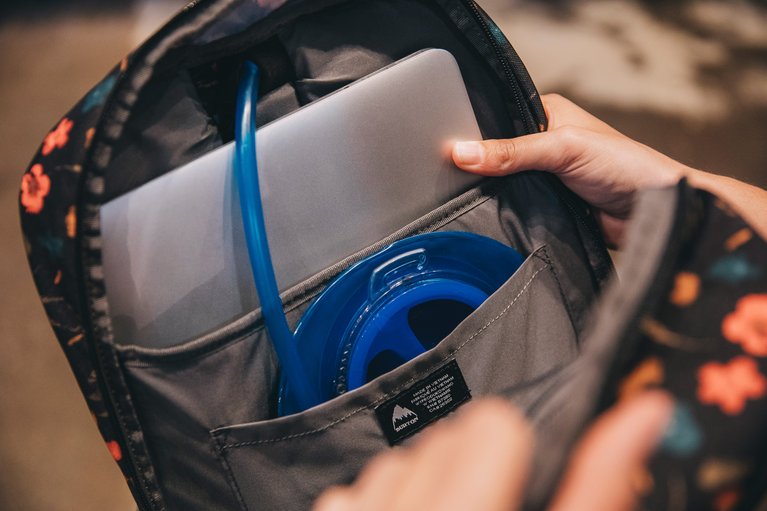 Hydration compatible bags are built to be compatible with… wait for it… water bladders. Yep. Bags full of water. Slip them in the secure hydration sleeve and run the sippy tube out the slot in the top, and you're working with a fully functional sip-n-step setup.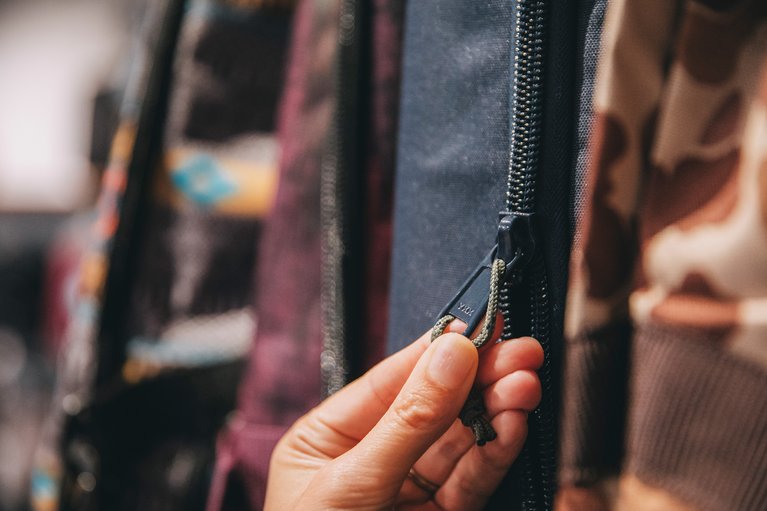 You may have found yourself wondering what YKK® Zippers are all about. Well, "YKK" stands for Yoshida Kogyo Kabushikikaisha (which roughly translates as Yoshida Company Limited). Yep, these are super durable zippers that we use on all of our jackets, hoodies, backpacks, and luggage pieces like the Wheelie Double Deck.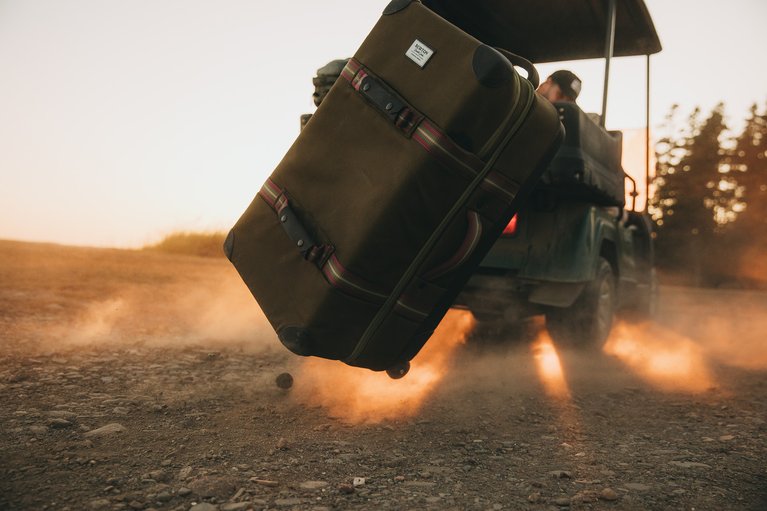 The term, "Compression Molded" shows up all over, like on the Skyward or Day Hiker packs, the Wheelie Flight Deck, and even The Kit. This just means the material has been molded into shape, reducing the overall amount of material, and making for a rigid shell that holds its form. Less is more, ya dig?
While we're on acronyms, how about TPU and PU backings? Get ready, big word: Thermoplastic polyurethane. Basically, it's a rugged plastic that coats the underbelly of luggage pieces like the Wheelie Cargo Bag. Toss it down the stairs, or drop it in some mud, and it'll keep all your precious goods safe and sound.
Jackets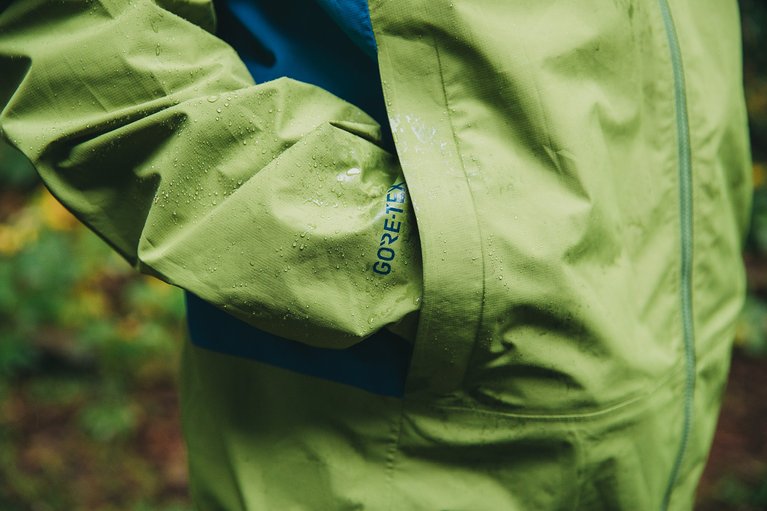 If we're talking about water repellency, we have to mention the GORE-TEX factor. To put it simply, GORE-TEX fabrics work so well, they literally back them with a GUARANTEED TO KEEP YOU DRY® promise. We produce garments with GORE-TEX like no other manufacturer on the market, with Burton-exclusive prints, colorways, and cuts. Check out the women's Pacrite jacket, or men's Pacrite jacket.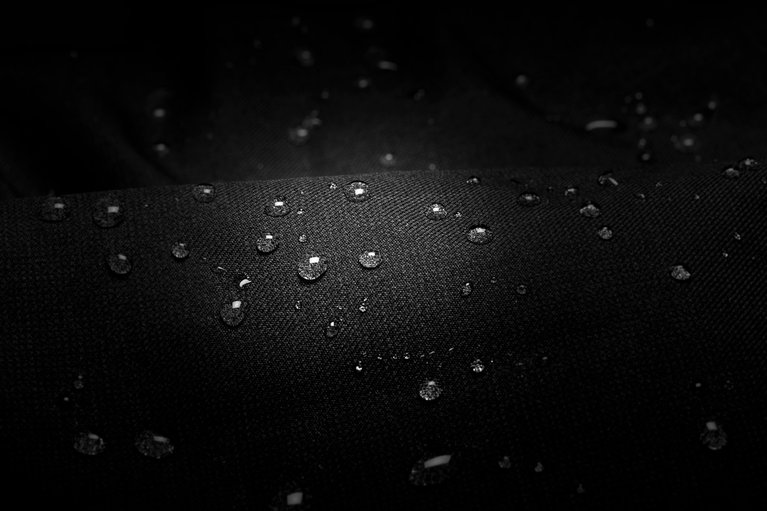 DWR is a term that gets tossed around a lot in the water-repellency world. Why? Well, it stands for Durable Water Repellent, and does a great job on a variety of products, like the Edgecomb and Kiley jackets. In fact, both of these jackets use a PFC-free DWR, which reduces the harmful environmental impacts of conventional Durable Water Repellent (DWR) chemicals.
If you're looking for a deep dive, check out our full blog post about understanding waterproofing where we go into all the different fabrics and levels of taping.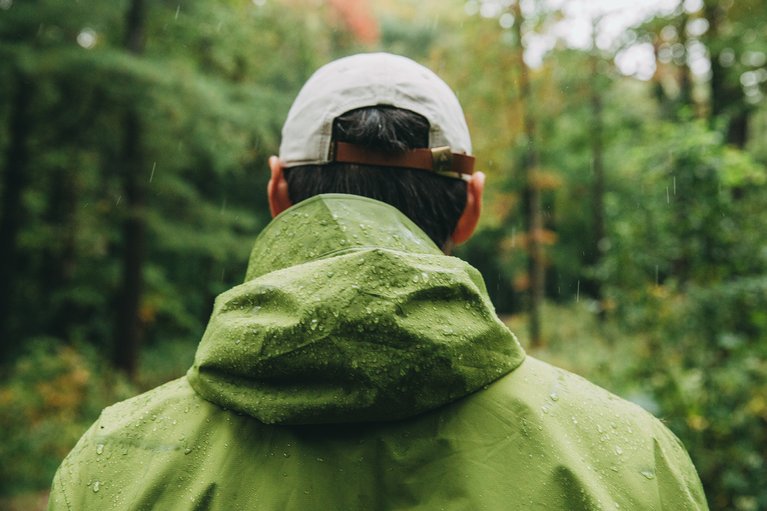 Fulltime adjustable hoods are a sweet little feature. Basically, the hood starts lower on the collar, offering a more natural fit. That's all. No gimmicks, just nice hoods.
While we're on the hoods, you'll see this one: the Cohaesive™ Embedded Hood Cinch. Cohaesive™ is the name of a cord management device that streamlines the whole pull-cord scenario into a really subtle system. No pull cords dangling around, and no awkward bunching.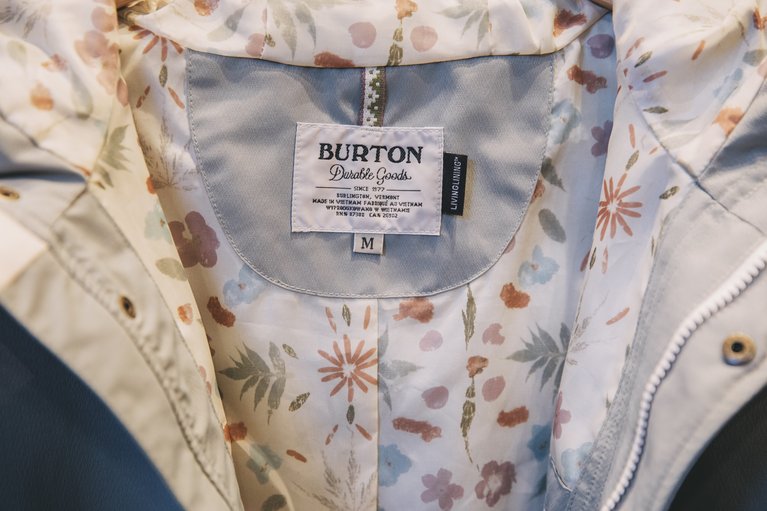 Many of our jackets feature Living Lining®, a proprietary technology that works behind the scenes to keep your comfort levels consistent whether you're hiking up a mountain or hanging out on the windy summit. It's fueled by the wicking ability of our synthetic insulations. When you're warm, the breathable pores expand to release excess warmth and prevent overheating. When you're cold, breathable pores shrink to trap body heat and keep you warmer longer.
Apparel
Remember that bit about bluesign® and PFC-free DWRs? Well, it's a big deal in the world of apparel as well. In fact, we are well on track to achieving 100% bluesign® softgoods by 2022, along with the rest of our sustainability goals.
Many of these technologies were developed or integrated into our products through the Threadworks R&D Center. We started making outerwear and clothing for riders nearly 40 years ago. It's grown to not just be about the riding, but all the moments in between, which means we have to be prepared for wind, rain, sun, heat, and days where you're in and out of the water on an hourly basis. Threadworks is our state-of-the-art proto shop where we develop gear that innovates the way we enjoy the outdoors.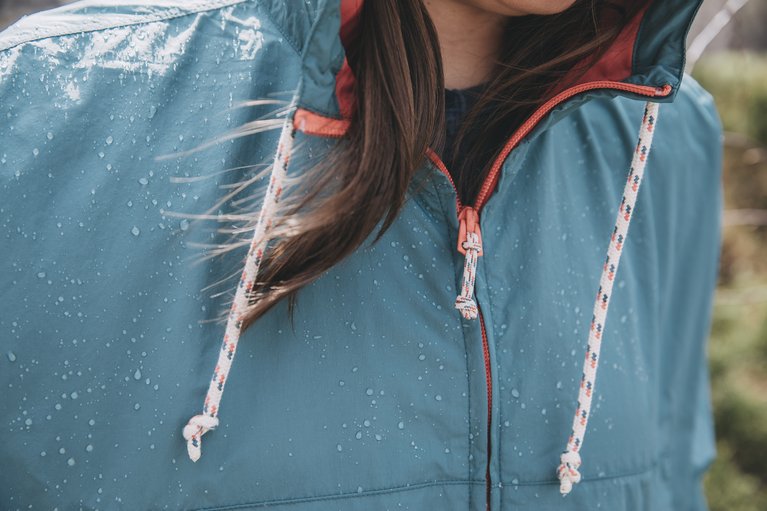 When you want to wear a hoodie or light jacket, but don't want to get soggy in a little squall, DRYRIDE Mist-Defy will be your key. It's a DWR (remember those?) that we apply to things like the Crown Bonded Hoodie or the Hazlett Packable Poncho to take it from casual to performance-casual.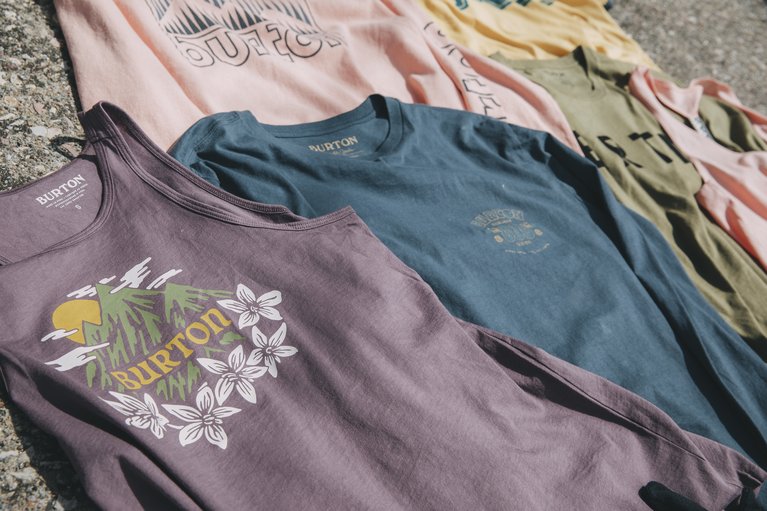 While we're talking fabrics, we have to mention the comfort and sustainable benefits of 100% Organic Peruvian Cotton. Not only is it lauded as one of the most comfortable and durable forms of cotton, but it's farmed without the use of hazardous pesticides or synthetic fertilizers. This means less exposure to harmful chemicals for the environment, you and the folks who make it. Pro tip: it also makes it softer.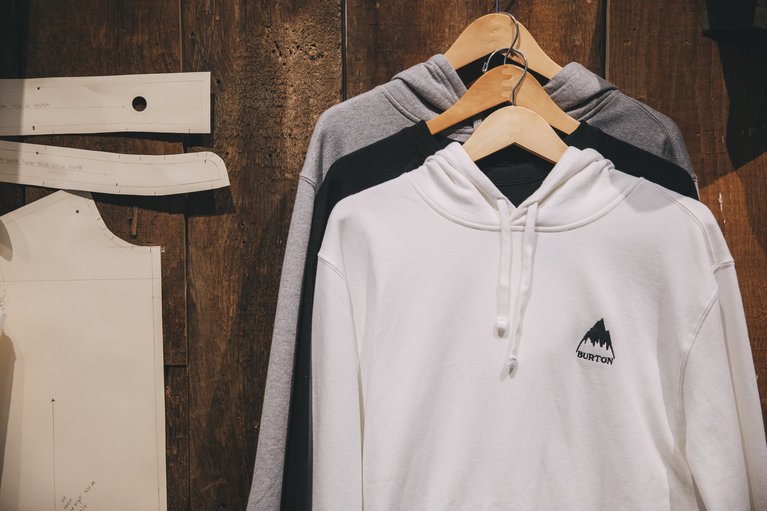 Everybody loves acronyms, right? Let's talk about RPET. It stands for Recycled Polyethelene Terephtalate, which is the chem major's way of referring to recycled polyester. Polyethelene Terephtalate (PET), more commonly known as #1 Plastic, is a strong, durable, and recyclable material used for soda bottles, water bottles, and food containers. Recycled PET gets shredded, transformed into pellets, and spun into thread in order to create fabric. RPET fabric is strong, water-resistant, color-fast, lightweight, wrinkle resistant, and of course, environmentally friendly. Find it in our tees and basic fleece.
---
Was this helpful? We only mentioned the stuff that gets really tech, but if there's anything else that has you scratching your head, just give us a call or drop us a message. Nothing makes the Burton Guides happier than chatting about gear.
---