A Beginner's Guide to Getting Set Up for Snowboarding
Hey you, welcome to snowboarding!
Buying your first snowboard set-up shouldn't be rocket science, but there are important factors to consider and many products to choose from. We've designed this guide to make it easy to find exactly what you need to get on the mountain. Let's get started.
Choosing a Board
While we make a lot of amazing boards, there are a few options that are great for beginners. When choosing a board, you want to consider the overall shape of the board and the bend profile. Those two things combined help give a board it's personality and determine in which terrain the board best performs.
The Hideaway is a soft-flexing and confidence-inspiring machine. It has a slightly directional shape, which will help any beginner get the hang of turning. The Flat Top bend profile keeps the contact points off of the snow, giving you a catch-free ride. This board was designed to get you to the next level in your snowboarding.

The Yeasayer Flying V is an all-around, medium-flexing board, that is made to do anything and everything. The Flying V bend profile gives you the best of both worlds – catch-free rocker on the nose and tail, plus powerful camber under-foot for more control while you're carving. The Yeasayer Flying V is a true-twin shape, which will allow you to ride in either direction with confidence.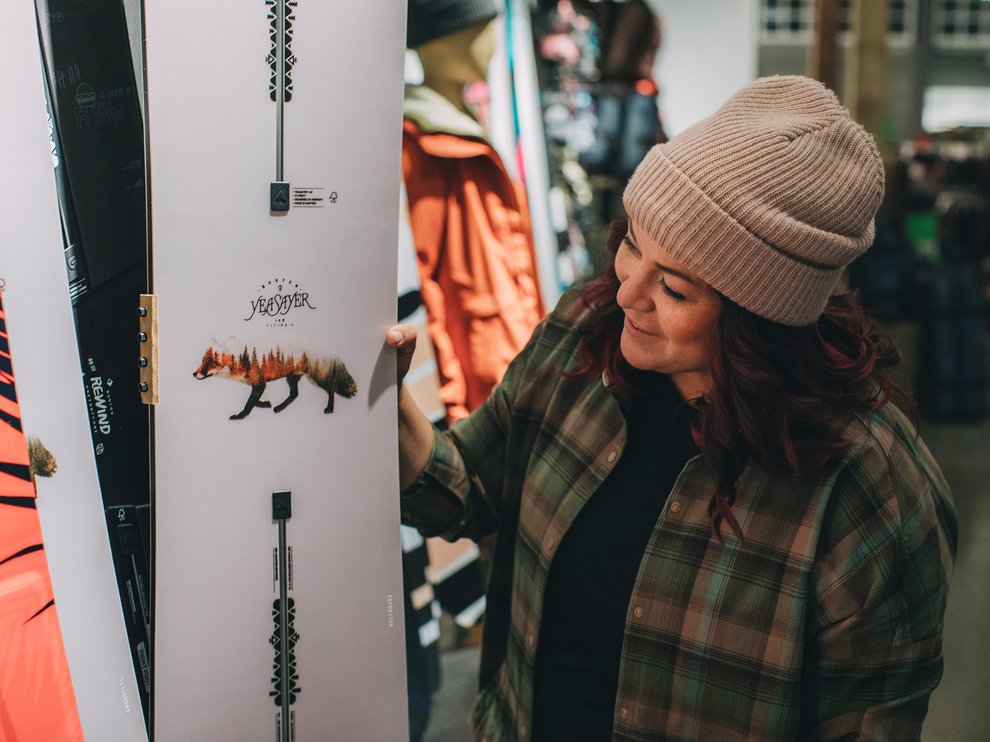 ---
Choosing Boots and Bindings
Binding selection is all about flex and adjustability. Picking a binding that complements your board's flex is key. It's important to know there are so many ways you can adjust your bindings to fit your exact needs—angles, hi-back rotation, adjustable straps—it can all be dialed just for you!
The Stiletto is a lightweight, soft flexing binding that is great for learning to ride. This binding features our Re:Flex™ technology, which improves board flex and feel, and is compatible with any snowboard. If you value comfort and ease, you can't go wrong.
For the best possible connection, we recommend the Scribe EST. This binding features our EST® (extra sensory technology), which removes the materials beneath your feet and replacing them with cushioning for a ride that is focused on flex, feel, and comfort. The Scribe EST is a soft to medium flexing binding, perfect for progressing all over the mountain.
For boots, the biggest concerns are comfort and warmth. You could have the greatest board, the most technical bindings, and have a perfect bluebird day on the mountain, but none of that matters if your feet aren't comfortable. For someone who is just starting out, a softer boot would do the trick. It is also important to consider what type of lacing options work best for you: traditional, Speed Zone™, or Boa®.
The Mint boot is a soft flexing boot with our Speed Zone™ lacing system. This system allows you to independently control the upper and lower zones of your boot, allowing for a truly custom fit based on your personal needs.
The Limelight Boa® boot is also a great option for a beginner – offering a soft to medium flex, but with a single Boa® lacing system – which will allow you to lace up your boots with the spin of a dial.
For the record, we don't just "shrink it and pink it." All of our women's boots and bindings feature our women's-specific True Fit™ Design, which is designed and engineered around the biomechanics of a female rider. When it fits right, it rides better.
---
Putting It All Together
Setting up your board is super easy.
Step 1: Place the mounting hardware into The Channel. Depending on if you have Re:Flex™ or EST® bindings, you'll want to adjust the mounting hardware to match where it is mounted. Re:Flex™ will be mounted with the provided disc, and EST on the outside of the binding. Make sure to tighten your hardware throughout the season to make sure you're secure.
Step 2: Adjust your stance. The Channel allows you to have any stance option you want, both in angles and width. The board will feature a reference stance, which is the recommended stance based on the board's design and size, but feel free to play with it and figure out what is just right for you. As far as angles go, we recommend starting out with 12-degrees on your front foot and -12-degrees on your back foot – but the options are limitless, so play around and have fun with it!
Step 3: Adjust your binding straps and hi-backs. Hi-back rotation helps keeping you aligned with the board and will give you the best response. In the end, it's all about being comfortable.

For more guidance, check out our videos on setting up your snowboard. If you have questions about what gear is right for you, or how to set it up, feel free to connect with our Burton Guides. Have an amazing season! ∆
---