We're Open, Sort Of: Responsibly Reopening Our Retail Stores in Europe
It's been a crazy time to say the least.
But it seems like good news is starting to balance out the bad news. And that's why I'm writing today.
The good news is we're open! Ok – what does that really mean? It means that some of our Burton stores are open again to see you in person. And those stores are taking extensive safety precautions that align with national and local guidelines to make sure you feel comfortable dropping by. It means that some of our incredible retail employees are coming back to work to help you in real life (wearing masks of course). It means that if a Burton store near you isn't physically open right now due to local #stayhome orders, we're still open to talk to you on Burton.com via our local guides. It also means we're open again to help with your returns and warranty questions. If all this openness worries you a bit and you'd feel more comfortable with ordering via Burton.com, we're open to that too.
Our founder Jake Burton always said, 'Have as much fun as possible'. That's been tough lately with all the heartbreaking news of loss and illness that many of us have personally experienced. But fun is essential too – it gives us the positive energy needed to get through the tough times. Burton is here to help you have as much healthy fun as you possibly can by providing the gear to get you outside. Maybe that means gearing up for a socially distanced spring session at your local mountain. Or going on a hike with your family and packing one of our cooler bags. Fun is definitely possible, even now, and we know that's what Jake would want us all to be doing.
So come see us if you can – either in person or online. And if you do drop by, please let us know what you think, what's working and what's not. This is all new to us too, so we're learning right here with you.
Last but not least, thank you for sticking with Burton. Your notes of support around our efforts to get PPE to frontline workers kept us going during long days and sleepless nights when this all first started.
Here's to a healthy dose of fun,
John Lacy
Burton CEO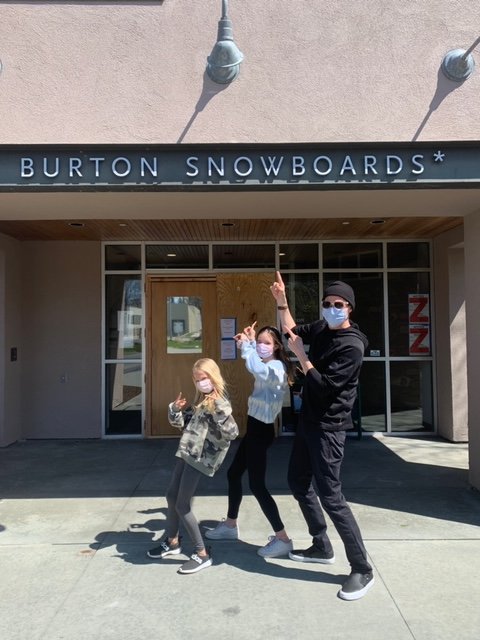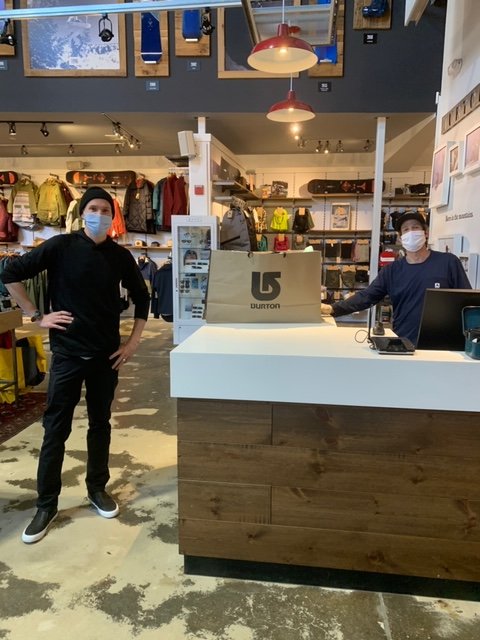 Top Safety Procedures to Keep Everyone Safe:
Now that you know your safety and the safety of our employees is our top priority, we have some more specific details to share on how. We will continue to review and update our protocols on an ongoing basis to ensure we're always following best practices.
Facial coverings are mandatory for everyone. In order to keep everyone safe, we'll be requiring that employees and customers wear facial coverings while in any of our stores. We'll have complimentary masks for customers available, and we've provided reusable masks to our employees, who will be sanitizing them between shifts. If you're more comfortable also wearing gloves, we will have disposable gloves available at the store.
Handwashing is required for employees, and we'll have free hand sanitizer for customers. All Burton employees are required to wash or sanitize their hands frequently and after any interaction with a customer. We'll also have convenient hand sanitizer dispensers throughout the store.
Employees and customers must maintain social distancing of 1,5 meters at all times. We'll be following local rules for store occupancy to allow space for social distancing, and if the limit is reached, customers will need to wait outside spacing themselves 1,5 meters apart.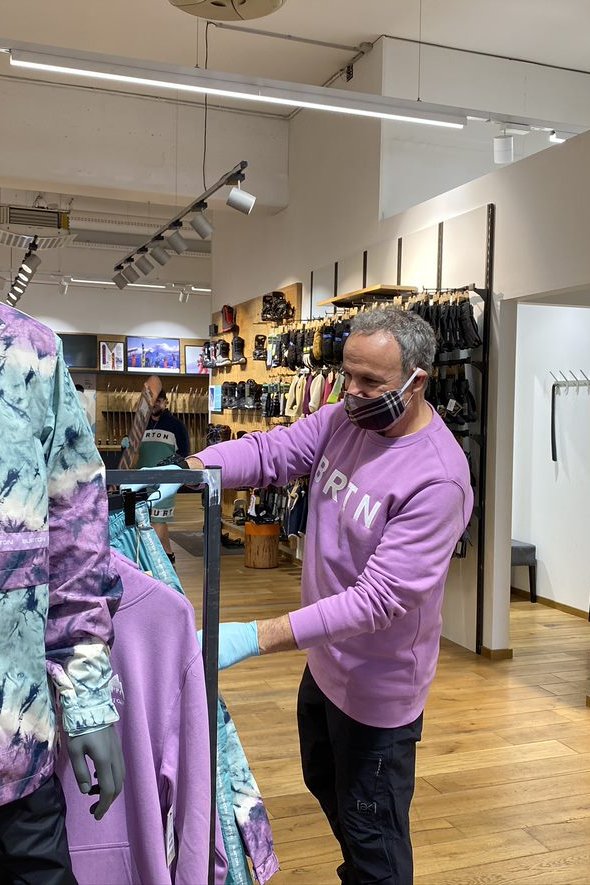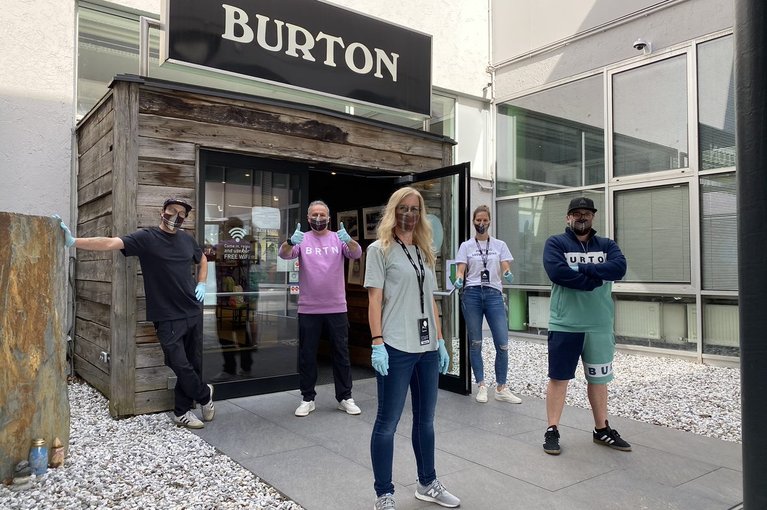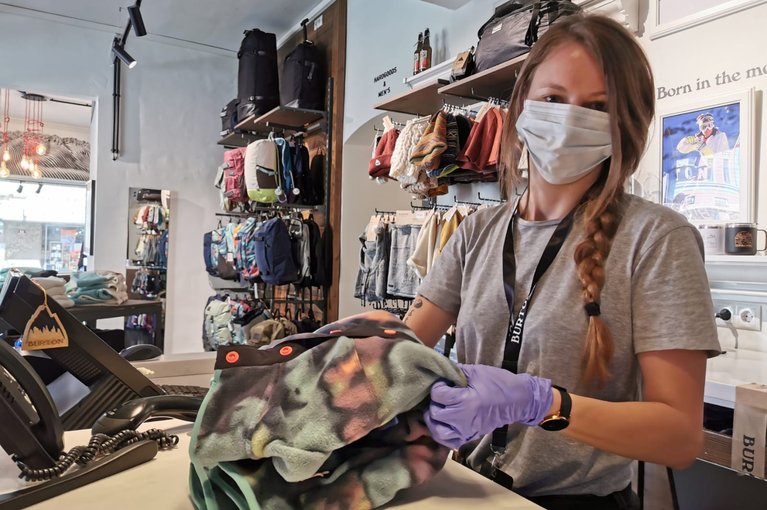 Wondering whether your local store is currently open?
Here's our current statement on COVID-19. Please continue to follow your state's guidelines, and as always, you can contact our Burton Guide Team with any questions, including more information on how and when to shop at your local Burton store.
Europe Store Updates:
Innsbruck Hallerstraße, Austria: Open. Monday to Friday 12pm-6pm & Saturday 11am-4pm.
Innsbruck Anichstraße, Austria: Open. Monday to Saturday 11am-6pm.
Parndorf Outlet, Austria: Open. Monday to Friday 10am-6pm & Saturday 9am-6pm.
Munich, Germany: Open. Monday to Saturday 12pm-6pm.
Zurich, Switzerland: Open. Monday to Friday 12pm-7pm & Saturday 12pm-6pm.
Lausanne, Switzerland: Open. Monday closed, Tuesday to Friday 12pm-6.30pm & Saturday 12pm-6pm.
Laax, Switzerland: Closed temporarily.
Verbier, Switzerland: Closed temporarily until December.
Annecy, France: Open. Monday closed, Tuesday to Saturday 10am-12pm & 2pm-7pm.
Avoriaz, France: Closed temporarily.
Hossegor Outlet, France: Open. Monday to Saturday 10am-7pm.
Milano, Italy: Open. Monday 3pm-7pm, Tuesday to Saturday 10.30am-2pm & 3pm-7pm.
Andorra, Andorra: Open. Monday to Friday 11am-2pm & 5pm-8pm, Saturday 11am-8pm, Sunday 11am-2pm & 4pm-7pm.
Prague, Czech Republic: Open. Monday to Sunday 10am-7.30pm.
Katowice, Poland: Open. Monday to Friday 10am-6pm & Saturday 10am-4pm.
Helsinki, Finland: Open. Monday to Friday 11am-7pm & Saturday 11am-5pm.

---