#BurtonTeam Riders Share Their Love of Snowboarding With A$AP Ferg and Friends
With the help of our friends at Fat Tire, we were able to assemble a group of legendary athletes and artists for the lesson of a lifetime.
This is honestly the coolest most eclectic gathering of shredding that I've had all season.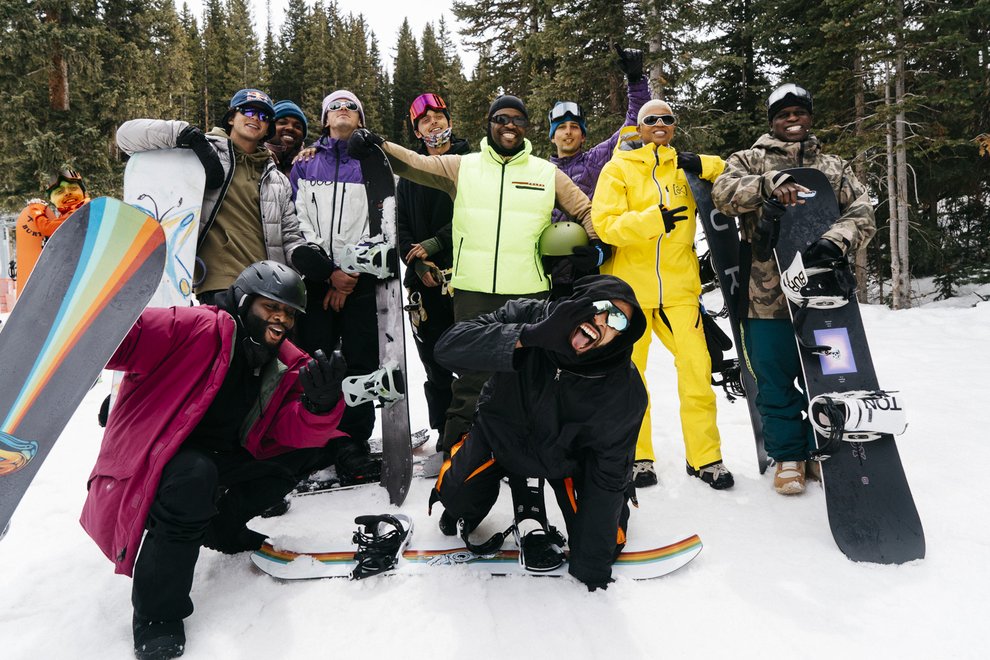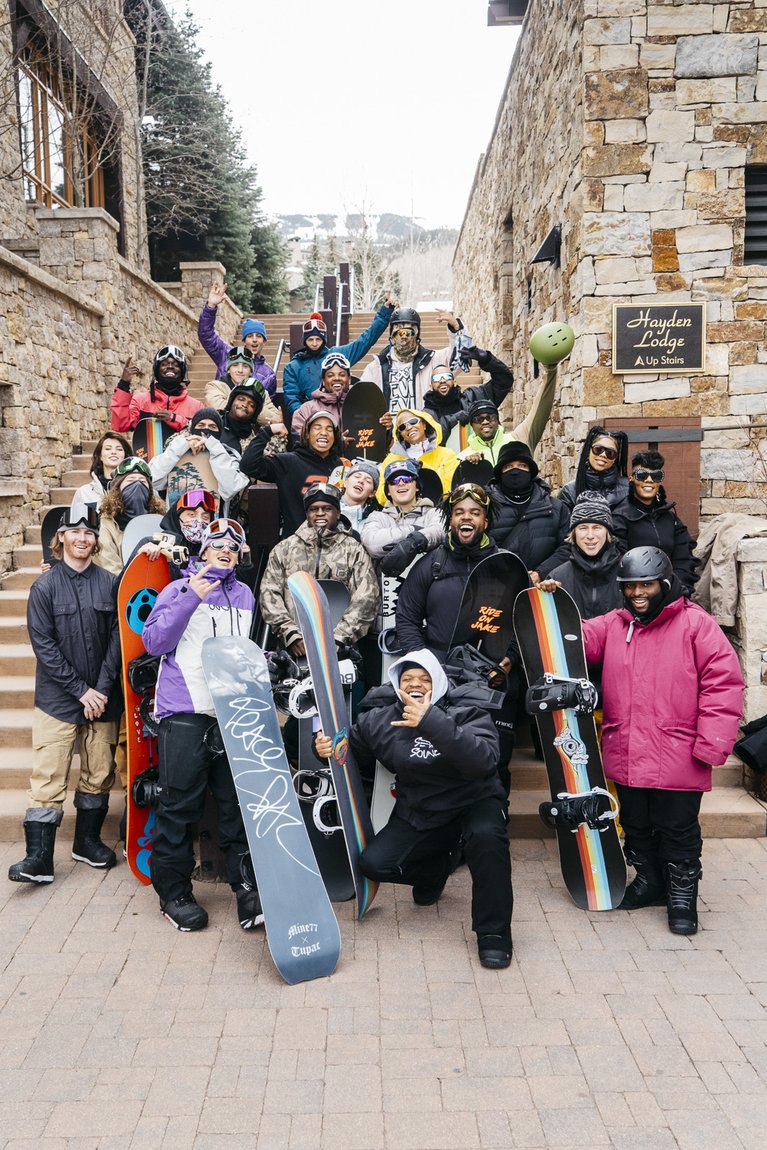 After back-to-back Olympic qualifying contests in Aspen, the #BurtonTeam finally found some time to start turning their snowboards for fun instead of for points. What better way to wind down the season than to invite some new friends to spend a day on hill together and introduce them to the sport? With the help of our friends at Fat Tire, we were able to assemble a group of legendary athletes and artists for the lesson of a lifetime.

Speaking of friends, TJ Mizell, A$AP Ferg's Touring DJ, and good friend of George Carpenter, had mentioned recently that Ferg had his sights set on snowboarding. We made a plan to set Ferg up with a few team riders (Mark McMorris, Zeb Powell, Luke Winkelmann and Jake Canter) and introduce him and his crew to the sports in the best way possible - with a private lesson from the team at Aspen Snowmass.

From the springtime conditions in Aspen to the crew riding along, this would be a first-day-on-snow unlike any other. This unique lesson featured Burton Team riders as instructors, industry icons like Selema Masakela as support technicians, and world-class photographers like Dean Blotto Gray to document the iconic meet-up.

There was a common goal amongst the crews: Make sure everyone has as much fun as possible. It's a simple goal, but overwhelmingly important if you are experiencing snowboarding for the first time. First impressions matter and that's why the crew of industry veterans stepped into the shoes (or boots) of instructors for a day and did what they do best - show people why snowboarding is the most fun thing in the world.
You could feel the excitement from both crews. A$AP Ferg and friends excited by the prospect of snowboarding for the first time. Phrases like "X Games 2022, here I come" or "Catch me working on my 360s" circulated the base of Aspen Snowmass. The excitement rubbed off on everyone, especially the team riders, who all shared they were honored to share the sport they love with artists they admire. Already excited to hang with the artists responsible for the music that rings through their headphones during a contest, the riders loaded into the gondola and started to break down the basics of riding.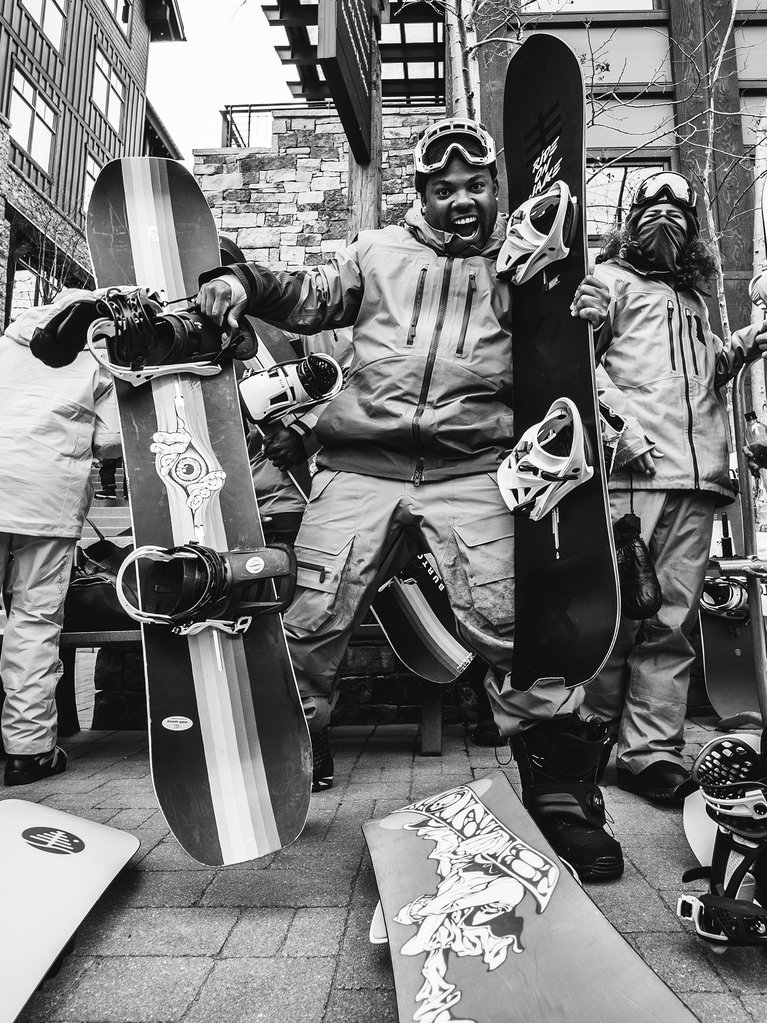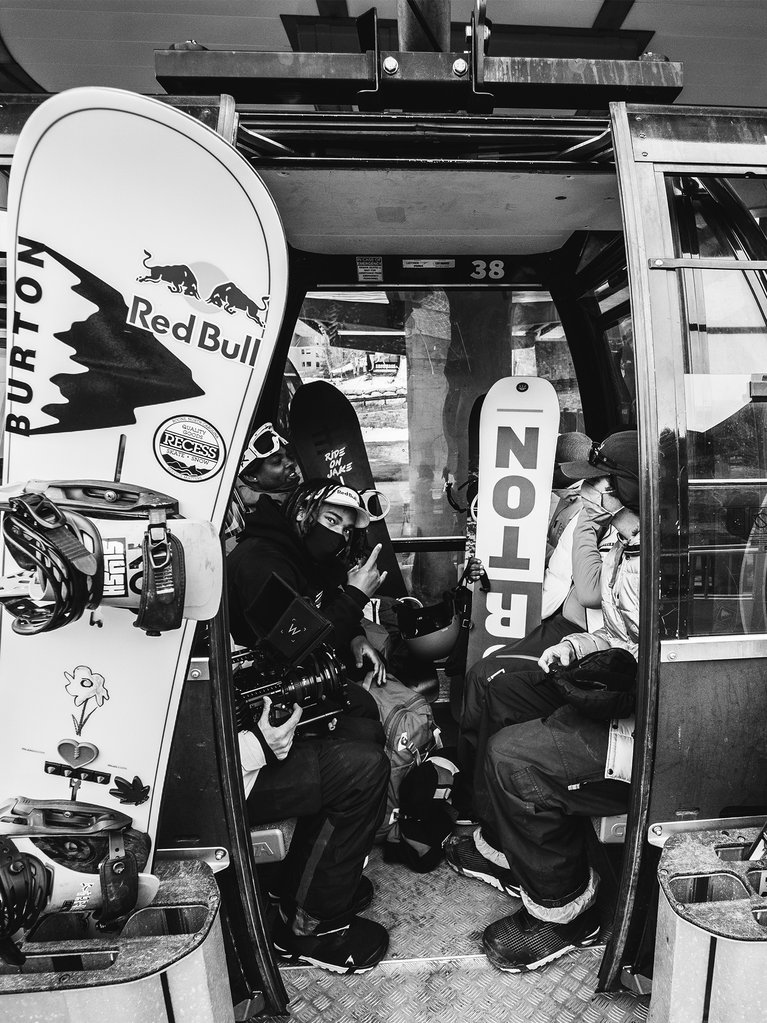 It's important to make the first experience of snowboarding a pleasant one. If you can just make learning something, like snowboarding, a fun experience it's something that you will want to come back to.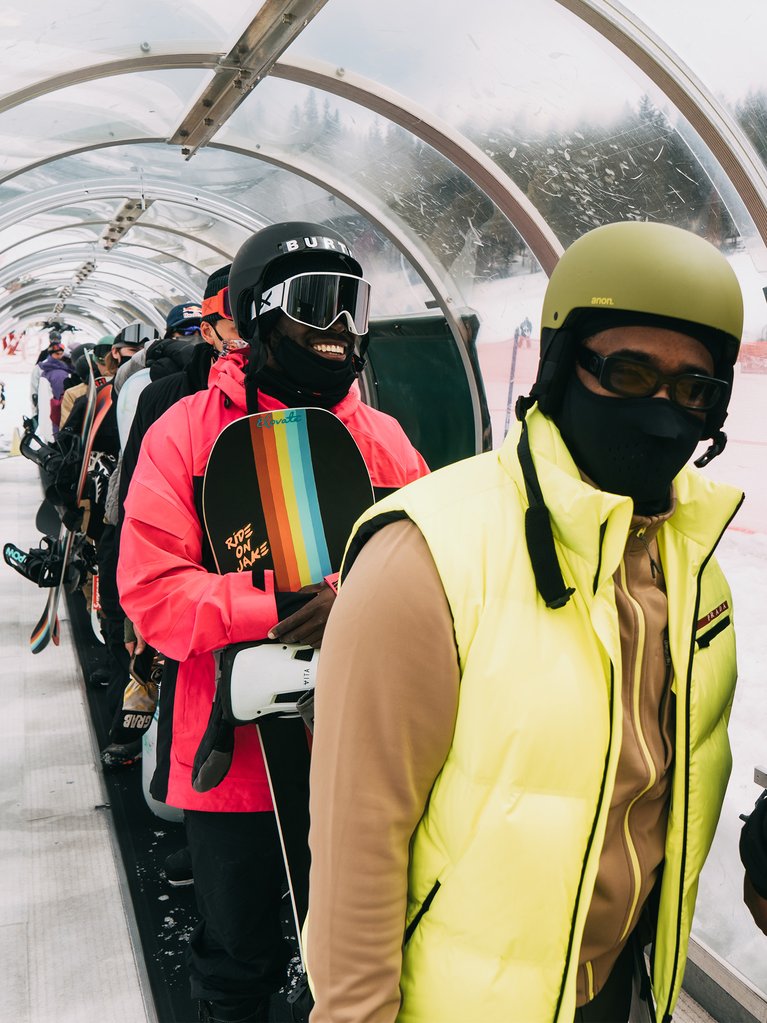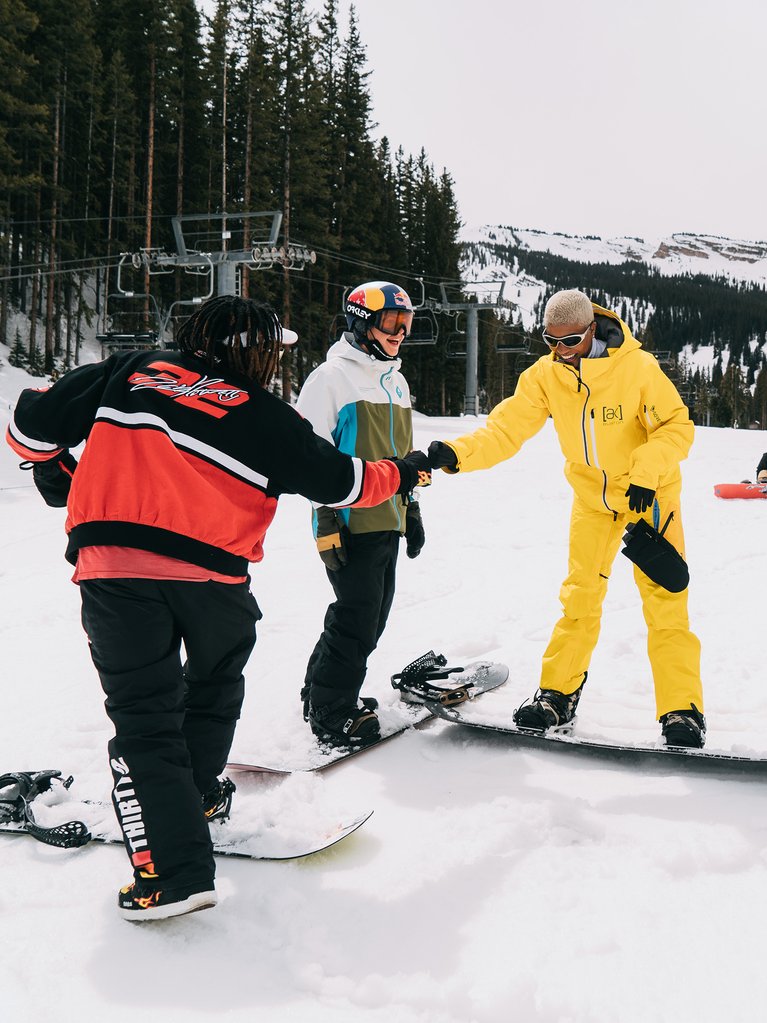 The group lesson began at the mid-mountain magic carpet on Aspen's Snowmass mountain. The crew lined up and took over the magic carpet in a 30+ person train. At the top, Luke, Mark, Zeb and Jake gave everyone a rundown of their gear and explained the basics of riding for the first time. And just like that, everyone was ready to make their first turns.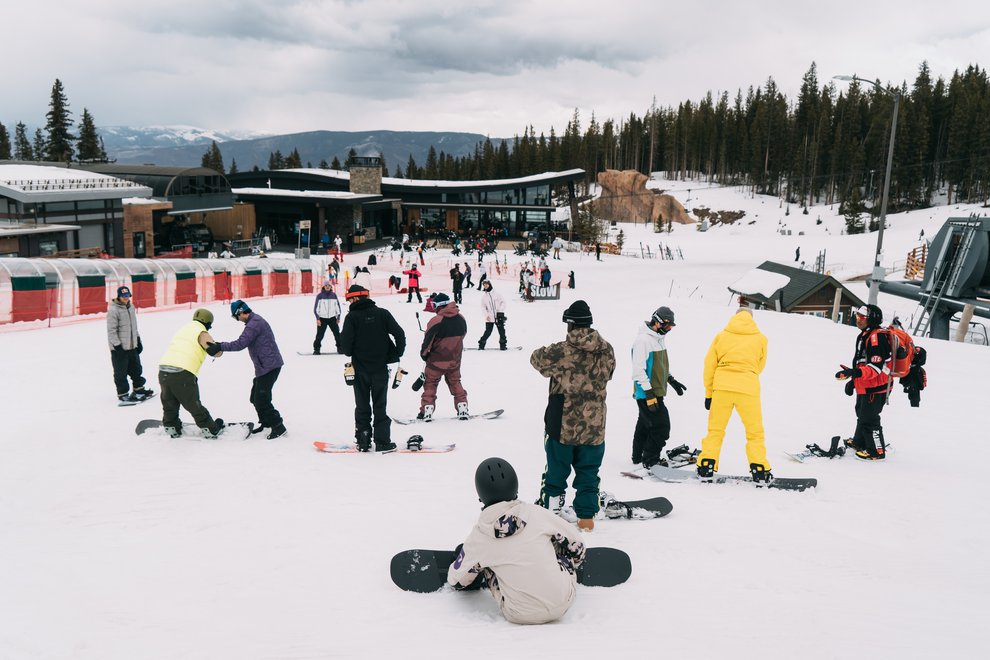 After taking the tried-and-true "learn by doing" approach to snowboarding, everyone was getting a solid feel for snowboarding, and decided it was time for a full run on the chairlift.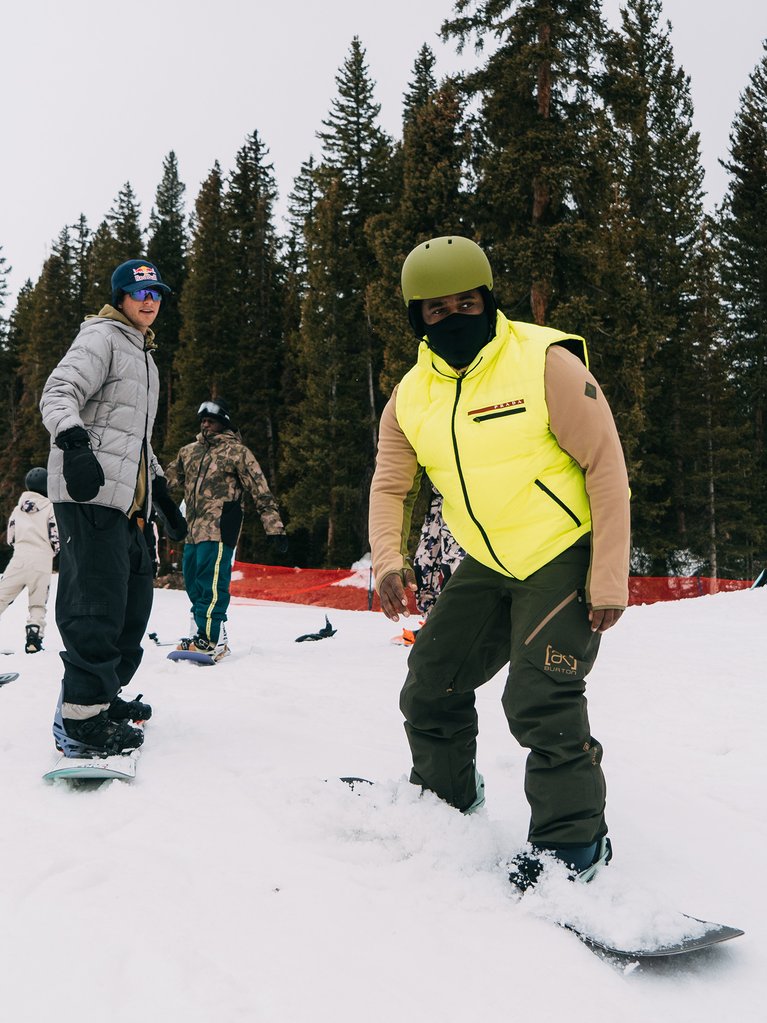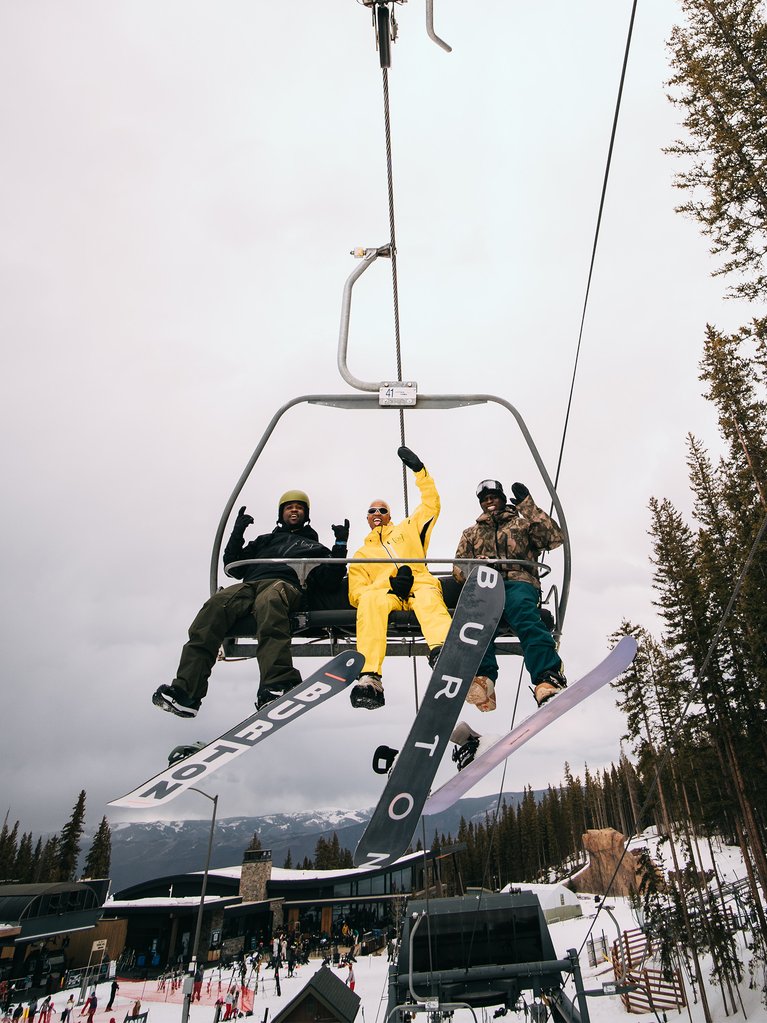 It was magic to see the new riders take their first full run after only a few hours on snow. "Bend your knees!" "You got it!" "Falling Leef! Falling Leef" rang out the entire way down the trail. After a few bails and some hand-holding, the 30+ person crew made it to the lodge unscathed and just in time for an après Fat Tire.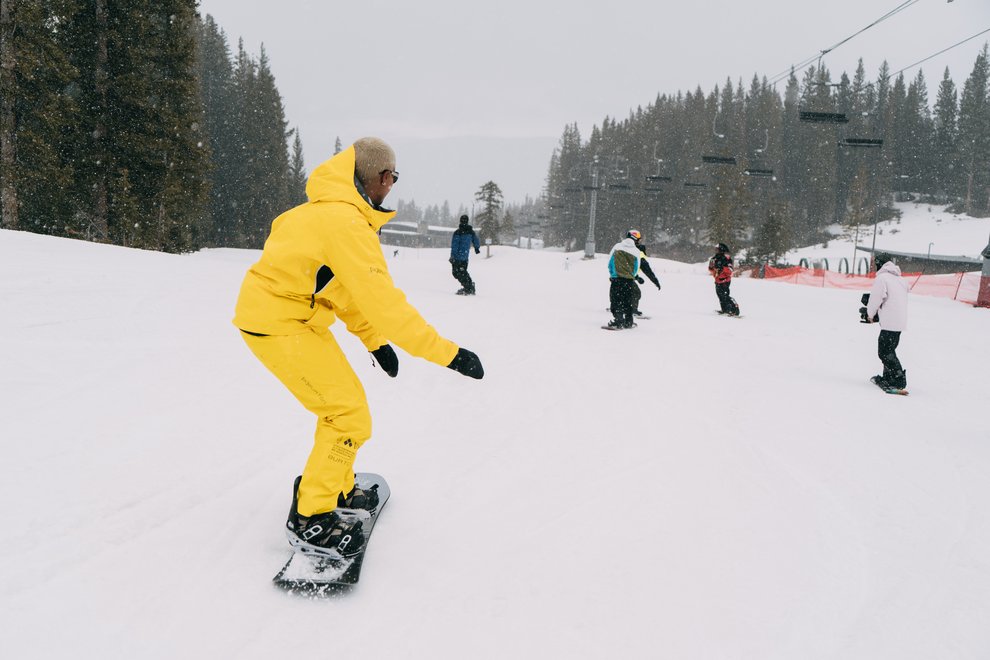 Everyone felt the exact same pride of "being a snowboarder" whether you were world champion Mark McMorris or BET Hip Hop Award Winner A$AP Ferg. This day and this feeling was fueled by mutual admiration from artist to athlete. The Burton Team was proud to see the sport they love so well received by A$AP Ferg and his crew. To the new riders, snowboarding appeared to be something that was only done on TV or in the X Games. But after riding with the Burton Team, the crew was reminded that snowboarding is for everyone. When you're on a board, it doesn't matter whether you are from the heart of the Rockies like Jake Canter or the heart of Harlem like Ferg.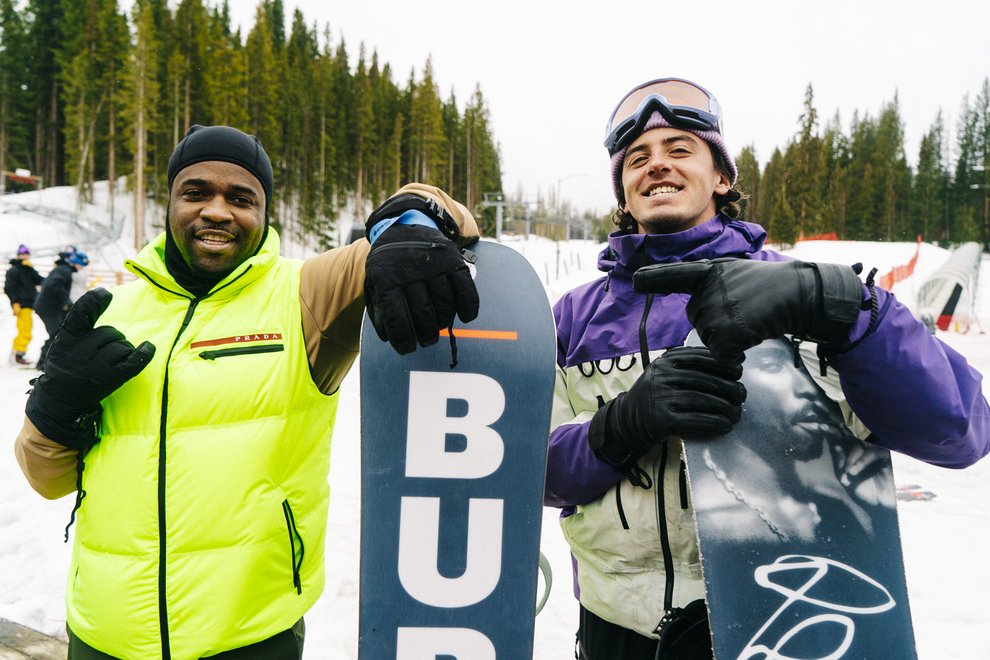 We got to combine the world of music with the world of snowboarding... insane times.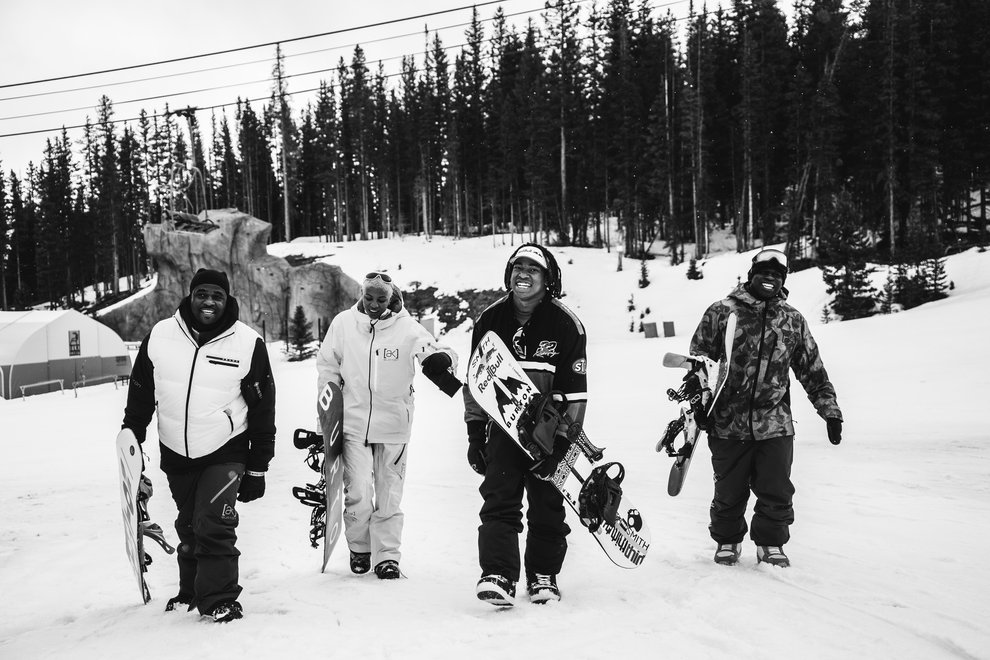 ---
Part 2: Wondering how this all came to be? A BTS Interview With TJ & Jesse Mizell and George Carpenter.
From George Carpenter:
I can relate to TJ and Jesse Mizell in many ways. TJ and Jesse are the sons of the late Jam Master Jay, a founding member of the most legendary Hip Hop group of all time, Run DMC. My dad is Jake Burton, the pioneer of snowboarding, and whose impact can be felt by all those who touch snowboarding. TJ, Jesse, and I are the sons of legendary men that had the world's attention. We are carrying on our father's legacy with everything we do and everywhere we go.
We are friends and most importantly, we are snowboarders. Our love of snowboarding dominates most of our interactions. TJ and Jesse almost always come to the Burton US Open, They know the riders, they know the industry folks, they are Burton Ambassador's and they knew my dad very well. Through all of this, their roots run deep in snowboarding culture.
Among other creative endeavors, TJ is A$AP Ferg's touring DJ. Jesse started a cannabis company called Jam Master Jays. We planned this trip around the release of Jam Master Jays in Colorado, with TJ's, Jesse's, and my crew. I sat down with TJ and Jesse to learn more about how this trip came to be, and what it meant to everyone involved.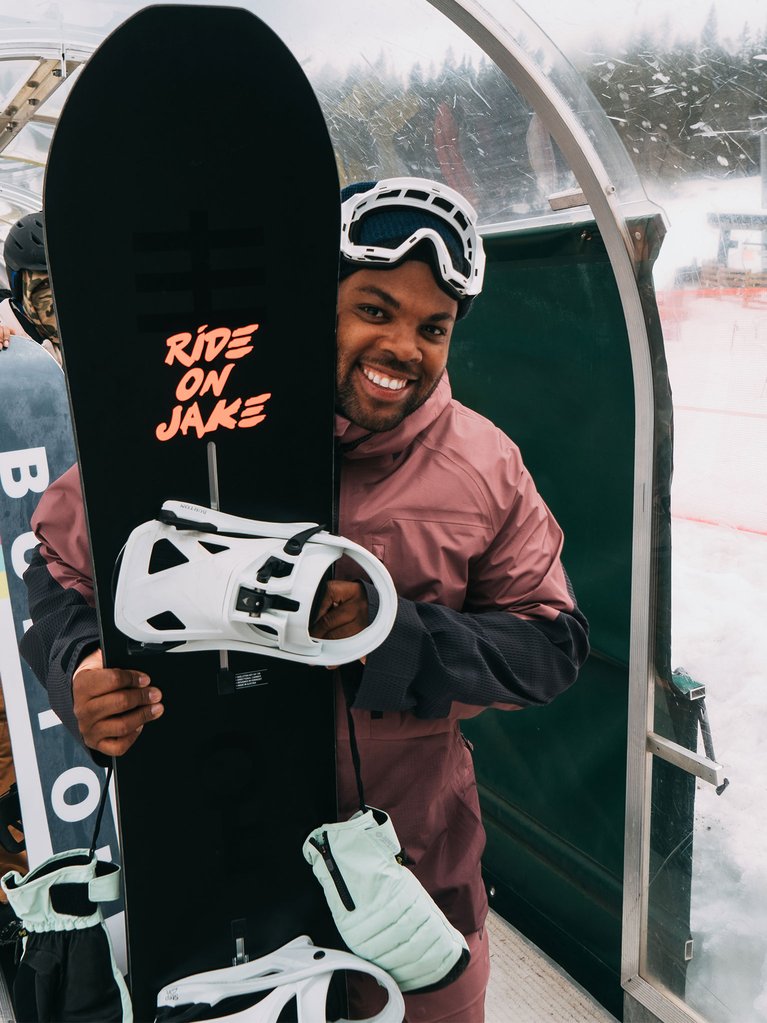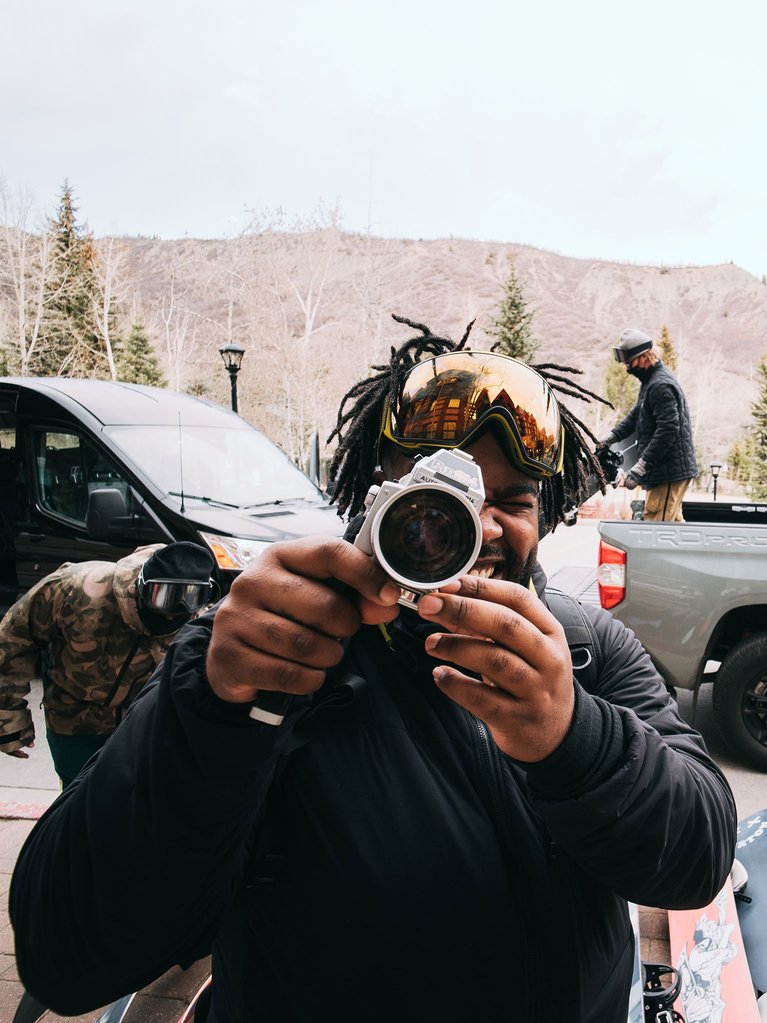 George: How did you start talking to Ferg about snowboarding and how did you manage to get him to come all the way out to Aspen for this?
TJ: Usually around the time of year we are hanging at the US Open. So I usually leave Vail with my board bag flying straight to a show with Ferg. He's always like "yo you're always on your mountain shit, you're such an outdoorsman" (laughs). He's all from Harlem, so they're not really exposed to this type of thing. Ferg picked up on how much I loved it, and he was always curious about what I loved so much about it. I'd tell him that there's something about being on the chairlift and having that time to yourself. Snowboarding is extremely clarifying. You can't think about anything else while you're snowboarding and that's what makes it so refreshing. It's this moment where it's just you, the board, and the mountain. You get to just enjoy this time to yourself and with your homies, you know?
So on this trip, we were planning on doing this Native Roots & Jam Master Jays gig in Denver, Ferg was planning on coming out for that. We're already going to be in Colorado, one of our favorite places. So I told Ferg "you got to come up and go snowboarding. It's not that far. You should really just take this opportunity to come."
Ferg was with it. He knew how much Jesse and I have been engulfed in this sport and he said "all right, I got to see what this life is about". I guess he's gone snowboarding once, but this was his real introduction to it. And he loved it.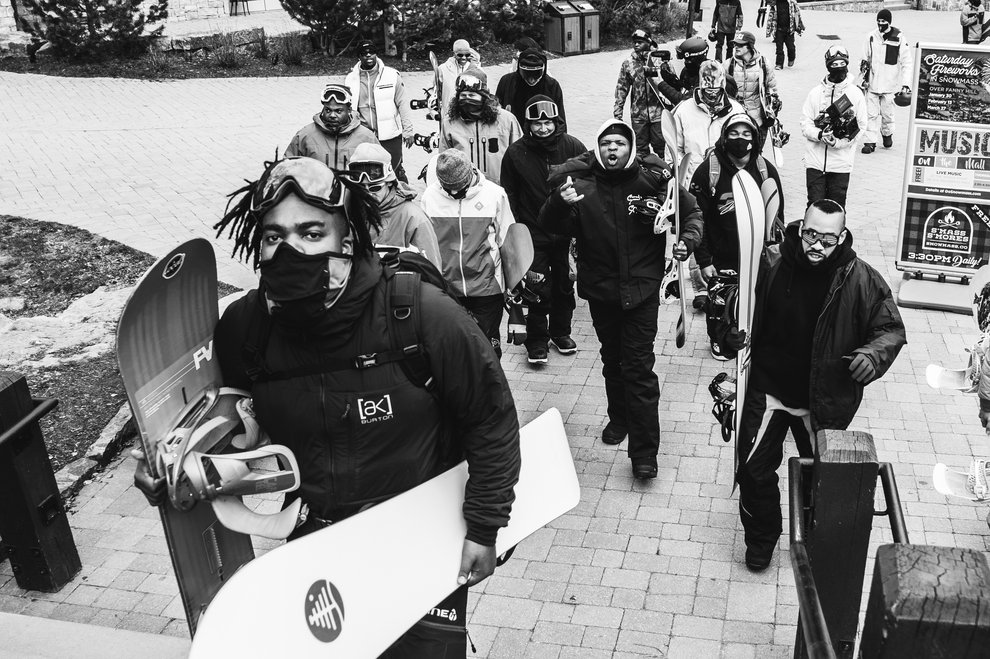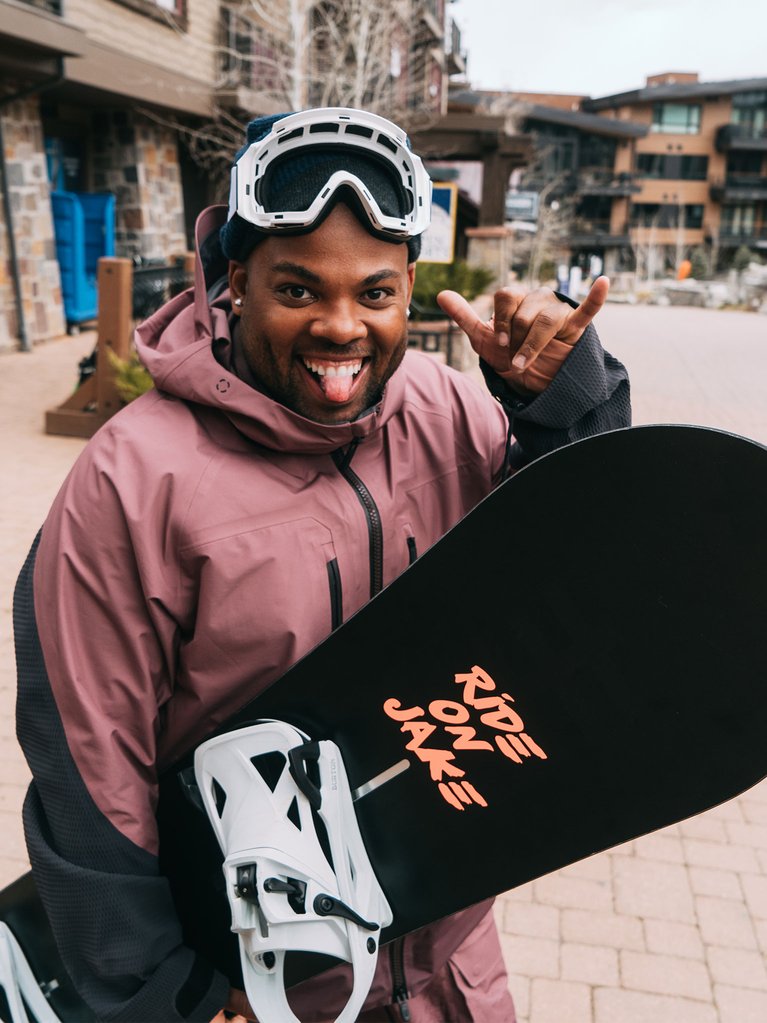 George: Let's talk about how we put that trip together. In November, we were having a conversation about how you guys wanted to help change the perception of snowboarding from being a predominately white sport. Did the thought of inviting Ferg and his friends factor into that at all?
TJ: After having that conversation with you, and bringing this group together, it didn't really click until Ferg said, "Yeah, I'm bringing 9 people with me." Because I thought even if it's just me, Jesse, and Ferg, like ya we're making a change but it's just like one more Black guy on the mountain.
Jesse: When he brought his whole fam, there were 10 people born and raised in NYC coming to Aspen. That was when it all came together. Ferg has a huge following with Black culture, but he's a famous person. Growing up with a famous dad, we've been on the mountain with other famous Black people. It was cool to bring people that are out of the celebrity space and having them all up there, that was when it really clicked.
TJ: Having Ferg bring his homies from Harlem made it click for me. This is what we talked about last November. Even in Denver, we all went to the Burton store to pick up some gear and seeing that many Black people in Denver, I was like "oh yeah, this is it. This is what we're trying to do."
Jesse: I told Selema at the last US Open that he got us comfortable as a kid. I was only watching Sports Center. Because my dad loved sports. We ended up getting into watching and getting really into The X Games. I didn't really get down with it at first. Then when I saw Selema commentating and getting so animated about the sport, I said "damn this is a sport for Black people too?" I told Selema he made it really easy for me to digest. Because before that I wanted to see what kids like me were doing, which was football and basketball. Selema really opened my eyes to Black people in the action sports community. Selema thanked me and told me that was pretty much his intention when he got to working with X Games and getting into action sports. Having Selema on that trip, was pretty much full circle for me.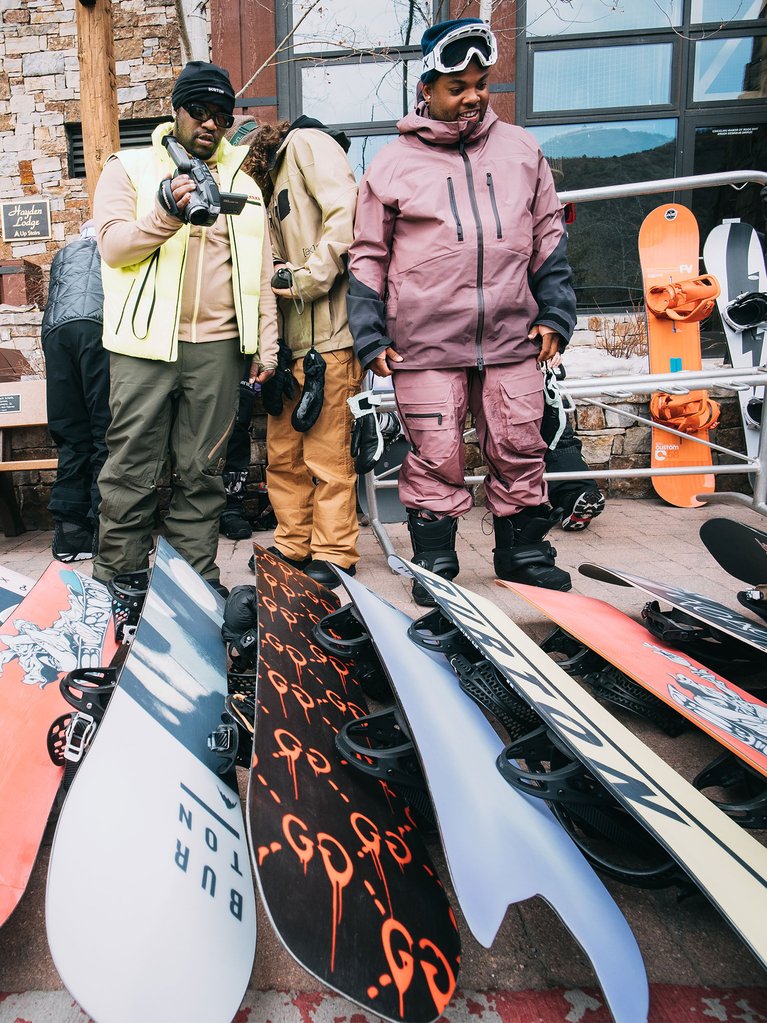 George: I thought the mutual admiration between the musicians and snowboarders was really cool. Delly and Luke were talking about how nailing a track felt the same as learning a new trick. The two different art forms are a lot closer than it looks on paper.
TJ: Ya I mean snowboarding and music are so similar. I commented on a post yesterday because they used 'Floor Seats' in the edit. I was like "damn, Ferg is the soundtrack of snowboarding right now." I've seen Ferg songs on so many edits. And the energy of the music matches the intensity of the sport, the riders, and their style. There's so much style. I feel like snowboarding, more so than skateboarding. Surfing has style but they can't do what snowboarders do. Style is everything, down to the clothes. You know surfing you can't wear too many clothes. Snowboarding and hip-hop, they're so connected. And being with the riders and seeing their style was something else.
Ferg came up to me and understood it. He was like "Yo I didn't get it. I'm seeing everyone out here with the fire Burton outfits, with the baggy pants, with the cool colors, and the purple, and the bubble jackets with the goggles. This is fire. This is so cool. This is something that I didn't know existed. I knew snowboarding existed, but I didn't know about the community, and I didn't know the passion behind the style. I didn't know about the fashion behind the sport." That was really cool to hear him say that.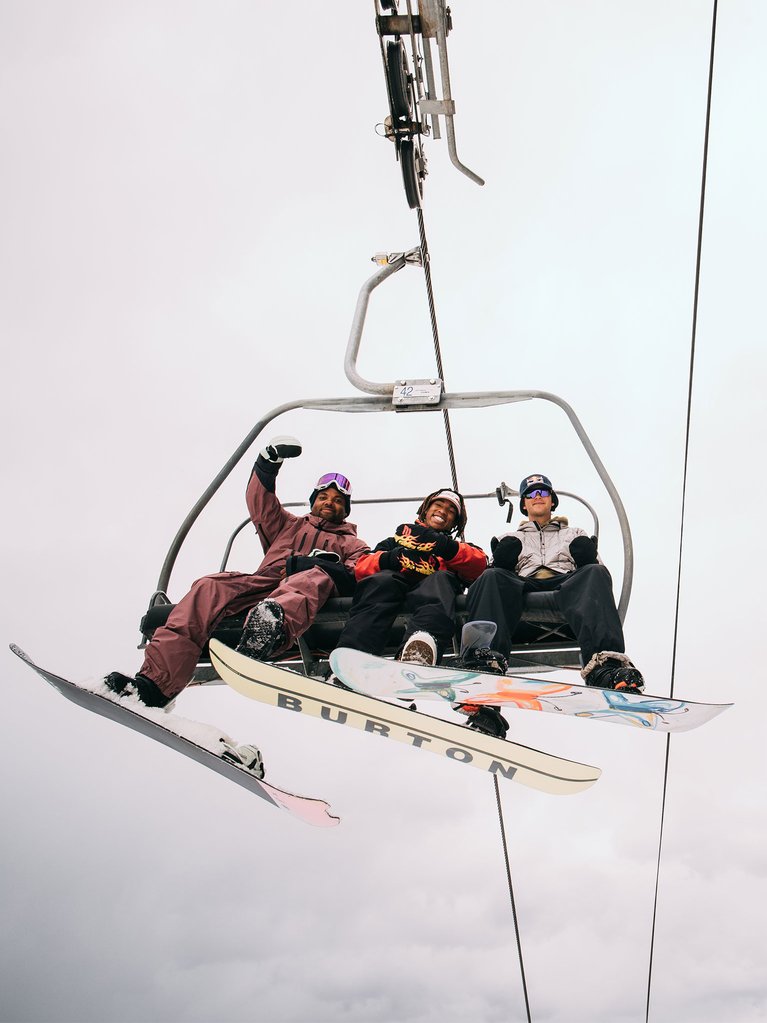 George: Reflecting on the trip, what did it mean to you guys?
Jesse: Looking back on the photos and the content. I was like "Damn, that was special." Going back to that original conversation we had, I was so happy we were able to make something happen organically. And it was special. I know our pops are up there saying 'damn, our kids are really keeping it going.'
I always feel like it's special hanging out with you and your family. But to bring our whole world into it. You brought the people from your world. That was a really cool balance. And bringing the celebrity factor, and the music factor and us being decked out in Burton, the new AK. That was really cool synergy. Like damn, we gotta do this more. This is special
TJ: I felt the same way. We kept talking about changing the perception of snowboarding and to think this started from one conversation. It's crazy to think about what we could do on a bigger scale if we kept having more conversations like this. That trip really made me think that we can do something for this world. We can impact this world in an amazing way. It kinda makes me feel good to live in this time. We're both one generation away from the creation of these things (Hip Hop & Snowboarding). People in the future could be looking back and thinking wait, snowboarding was something that only white people did? Hopefully, something that our kids will be able to say.
George: Do you think those guys want to go snowboarding again?
TJ: Ferg is dead serious about making that an annual trip. We gotta start planning that now. Cause April is going to roll around and he's going to be like "Bro, when are we going to Aspen again" (laughs). So we gotta put that on paper.
Consider our calendars marked for next year.
---
Thanks to George, TJ and Jesse for having meaningful conversations, like this one, that are leading to positive change in our industry. And a HUGE thank you to our partners, Fat Tire, Aspen Snowmass, and The W Aspen for supporting an incredible weekend of snowboarding.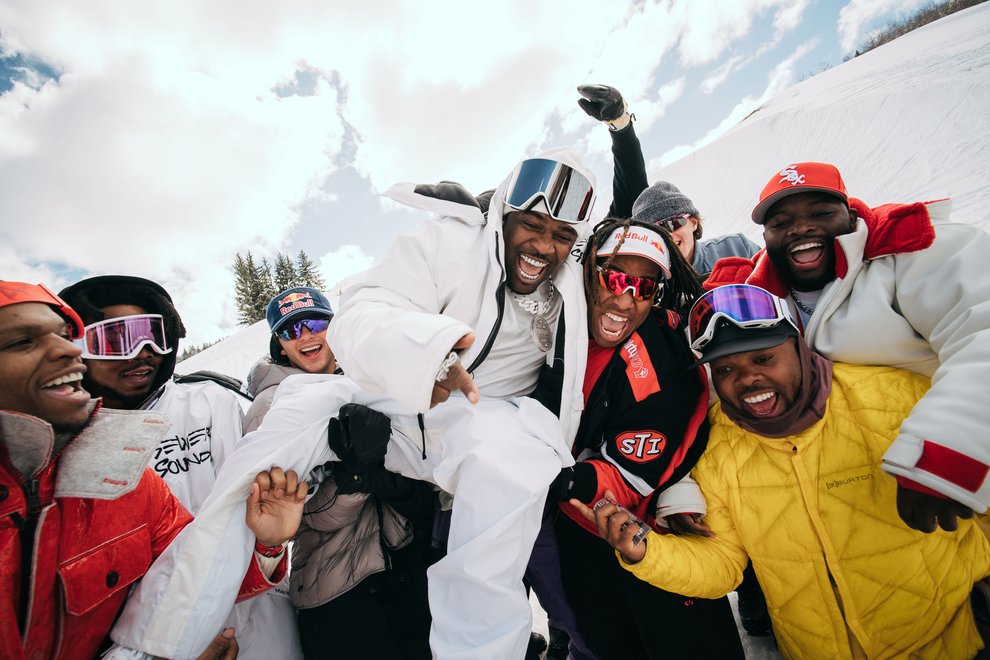 ---