Suds Buds: Why Burton and Fat Tire Work Together
We love a celebratory beer at the end of the day.
Whether perched on a barstool or sitting on the tailgate, nothing caps off some grade-A laps with the crew quite like cracking a cold one. Our beverage of choice? Fat Tire, of course.

As mutual fans of crafting quality times and quality products, we've developed a strong bond with the Fat Tire fam over the years. Aside from putting topshelf products at the forefront, we both prioritize doing things our own way. And putting people first. We also love spending time strapped into our boards (duh). But our biggest commonality? Protecting the planet that makes it all possible. That will always be paramount.

From creating film projects together—like One World and more recently, ARK—or sitting down at the drawing board to brew up a one-of-a-kind collab collection, we've been fortunate to do a lot of cool projects together. And we're just getting started.

With some exciting collaborations in the works for 2023—and a fresh facelift for Fat Tire—we're both finding ways to constantly evolve, just like we have since day one.
---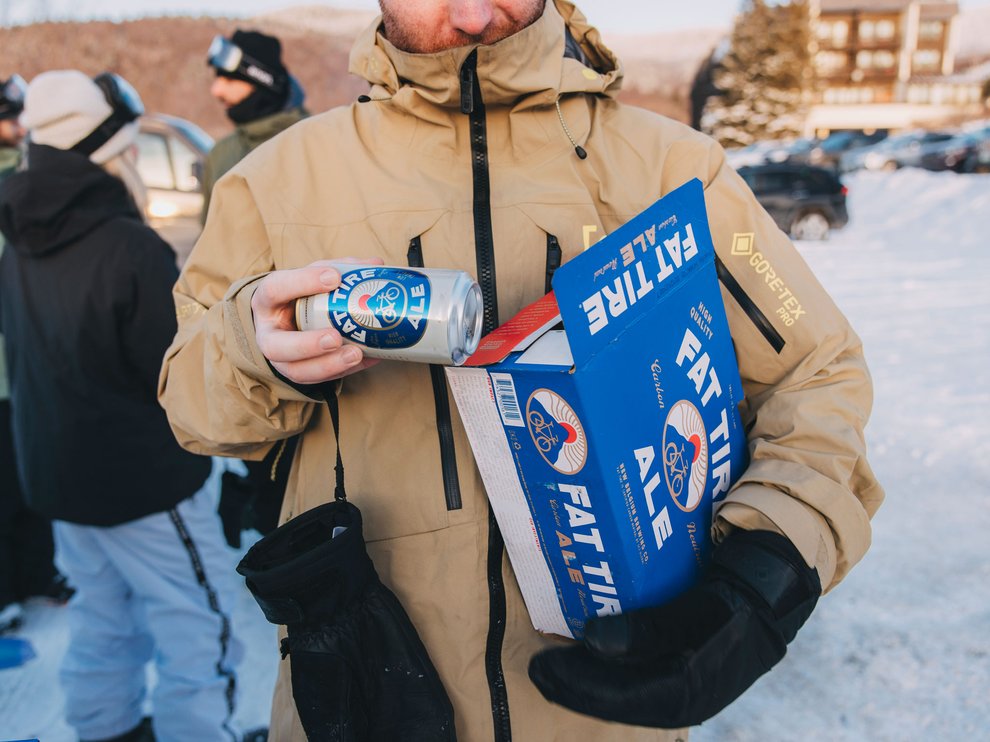 Founded With a DIY Ethos
Back before standing sideways was something we saw on TV—or was even allowed at the local ski area—Burton founder, Jake Burton Carpenter, was laying the foundation for what would ultimately become the sport we know and love today. In 1977, he quit his job in New York City and moved to Londonderry, VT, where he soon began crafting makeshift board prototypes in the back of a barn. Almost 50 years later, Burton is a worldwide brand practically synonymous with snowboarding. How did we do this? Not just by prioritizing the products we make, but by prioritizing the people and the planet that grants us the ability to do so.

Similarly in 1991, well before craft beer was a household term, New Belgium's founders, Jeff Lebesch and Kim Jordan, decided to install some brewing equipment in the basement of their modest Fort Collins home. Just a few months later, Kim and Jeff released one of their first beers into the world: Fat Tire. Little did they know that it would go on to inspire an entire generation of craft brewers and beer all across the world. After 30+ years, Fat Tire continues to pave the way, not just in producing high quality beer, but in operating a human-powered business that inspires social and environmental change.

After all, we can't snowboard or enjoy a tasty beverage without healthy people and a healthy planet.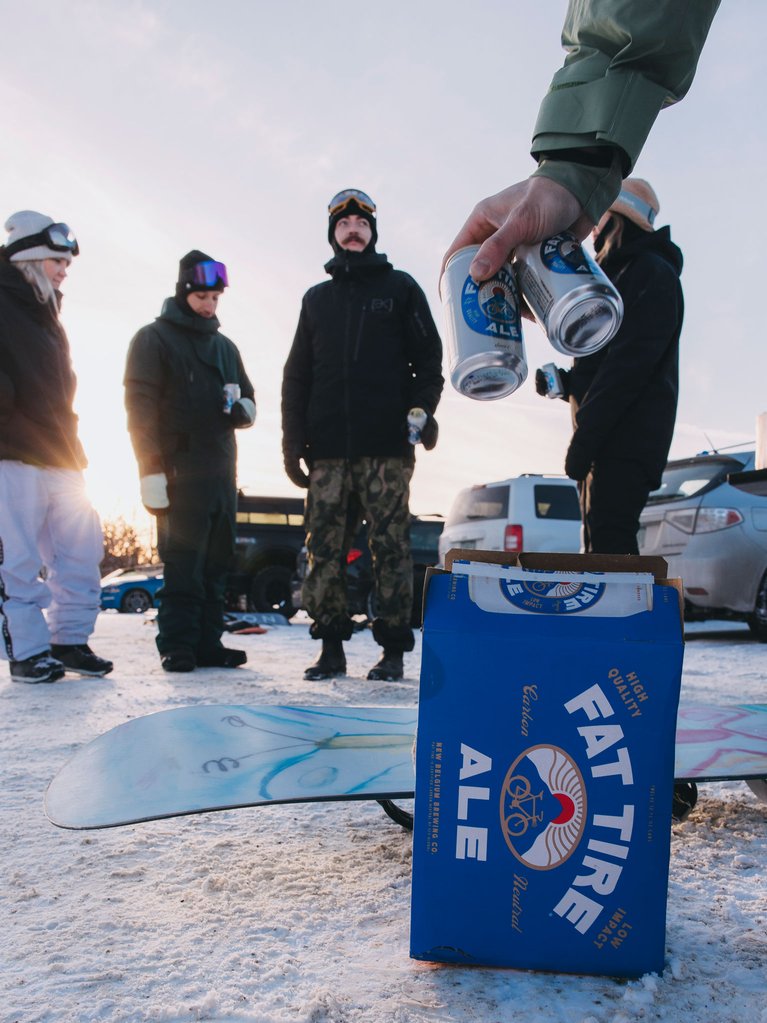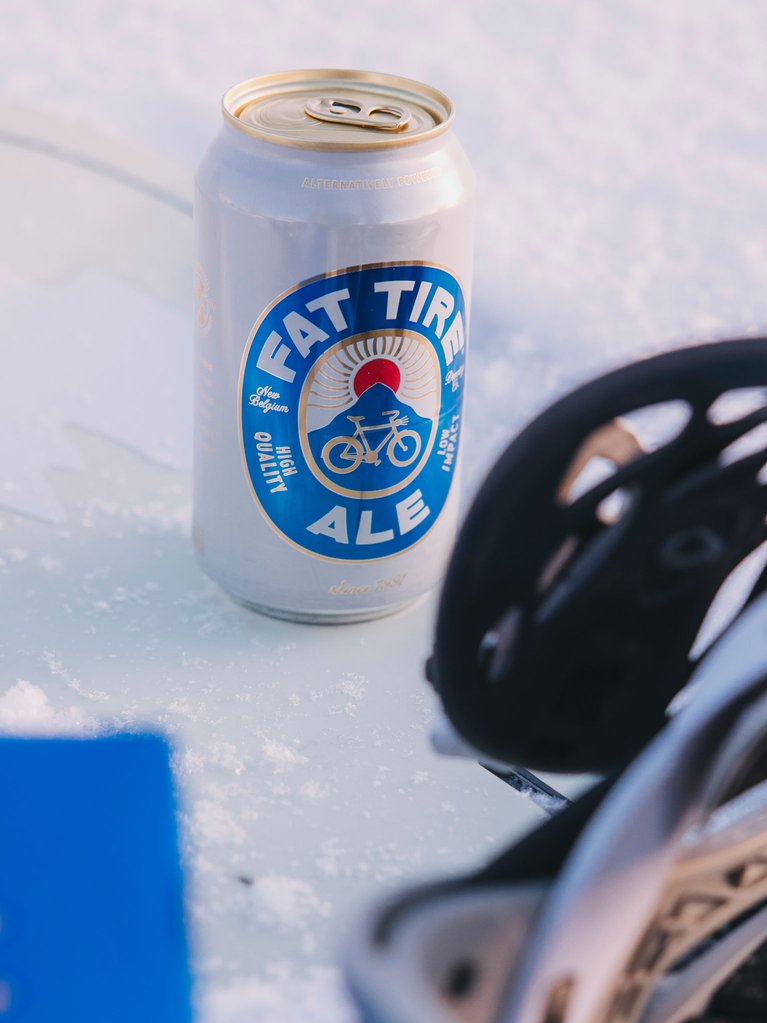 Fighting Climate Change
We've all seen the news. And even if you haven't, you've surely gone outside and witnessed it firsthand: our climate is changing. As snowboarders, it's become increasingly apparent—and alarming. Winters are becoming shorter. Snow is becoming irregular.

But this changing climate isn't just affecting our ability to snowboard. It affects everything from our weather patterns to our water and food sources. Our wildlife and our ecosystems. Even our transportation and our housing.

And it also affects our beer. We don't know about you, but a world without beer and snowboarding sure doesn't sound appealing.

Which is why Burton and Fat Tire have made climate action a priority. And it's why we are working together. This is our playground, our source of inspiration, and our home. And as Fat Tire puts it, it's the only planet with beer. We must protect it.

At Burton, we have a climate positive commitment. This means limiting our carbon footprint and promoting renewable energy generation through improvements to operations and changes to product design and manufacturing. It means investing in nature-based offset projects beyond our supply chain that sequester carbon to more than cover those emissions we can't eliminate yet. And it means working with partners and like-minded brands—like Fat Tire—to advocate for climate-positive policy that leads to systemic change.

From low-impact and responsibly sourced materials, to safer chemistry and sustainable packaging, we're constantly looking at every possible way to do right by the planet.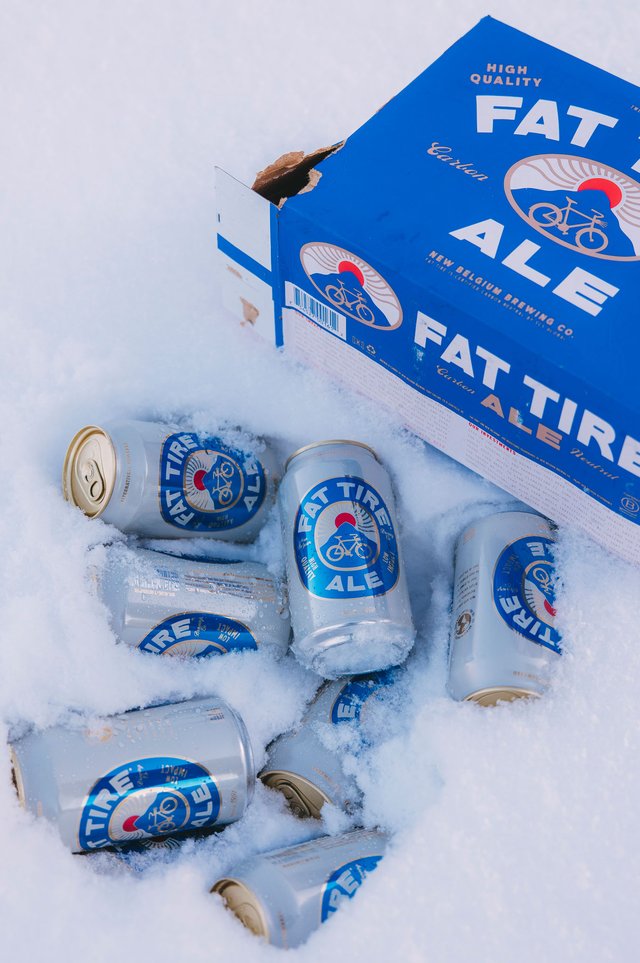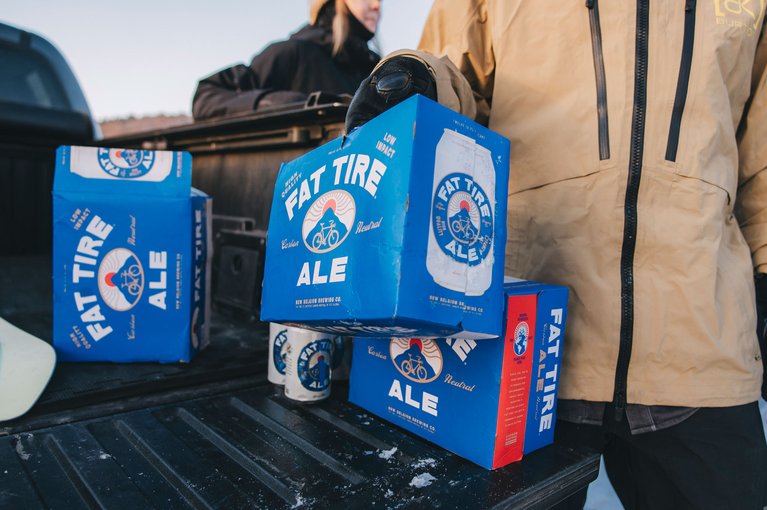 As for Fat Tire? They've been blazing the trail since day one. Remember that basement brewing operation we mentioned? In those humble beginnings, Fat Tire's founders rigged up a trash can and copper pipe to capture heat and conserve energy. They've been working at reducing their environmental impact ever since.

In 1999, they became the first wind-powered brewery in the United States. Today, they're powered by approximately 60% Renewable Electricity. Glass bottles are light-weighted to reduce materials used and fuel required for shipping, and all their beer is brewed in a zero-waste facility, with 99.5% of all waste diverted from the landfill. In 2020, Fat Tire became America's first certified carbon neutral beer. And just last year, they released their Carbon Neutral Toolkit to the rest of the brewing industry.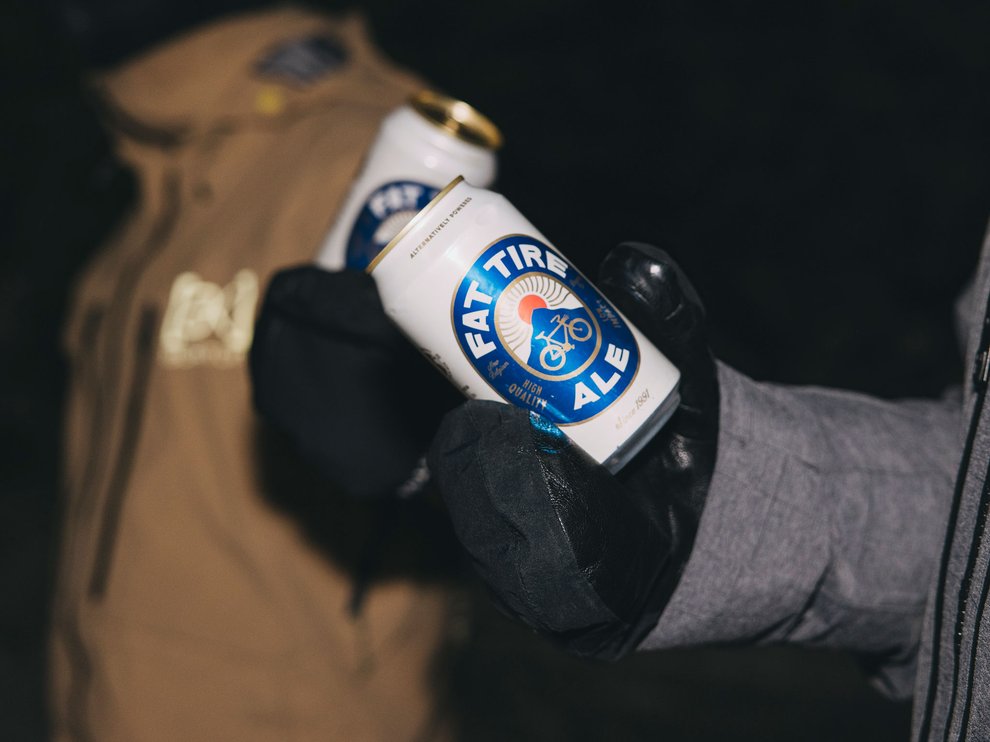 Over the course of history, they've also donated more than $19,000,000 to environmental causes. Cheers to that.

But we know the work never ends. As two proud B Corporations, we'll continue to evolve—and set higher standards—for our people, our products and our purpose.

Want to find out more? Check out what Burton's doing and learn more about Fat Tire's initiatives at DrinkSustainably.com.
How We're Working Together in 2023
Culture Shifters
Last season, Fat Tire joined us for one of our favorite—and necessary—events: Culture Shifters. We spent a few days in Aspen (where we actually hear the beer flows like wine) to connect and build lifelong relationships with diverse individuals who have an influence on global culture. Oh yeah, we also had a whole heck of a lot of fun.

Led by Selema Masekela and Zeb Powell, we were able to gather an all-time crew of athletes, musicians, artists, and cultural icons to work toward changing and diversifying the snowboard culture and community. And because that work never ends, we're stoked to do it again in 2023.

The goal this year? Keep sharing our love of snowboarding with our friends and show the positive effects that standing sideways can have on the world.
The Burton Mystery Series
The Mystery Series is back for 2023 and even bigger. With Fat Tire once again on board, we'll be hitting up hills and DIY spots across the globe to celebrate community and progression for all ages and abilities. Toss out the rules of a traditional competition and let's focus on what's most important: having a damn good time.

With banked slalom events, product giveaways, athlete demos, and—of course—some apés and BBQ hangouts, we'll be coming to a town near you. All you need is an open mind.

Interested in hanging out with us? Check out the full tour schedule right here.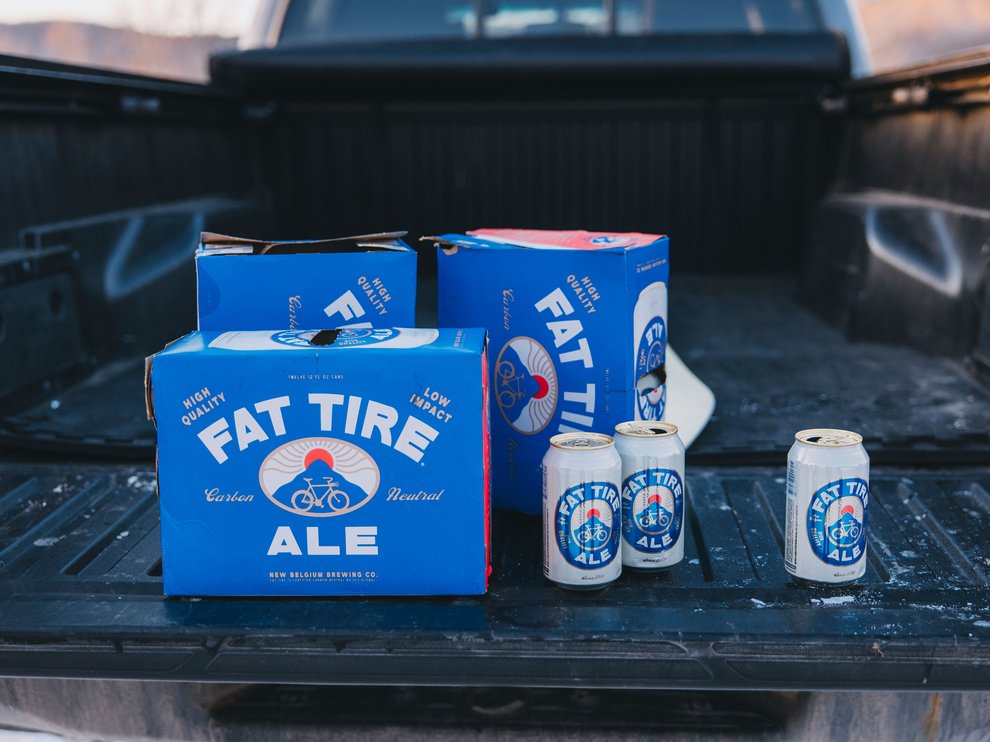 All this talk about our friends at Fat Tire, and we haven't even mentioned what we're all probably thinking: "Does Fat Tire look different?"

Yup. And it tastes different too. So guess what? This ain't your dad's Fat Tire anymore (although, we bet he'll be down).

Like us, Fat Tire is constantly looking for ways to evolve—in producing quality products, in reducing their environmental impact, and in reimagining themselves. It's why we love working with them. And like snowboarding, craft beer has come a hell of a long way since Fat Tire helped put it on the map. As a new generation of beer drinkers and climate advocates has emerged, they've reimagined the beer's packaging, and yes, its recipe along with it. From adding raw barley to the brewing process, to simply creating a brighter and crisper beer, they're continuing to inspire this next generation. Gotta respect that.

So whether you love the planet, or just love good beer, we can bet you'll be down with it, too.

We certainly are.
---